Labour MP Eleanor Smith has called the regional Black Country flag "racist" and said it should be scrapped because of its 'chain-making' imagery.
The black, white, and red flag, displaying three white and black chain links, was designed by a 12-year-old schoolgirl and was inspired by the Black Country's industrial history and the words of nineteenth-century American diplomat Elihu Burritt, who described it as "black by day and red by night" due to the smoke and glowing furnaces.
The flag was unveiled on 14 July, 2013, to coincide with Black Country Day, and is reported to be the second-highest selling flag in the United Kingdom.
But newly-elected Wolverhampton South West MP Eleanor Smith said she did not like the flag because of its 'racist connotations' and wanted to see it scrapped in favour of a flag that showed the West Midlands' 'multiculturalism', the Express & Star reports.
Speaking on Black Country Day, when the flag is widely and proudly displayed, Ms. Smith said: "I have serious concerns about the racist connotations of the flag, particularly the fact that chains are being used to represent the Black Country.
"The white on black imagery used together with the chains . . . when you break it down I'm not going to pretend it doesn't worry me as a black person.
"People have to understand that it can be seen as offensive. I have absolutely nothing against the chainmakers. They were working people making money like working people do.
"But that doesn't change the fact that I think the way the flag is done is a big mistake."
Members of the #BlackCountryCavalry supporting #BlackCountryDay from sunny Dudley #bostin ay it! #MadeintheBlackCountry #RACFirst pic.twitter.com/VrVg0lesiz

— Black Country Cavalry (@BSquadronRY) July 14, 2017
"It is not something I feel comfortable about standing in front of," she said, adding: "I understand the flag was designed by a young person, and I don't for one minute think they realised its connotations. I think it is time for an intelligent conversation about the flag. I would look to have it changed.
"Why can't we have a flag that represents all of us united as a collective rainbow of people?
"In my constituency there are 130 different languages spoken. Let's get a flag that actually says we are proud of where we come from."
Dudley South Conservative MP Mike Wood slammed Ms. Smith's comments, saying: "She is demonstrating a complete lack of understanding of the identity of the Black Country and its proud industrial heritage.
"Chainmaking played a big part in building our economy. For her to say that representing it on a flag that was designed by a child [is racist] is absolutely nuts."
Our Sqn Ldr getting into the #BlackCountryDay spirit with our gate guard in Dudley #BlackCountryCavalry #MadeintheBlackCountry #bostin ay it pic.twitter.com/73qMkBaijk

— Black Country Cavalry (@BSquadronRY) July 14, 2017
The Black Country, which also has its own song and regional dialect, is believed to have got its name from the thousands of iron-working factories which covered the region in soot and smoke. Whilst riding through the region in 1832, the then-Princess Victoria wrote in her diary: "The men, women, children, country, and houses are all black."
The first written reference to the name 'Black Country' was in Burritt's 1868 book, Walks in the Black Country and Its Green Border-Land.
The Labour MP's comments come after her colleagues were accused of racism by fellow Labour officials in Sussex.
Happy Black Country Day! Here's the #BlackCountry flag outside the Houses of Parliament @officialBCday @blackcountrylep pic.twitter.com/HwXEbi5fCx

— GBSLEP (@GBSLEP) July 14, 2017
In response to Ian Austin MP's Black Country Day flag tweet with fellow Labour MPs Adrian Bailey, Pat McFadden, and deputy party leader Tom Watson (above), Bexhill and Battle's Labour Twitter account tweeted: "Nothing celebrates the Black Country more than four white men who forgot to invite Wolverhampton's first female black MP."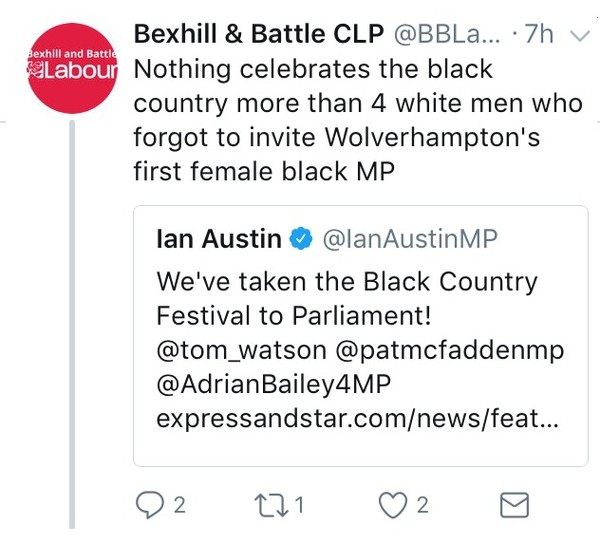 Ms. Smith had refused to join the other Labour MPs, in the show of regional pride, to hold the flag outside of the Palace of Westminster.
The Express & Star reports the tweet was later deleted after Twitter messages from Mr. Austin to Bexhill & Battle Constituency Labour Party (CLP) asked why one CLP was attacking another.