African and European leaders on Monday backed proposals to screen asylum seekers in Africa as a way to prevent thousands from taking perilous journeys across the Mediterranean.
Hosting the talks in Paris, French President Emmanuel Macron suggested setting up "fully safe areas" in Niger and Chad — key transit points for migrants — where asylum-seekers would be processed by the UN refugee agency UNHCR.
The leaders signed a roadmap on the proposal, though there were as yet few details on how it might work. A joint mission will be sent to Niger and Chad soon, they said in a statement after the mini-summit.
The seven heads of state or government, who included Germany's Chancellor Angela Merkel, said Libya's political stalemate was a central obstacle to resolving the crisis that has seen nearly 1.5 million people arrive in Europe since 2015, according to the International Organization for Migration.
"As long as the crisis in Libya is not resolved, I don't think we can find a definitive solution to the issue," said Chadian President Idriss Deby.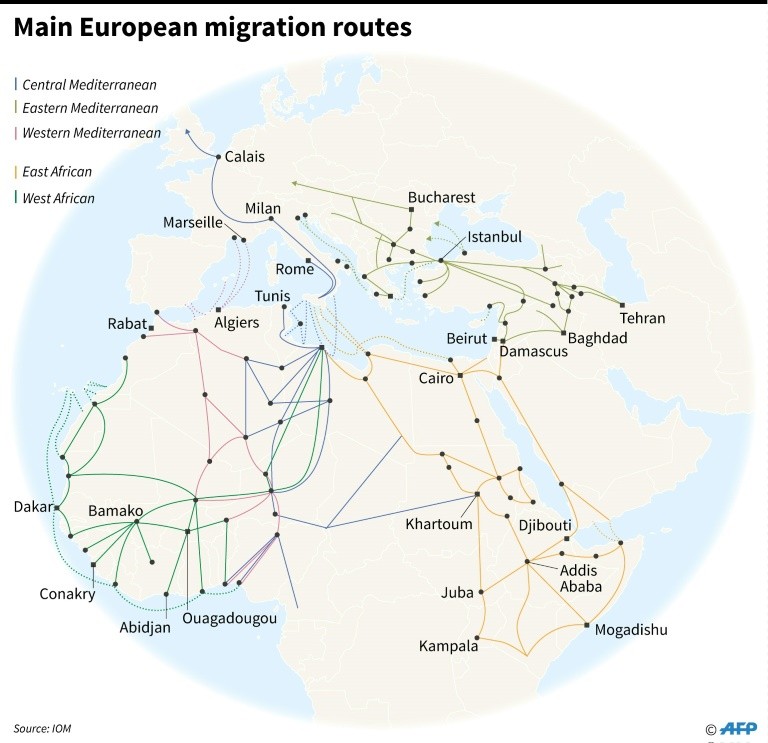 Two competing governments and dozens of armed factions are jostling for power in Libya, which plunged into chaos after the overthrow of longtime dictator Moamer Kadhafi in 2011. The north African country is a major transit hub for migrants.
Screening centres in Niger and Chad would help prevent "women and men from taking unwise risks in an extremely dangerous area and then in the Mediterranean" by starting the asylum process closer to home, Macron said, reiterating a proposal he made in July.
Human traffickers as well as arms and drug dealers "have turned the Mediterranean into a cemetery," he said.
More than 14,000 people, many fleeing conflicts or hardship in Sudan, Eritrea and Ethiopia, have died attempting to reach Europe since 2014.
This year alone, some 125,000 migrants have crossed the Mediterranean, the vast majority landing in Italy.
UN refugee chief Filippo Grandi welcomed Monday's developments, but added: "Measures that simply aim at curbing the number of arrivals do not solve the problem of forced migration.
"Any meaningful approach must include a set of strong and determined actions to ensure a lasting peace in conflict-ridden countries as well as social and economic development in places of origin."
Processing centres in North Africa https://t.co/kMM2ksBWd6

— Breitbart London (@BreitbartLondon) July 28, 2017
The head of the Libyan unity government Fayez al-Sarraj took part in the talks as well as Merkel, Spanish and Italian prime ministers Mariano Rajoy and Paulo Gentiloni, Niger's President Mahamadou Issoufou and the European Union's top diplomat Federica Mogherini.
European states have long sought to cut off clandestine immigration routes into the continent.
A controversial accord with Turkey last year stemmed the huge influx across the Aegean Sea to Greece, but other routes have come back into use, including via Morocco and Spain.
– 'Living hell' –
European nations are keen to offer development aid and funding to African countries in return for help in stemming the flow of migrants.
Last month the EU offered 10 million euros ($12 million) in aid to Niger to combat clandestine immigration.
On Monday, the Oxfam and ActionAid charities criticised Europe's leaders for what they called "fearmongering", accusing governments of presenting migration "as a threat rather than recognising its benefits".
"They are playing into the hands of populist fearmongers who falsely claim that Europe is unable to cope with the arrival of people to its shores and who demonise search-and-rescue missions that save lives in the Mediterranean," they said in a joint statement.
"Their short-term approach ignores the fact that Europe needs migrants," the statement said, adding: "Italy alone will need an estimated 1.6 million regular migrants over the next decade to sustain its welfare and pension schemes."
They called on the EU to "stop outsourcing border controls to Libya, trapping more and more people in a living hell" and urged governments not to make aid conditional on border management.
Libya has sought to restrict the work of NGOs operating rescue boats in the Mediterranean that pick up migrants stranded on inflatable dinghies or other unseaworthy crafts.
The groups have been accused of unintentionally encouraging migrants to attempt the crossing as they know they will be rescued in the event of an emergency.