United States President Donald J. Trump retweeted a series of posts by Britain First deputy leader Jayda Fransen, an anti-Islam and anti-mass migration activist who has been recently charged with hate crimes in the United Kingdom.
The three tweets which were recirculated by the president early Wednesday morning all feature videos claiming to show attacks by Muslims. One claims to show a "Dutch boy on crutches" being beaten up by a "Muslim migrant". As the young man is beaten to the ground, others stand around and watch, and laughter can be heard in the background.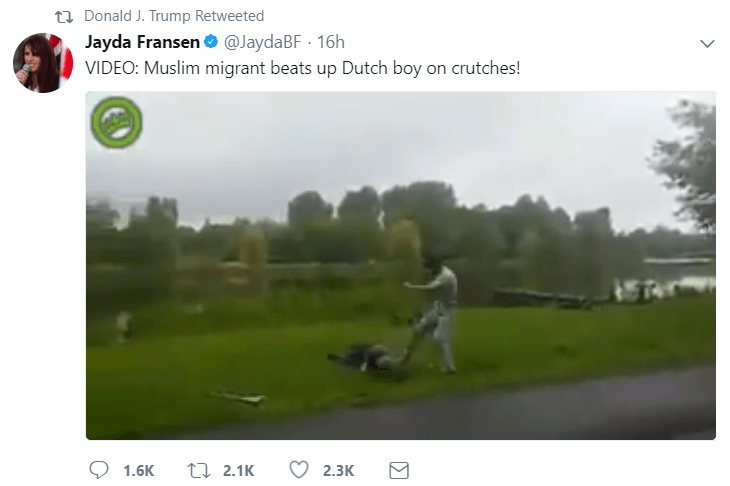 In the second video, a bearded man throws a statue of the Virgin Mary to the floor, causing it to smash into pieces. In the third, a man is thrown off the roof of a building. The caption reads: "Islamist mob pushes teenage boy off roof and beats him to death!"
Fransen responded positively to the retweets from President Trump, writing "God bless you Trump! God bless America!" and appending the message with an abbreviation reported to mean 'Onward, Christian Soldiers."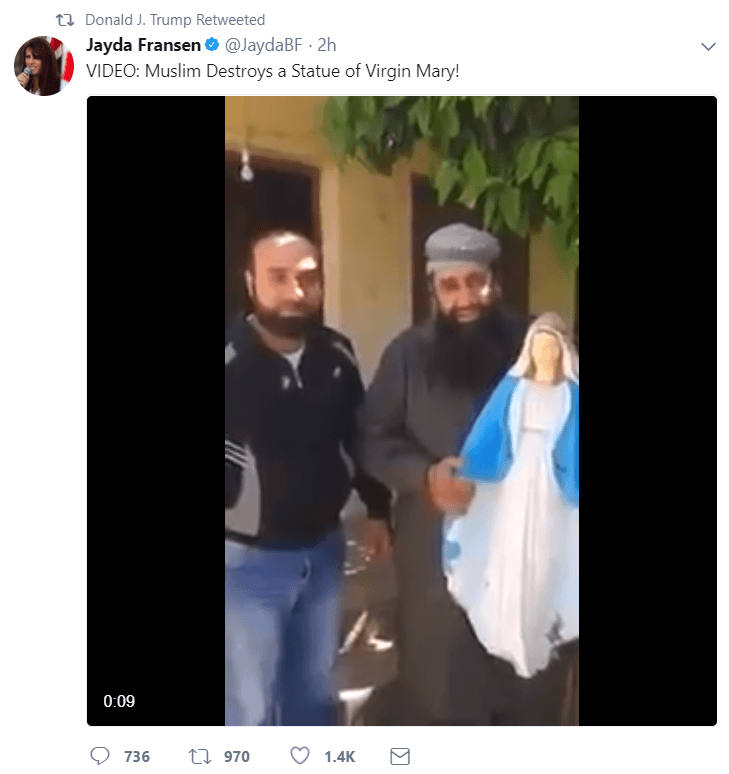 Jayda Fransen's Twitter account is not among the 45 profiles followed by President Trump. The president followed the retweets with other messages Wednesday morning commending the stock market and high consumer confidence, and a call to boycott the "Fake News" CNN.
As reported by the BBC in November, Jayda Fransen — from whose Twitter-verified account the tweets originated — was arrested in Ulster and charged with "threatening, abusive or insulting words or behaviour" made at a "Northern Ireland Against Terrorism" rally.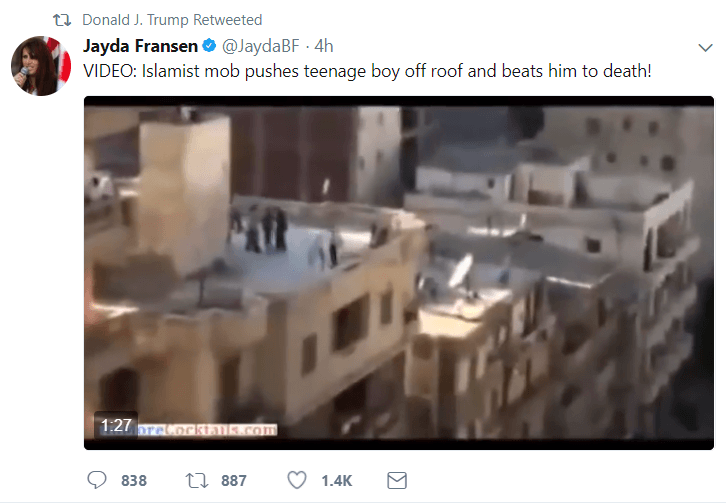 Fransen, along with co-leader of the Britain First Group Paul Golding was also arrested in Kent, England in May over allegedly distributed leaflets during a gang rape trial at Canterbury crown court. The pair were charged with causing religiously aggravated harassment.
The Britain First group they lead has engaged in direct actions such as "invasions" of mosques in the UK and leading "Christian patrols", marching in predominantly Muslim areas carrying large crosses.
At one such patrol, Fransen told cameras: "This is a Christian country. I'm British, these activists are British, so we will walk through these streets. We have every right to."
Follow Oliver Lane on Facebook, Twitter: Follow @Oliver_Lane

or e-mail: olane[at]breitbart.com