The police of Merseyside England have issued a thinly veiled threat against all users of social media who defend the life of Alfie Evans and accuse the Alder Hey Hospital of gross misconduct in holding him prisoner against his parents' wishes.
On Facebook, the police force posted a statement "following reports of social media posts being made in relation to Alder Hey Hospital and the ongoing situation with Alfie Evans."
According to Chief Inspector Chris Gibson, "Merseyside Police has been made aware of a number of social media posts which have been made with reference to Alder Hey Hospital and the ongoing situation involving Alfie Evans."
"I would like to make people aware that these posts are being monitored and remind social media users that any offences including malicious communications and threatening behaviour will be investigated and where necessary will be acted upon," the statement warns.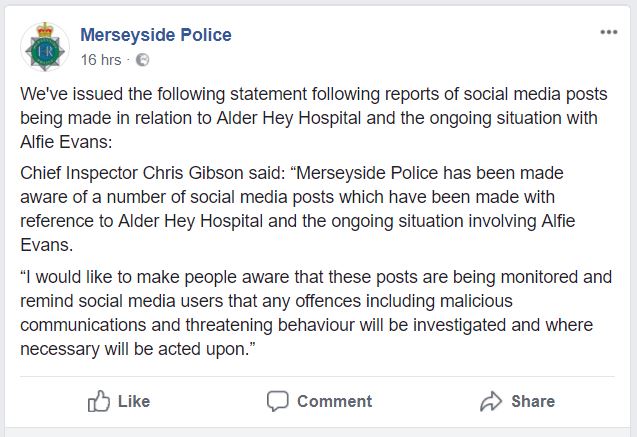 If the Merseyside Police make good on their threat, they will have their work cut out for them, given the number of important public figures who have come out on social media in defense of little Alfie.
Moved by the prayers and immense solidarity shown little Alfie Evans, I renew my appeal that the suffering of his parents may be heard and that their desire to seek new forms of treatment may be granted.

— Pope Francis (@Pontifex) April 23, 2018
The power of love is defeating the cynicism of those who have pulled the plug. All my support to #Alfie and his extraordinary parents.

— Antonio Tajani (@EP_President) April 24, 2018
It is one thing for the British authorities to deny him further care, but not letting his parents take him to Rome is inexplicable: https://t.co/YsRcQxzUiV

— Brit Hume (@brithume) April 26, 2018
#AlfieEvans has been made prisoner in his own country. His only crime is that he is sick. Shame on England. The whole world is watching. It's not to late to let Alfie go, to get the care elsewhere that his parents are fighting for. @AlderHey, let him go! https://t.co/zzfP0FXzAx

— Lila Rose (@LilaGraceRose) April 25, 2018
Government-controlled health care has consequences  … https://t.co/lYCCSk1z6Q

— Mark R. Levin (@marklevinshow) April 25, 2018
#AlfieEvans' story must be shouted from the rooftops. We must be his voice and the voice for others like him. #AlfieEvansArmy #tcot #ccot cc: @michellemalkin  https://t.co/hnux8FaAYm

— Allen West (@AllenWest) April 25, 2018
For no apparent plausible reason, the U.K. authorities are forbidding Alfie Evans from being transported to a hospital in Rome, where his life might very well be saved. https://t.co/Fvk6JZzEQV pic.twitter.com/HuVFLpnT4G

— Brittany Pettibone (@BrittPettibone) April 26, 2018
You've said nothing to prove that the state is not forcing Alfie Evans' to die.

You merely argued that it's legal for the state to do so. So, what? That's worse. https://t.co/1qJ8XiwTwI

— Liz Wheeler (@Liz_Wheeler) April 25, 2018
There is something badly wrong inside the British judicial & health-care systems. Theresa May or Queen Elizabeth ought to step in to protect #AlfieEvans from these systems' depraved indifference to a little boy & his loving parents. https://t.co/aMOurJDhTZ

— Tom Cotton (@TomCottonAR) April 26, 2018
We've been covering the #AlfieEvans case for weeks, and tonight is no different.  I cannot imagine the rage and grief the parents are going through, losing one legal battle over another. I'm no medical expert, but I believe we need to be having this conversation right now.

— Shannon Bream (@ShannonBream) April 26, 2018
Follow Thomas D. Williams on Twitter Follow @tdwilliamsrome