A 20-foot blimp created to mock President Donald J Trump and described by its creator as deliberately "grotesque" was launched into the air in Parliament Square gardens Friday morning, but failed to draw a significant crowd.
The blimp, paid for through crowd-funding and created by a self-declared "anti-fascist art activist" collective, forms the centre-piece of Friday's protests which have been claimed will draw large crowds to central London.
Flown up to a height of 100 feet Friday morning, the blimp will have been missed by President Trump himself, who flew to the Royal Military Academy Sandhurst in Surrey at 0900 to observe a joint military forces demonstration. Yet photographs of the event taken at distance show the big-money blimp was dwarfed by Parliament Square gardens, and did not even draw enough of a crowd to fill the space.
The giant Trump baby is now glaring at Parliament pic.twitter.com/jJF7B2SBWl

— Steven Swinford (@Steven_Swinford) July 13, 2018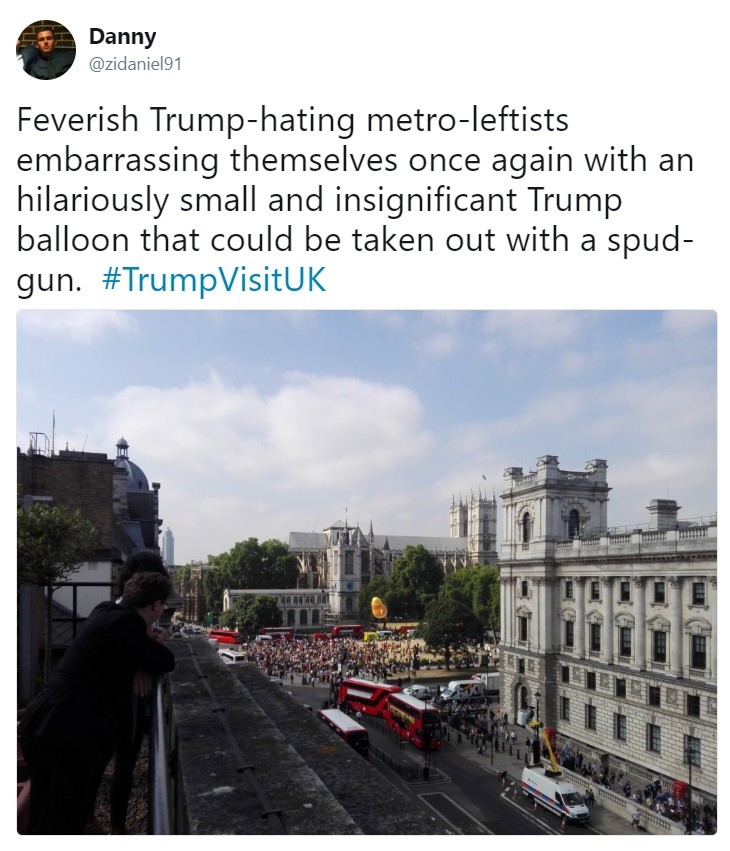 The Mayor Sadiq Khan-controlled London Authority granted permission to fly the balloon only until 1100 — meaning the demonstration will also likely be missed by the majority of protesters who are only expected later in the day.
The organisers had originally planned to pack the blimp up and take it by train to Scotland to fly it over President Trump's golf course, where he will be staying on Saturday. The group was denied permission citing public safety concerns, reports The Guardian.
Not all those who turned out Friday morning were against President Trump. Prominent among the crowds in his red 'Make America Great Again' baseball cap was Augustine Chukwuma Obodo, a native of Nigeria and now the leader of the Friends of Trump UK group. Augustine was seen enthusiastically arguing the President's case with the anti-Trump supporters present.
The balloon has been the matter of some controversy in the United Kingdom, with some questioning whether lampooning the President over his skin colour is acceptable. Whether a similar blimp caricaturing the features of former U.S. President Barack Obama would be considered acceptable and not a hate crime in racism-sensitive London has been hardly addressed.
Sadiq Khan, the London Mayor who has frequently clashed with President Trump — speaking out against him during the Presidential election campaign, calling for his visit to London to be cancelled, and lecturing him on his use of Twitter — has recently found a new-found love of free speech surrounding the protest, repeatedly praising it as a key British value when asked why he allowed the "grotesque" blimp to fly.
Khan has, in the recent past, "warned" large tech firms to crack down what he calls hate speech and fake news online. Breitbart London reported in March on Khan's comments in Texas when he said, "We can't assume that tech companies will find the solutions by themselves" and that it may be up to the government to intervene and regulate speech, taking inspiration from Angela Merkel's Germany which already does the same.
In April 2016, Khan poured nearly two million pounds into a new police "online hate crime hub" to work in "partnership with social media providers" and criminalise "trolls" who "target… individuals and communities".
Oliver JJ Lane is the editor of Breitbart London — Follow him on Twitter and Facebook