The Los Angeles Lakers 27th pick in the 2015 NBA draft hopes to make an immediate impact for the storied franchise, yet he may not have the good blessings of one very important teammate.
The 22-year-old power forward from Wyoming, Larry Nance Jr., was picked by general manager Mitch Kupchack earlier in the draft than most analysts had predicted. Nance was projected by DraftExpress.com, for instance, projected him as the 54th pick.
Fortunately for Nance, he had a chance to work out with the Lakers last Friday. Obviously he made a good impression.
As a result of Nance going higher in the draft, the six-foot-nine, 227-pound senior snags a guaranteed contract.
Nance, like his teammate Kobe Bryant, is a second-generation NBA player. Larry Nance was a three time NBA All-Star and won the slam-dunk contest in 1984. Joe "Jelly Bean" Bryant spent 8 years in the NBA, 8 seasons in playing in Europe, and now coaches a professional team in Japan.
However, there is one rather huge fly in the ointment. When Larry Junior was 19 he took to twitter and called the Laker icon, who was cleared of sexual assault charges against him, a "rapist."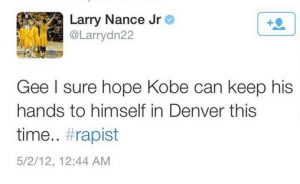 It appears that the Lakers were aware of the tweet before they made the decision to draft Nance:
LAL GM Mitch Kupchak said he & team PR boss John Black addressed Nance's Kobe tweet. Said Kobe & Nance will have to work it out themselves.

— Baxter Holmes (@BaxterHolmes) June 26, 2015