Gaza jihadist groups have accused the Hamas government of using torture in their detention facilities.
Hamas has reportedly arrested hundreds of jihadists on suspicion of espousing sympathy for the Islamic State organization against the backdrop of Hamas' reliance on IS's chapter in Sinai for goods and weapons.
Ibn Taymiya, a think tank representing jihadist groups in Gaza, issued a statement detailing the torture techniques Hamas employs in their interrogations of jihadi detainees.  The statement appeared in official Islamic State-affiliated propaganda organs and was obtained by Breitbart Jerusalem.  (The original statement in Arabic can be seen on the right).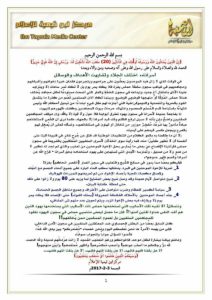 According to the statement, the detainees are undressed and left naked in a cold room, then struck with buckets filled with icy water, flogged and immersed in ice.
The statement denounces "Hamas' oppression" and says to its followers, "Today the power is in your hands, but soon you will be interrogated by Allah. You'd better prepare good answers."
Ibn Taymiya claims that Hamas also manhandles detainees, a practice the Israeli Shin Bet Security Service scrapped following a Supreme Court ruling. Another technique employed by Hamas is hanging detainees upside down with their heads covered in a bag, sometimes for up to 80 days, and flogging them at the same time, sometimes breaking their bones, the think tank claimed.
"The flogging, carried out with barbed wires, leads many of the detainees to hospitalization with a nervous breakdown," the statement said.
"These techniques are similar to those of the Jewish enemy," it further claimed, using anti-Semitic conspiracy theories. "Hamas makes the Salafi mujahideen undergo the same torture they did in the Jews' prisons."
"Despite the torture, the detainees maintain a high morale," it concluded. "They are as breakable as they are devout and adhering to their ideology!"
It ended on a threatening note: "Allah is our witness. We warned you, we alerted you, the villains will be held accountable in the end."