The Democrats' Senate leader refused a last-minute offer to aid the DACA 'dreamer' illegals with a three-year amnesty in exchange for funding the border wall, according to a press aide for Sen. Chuck Schumer.
The admission came in a series of Tweets from Schumer's spokesman which describe the weekend's three-cornered amnesty talks between Schumer, House Speaker Paul Ryan, and Donald Trump.
Schumer's spokesman, Matt House, pushed the Democrats' narrative — that divided Republicans keep saying 'no' when Democrats accept the GOP proposals. He wrote:
There was no indication that the White House was on board [with Ryan's offer] … At no point did Republicans show any willingness to address the full DACA-eligible population that the President supported making citizens [in his prior four-part immigration reform plan] … they're not serious about solving the DACA problem the president created … they turned down another chance for @realDonaldTrump to get the wall.
Trump hinted at the failed negotiations in Tuesday and Wednesday Tweets:
Democrats refused to take care of DACA. Would have been so easy, but they just didn't care. I had to fight for Military and start of Wall.

— Donald J. Trump (@realDonaldTrump) March 22, 2018
The Democrats do not want to help DACA. Would be so easy to make a deal!

— Donald J. Trump (@realDonaldTrump) March 20, 2018
The Democrats likely rejected the offers from Ryan and Trump because they think they can get a better deal if they win a House majority in November, said Mark Krikorian, director of the Center for Immigration Studies. In 2019, "they could get green cards for them in exchange for nothing at all …[or for] much less than full funding for the wall, " he said.
The risk and potential loss for the DACA migrants is not a key factor in the party's calculations, he said. "The Democrats have used the 'dreamers' as political p.r. for more than 15 years – why should they stop now?"
The Democrats' use of the 'dreamers' is a "marketing gimmick" which is embraced by the establishment media, he added. Media outlets "keep running the [DACA] sob stories, one after another," while downplaying the costs to Americans, he said.
In mid-February, Democrats and business-first Republicans united to block Trump's four-part reform plan, which offered citizenship to at least 1.8 million DACA illegals in exchange for the popular goals of ending chain-migration, ending the visa lottery, building a border wall and reforming legal loopholes used by economic migrants.
CNN's Jake Tapper broke the news about the weekend amnesty talks after a conversation with a GOP source, who said Ryan offered his deal on Sunday night after Schumer had rejected Trump's three-for-three offer.
Trump offered a three-year DACA extension in exchange for a three-year, $25 billion wall-construction fund.
Schumer rejected that offer and demanded citizenship for the 1.8 million illegals. If approved, that demand would have delivered eventual citizenship to at least 2 million illegals, plus their illegal-immigrant parents and to millions of chain-migration foreign relatives because Schumer's offer did not include a reform of the chain-migration rules.
Ryan's subsequent Sunday-evening offer to Schumer reportedly was similar to the Trump's rejected offer. Ryan also sent his offer on Monday morning to the Democrats' House leader, Nancy Pelosi, according to Tapper's source.
Schumer rejected Ryan's deal on Tuesday, ending the talks, said Tapper.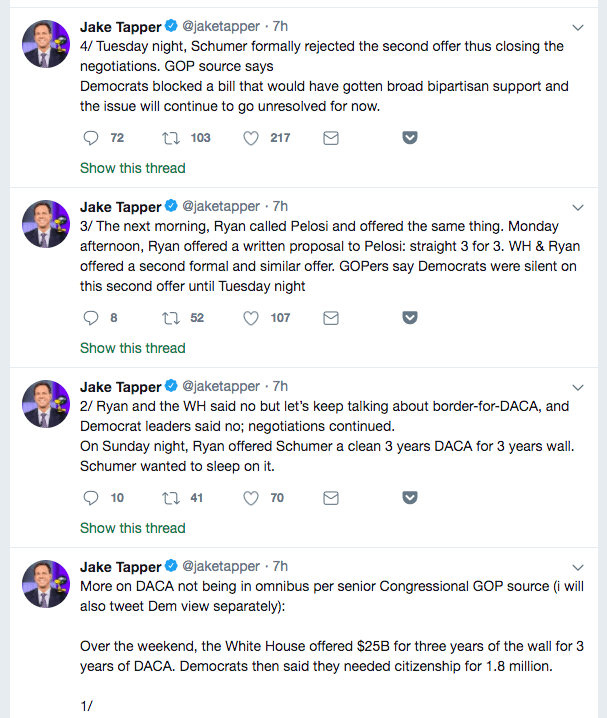 After Tapper broadcast the GOP source's report, Schumer's press secretary, Matt House, sent out the Democrats' version of the negotiations.
Trump's initial offer would have extended DACA for 690,000 illegals until late 2020, but Schumer wanted citizenship for 1.8 million illegals, said House, the spokesman.
Schumer's spokesman also hinted Ryan split from the White House, and he touted the Democrats' p.r. narrative — that divided and insincere Republicans keep saying 'No' when Democrats accept the GOP proposals.