Attorney General Jeff Sessions' immigration courts have returned deportation orders back up to the rate that existed before former President Barack Obama's pro-migration policies.
But the backlogs created by Obama's pro-migrant policies are still keeping hundreds of thousands of Central Americans in U.S. jobs, and are still inviting many additional poor Central American migrants to ask for asylum at border posts in Texas and California.
The number of illegals beating deportation orders has fallen by half since Obama departed, according to data provided by Syracuse University. In numbers, only 75,556 migrants were ordered home in fiscal 2016, but the departure number under AG Sessions is on track to reach 120,000 in 2018, says the university's newest data at the Transactional Record Access Clearinghouse.
In fiscal 2016, 56 percent of immigrants defeated deportation cases in the immigration-court system run by Obama's Attorney Generals. But that percentage has quickly dropped to 29 percent in 2018 under Sessions' oversight, which is slightly above the pre-Obama level which existed before 2009.
TRAC's chart, "Outcomes of Deportation Proceedings in Immigration Court," shows: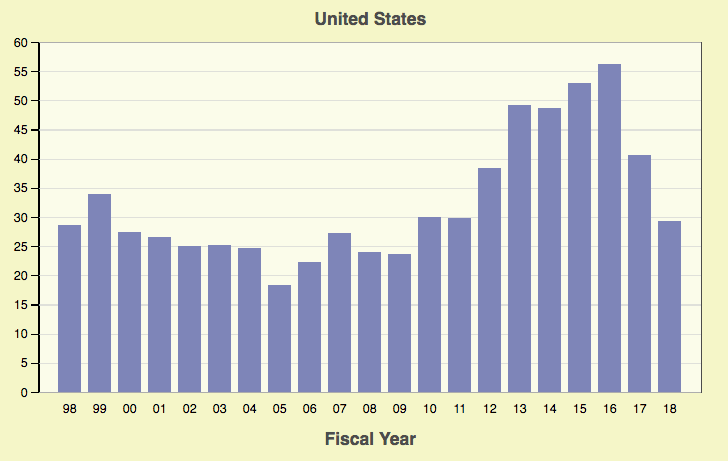 In numbers, 97,491 migrants won their deportation cases in 2009, while only 50,000 are likely to win their cases in 2018, according to TRAC. The data is arranged by 12-month fiscal years, so each year starts on the prior October 1, for example, fiscal 2016 begins October 2015.
The TRAC data include data from 2017 and 2018. In comparison, the data released by the Department of Justice's Executive Office for Immigration Review only goes up to 2016.
The flip side of the same TRAC data shows the rising percentage of people who were ordered home by judges in the immigration courts.
Under Obama, the deportation percentage fell from 76 percent of cases in fiscal 2008 down to 43.7 percent in fiscal 2016, which started in October 2015.
Under Trump, that deportation percentage has moved back up to nearly pre-Obama levels — roughly 70 percent.
Only 75,556 illegals were ordered home in fiscal 2016, but the number is on track to reach 120,000 in 2018.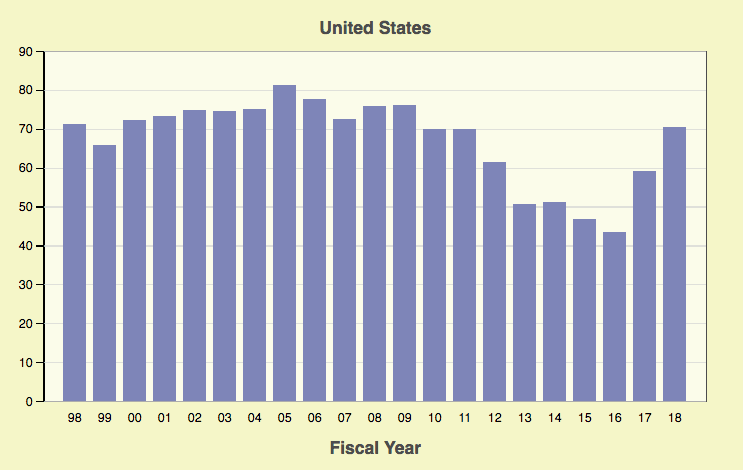 Sessions has also been able to process more of the young Central American juveniles who are seeking asylum and green cards, often as "Unaccompanied Alien Children."
In 2018, he won almost 12,000 removal orders and 2,400 voluntary departures, compared to Obama's 10,000 orders and 800 departures in 2016 when there was a similar number of roughly 42,000 juvenile cases.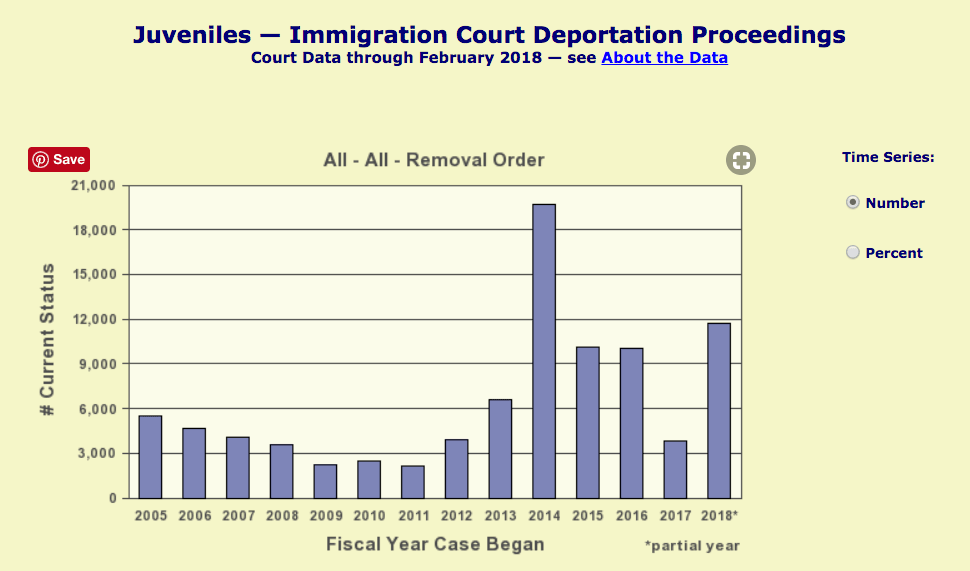 Under Sessions, almost no juveniles were offered "prosecutorial discretion" in 2017, compared to 2,130 offers in 2016. Each of those offers effectively provided permanent residency to the migrant.
The value of Sessions' gains were highlighted by April 2 statement from the White House about a police operation dubbed "Operation Matador." The statement said:
Ninety-nine individuals arrested during this operation crossed the border as unaccompanied minors, all of which were confirmed as MS-13 gang members. 64 individuals arrested during this operation obtained Special Immigrant Juvenile Status (SIJ) after entering the country, all of which were confirmed as MS-13 gang members. Of the 99 UACs, 64 had SIJ status.
Despite these successes, the overall number of pending immigration cases continues to rise as migrants arrive faster than Session's current 330 immigration judges can process them. Nationwide, the backlog grew from 223,000 in Obama's first year, up to 513,000 in fiscal 2016 and then continued growing to 629,000 in 2017.
The 2018 backlog is likely to reach 684,000, says TRAC. That number includes 90,000 cases in New York, 67,000 in Los Angeles, 53,000 in San Franciso, 49,000 in Houston, and 40,000 in Arlington, Va.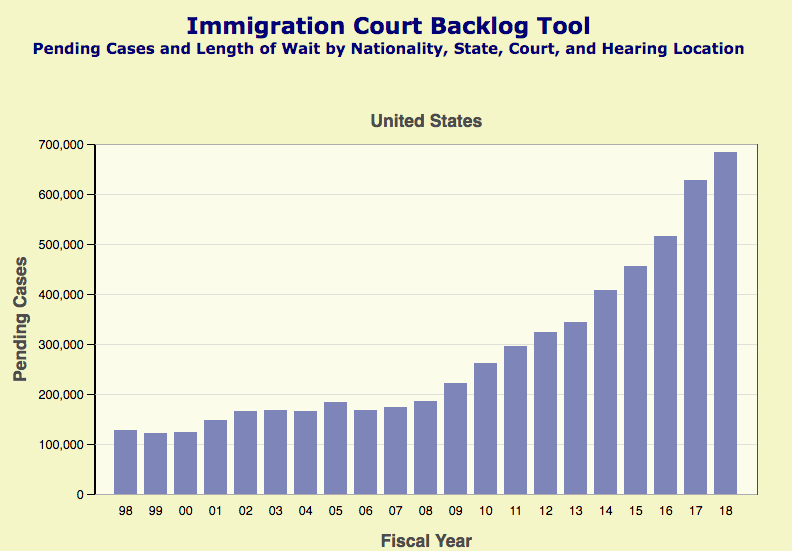 The backlog may further increase unless President Donald Trump can quickly reduce the number of migrants who are allowed to file asylum pleases in U.S. courts during 2018.
New arrivals are rising rapidly, according to the red line in an April report by the Department of Homeland Security.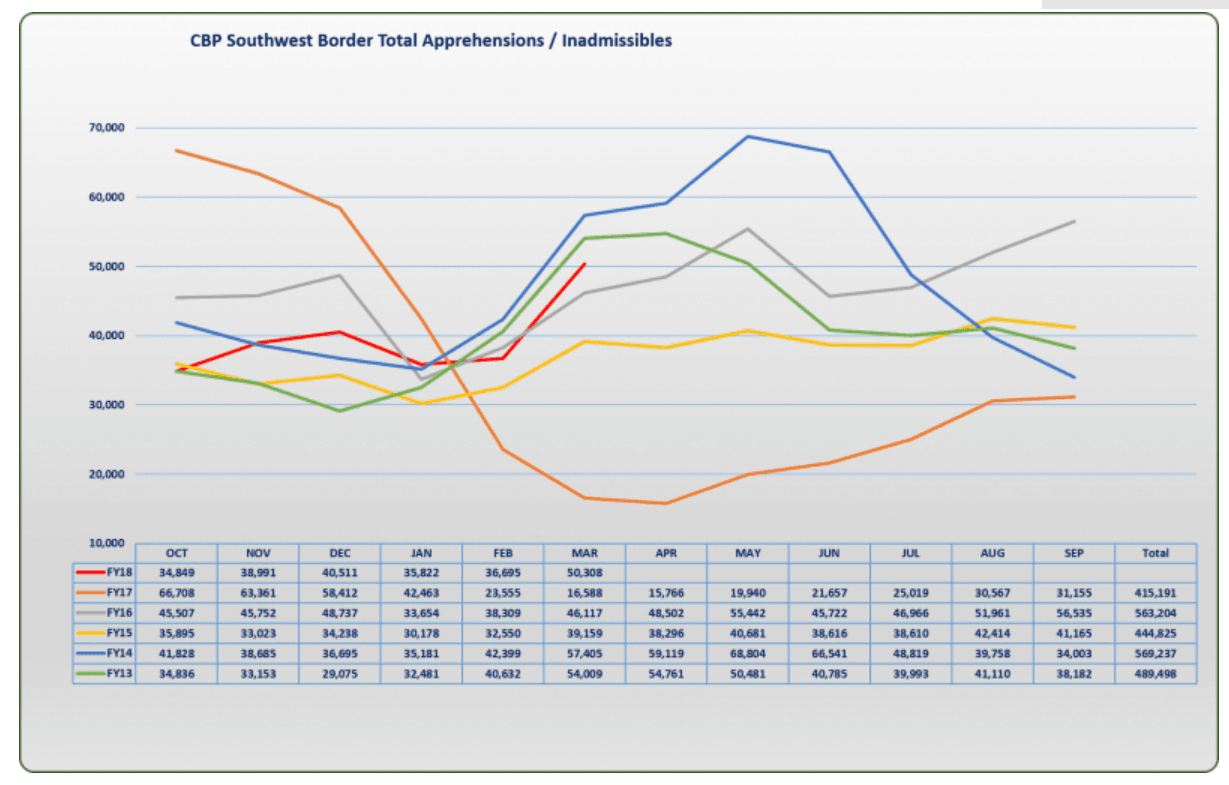 Sessions has taken several steps to reduce Obama's backlog. For example, he is hiring 100 extra judges, requiring judges to process cases faster, and is reversing time-consuming or generous precedents that helped more migrants win residency.
Sessions' reforms have enraged wealthy advocates of greater immigration. David Leopold, an immigration lawyer and the former president of the American Immigration Lawyers Association, slams Sessions, saying:
While ICE agents all across the U.S. dutifully execute Trump's brutal anti-immigrant crackdown, Attorney General Jeff Sessions is turning the nation's immigration courts into deportation assembly lines where asylum seekers, battered women, unaccompanied children and others seeking justice are processed for removal like cattle to the slaughter.
But Sessions' task is huge.
The backlog delays average immigration cases to more than three years, effectively offering migrants a valuable three-year work permit in exchange for just asking for asylum.
This federal offer of temporary work-permits via the backlogged court system provides a huge incentive for poor migrants in Central Americans — many of whom hope to work hard for their poor families — to take the expensive and risky journey to the U.S. border posts so they can make a claim for asylum in the backlogged immigration courts. That incentive is what Trump is trying to reduce by deploying the National Guard to the border.
The time to decide each immigration case grew from 452 days in Obama's first year up to 897 days in his last year in 2016. But TRAC foresees little improvement in 2018, perhaps because Sessions' courthouse reforms have not yet produced enough progress or data.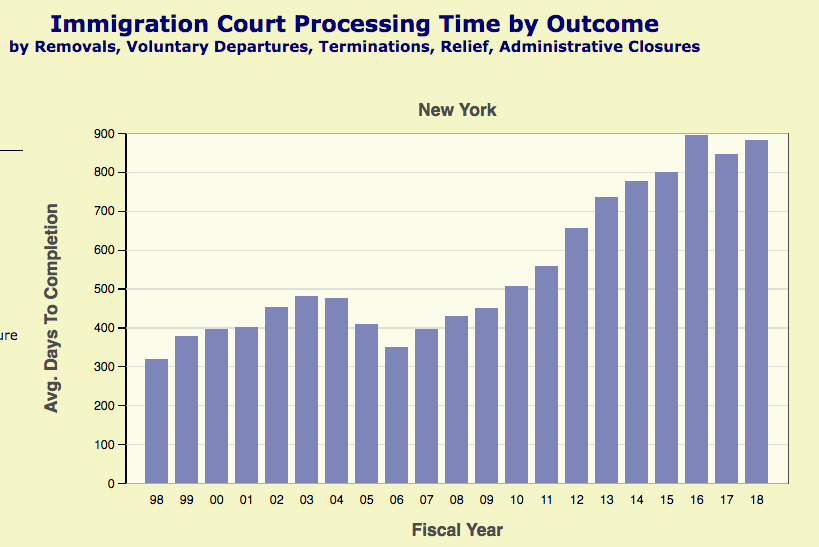 This backlog creates a cheap-labor loophole which puts 300,000 to 600,000 migrants into jobs — such as New York restaurants — throughout the United States. That huge semi-legal workforce reduces marketplace pressure on U.S. companies to pay higher wages, to recruit marginalized workers and to invest in labor-saving machinery or training efforts.
Many white-collar progressives scoff at the impact of this cheap-labor pipeline on their blue-collar fellow Americans. Max Boot, a columnist for the Washington Post, wrote:
And what horrors will be visited upon the United States if it were to act with a smidgen of kindness and allow a few of the Hondurans in? We would undoubtedly be getting hard-working newcomers who, like most immigrants, will make our country even greater than it is …

…

Of all the threats in the world, Trump chooses to focus on a few migrants who are, in truth, no threat at all. What is he ignoring? Well, let's see. A trade war with China that has rattled markets. Russia's attempted assassinations in Britain. Russian and Iranian war crimes in Syria. The Saudi war in Yemen. The U.S. war in Afghanistan. The Russian invasion of Ukraine. An election in Iraq. Insurgencies in Somalia, Nigeria, Mali, Libya and other countries.
However, even when migrants lose their cases, and are ordered deported, many elude the ICE agents and continue to work in the underground economy, alongside the roughly 8 million illegal-immigrant workers.
In 2016, 950,062 migrants with deportation orders were still living — and often working — in the United States.
Trump's 2016 pro-American immigration policies are very popular among the public, including among blue-collar African-Americans who are a core element of the Democrats' current electoral base.
Business groups, Democrats, and the establishment media tout misleading, industry-funded "Nation of Immigrants" polls which pressure Americans to say they welcome migrants, including the roughly 3 million 'dreamer' illegals.
The alternative "priority or fairness" polls — plus the 2016 election — show that voters in the polling booth put a much higher priority on helping their families, neighbors, and fellow nationals get decent jobs in a high-tech, high-immigration, low-wage economy.