The GOP's deficit in the generic-ballot poll score has spiked from just 3.2 points to 7.6 points in the last week as business donors and House Speaker Paul Ryan push for a wage-cutting amnesty.
The new polls show all of the GOP's gradual gains since mid-March were suddenly wiped out starting June 1, when the Democrats held a mere 3.2 point advantage in the generic ballot, which records voters' partisan preference. One week late, on June 8, the gap had jumped to 7.6 percent as the establishment media extensively and favorably covered the discharge-petition push and Ryan's June 6 public support for an amnesty.
The GOP's score dropped 1.4 points, from 39.8 percent, during the week in comparison to prior polls by the same companies.
The drop comprised 2 points in Fox polls, 1 point on the Economist/YouGov polls, 5 points in the Reuters/IPSOS polls, 1 point in IBD/TPP polls and 1 point in Rasmussen polls.
Democrats gained 3 points during the same week, so widening their advantage from 3.2 points to 7.6 points.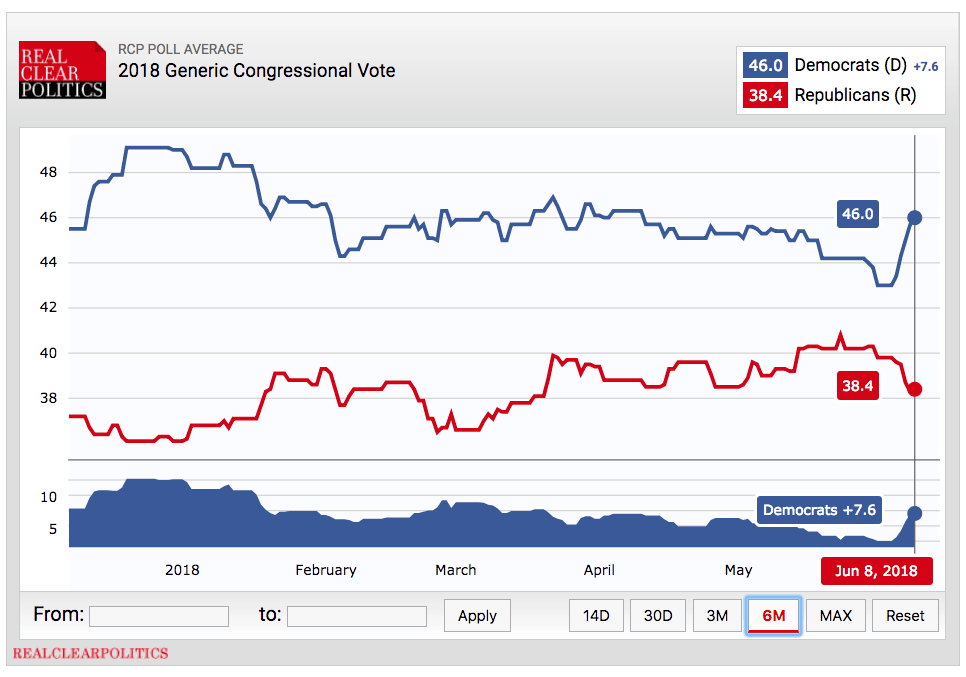 The latest push for an amnesty is being driven by business groups who oppose the modest wage raises that are happening in President Donald Trump's high-pressure economy, which is forcing companies to bid up workers' wages in a tight labor market.
For example, a June 6 report from Bloomberg described how energy investment has forced unemployment down to 2.1 percent in Midland, Texas, leaving employers no choice but to raise wages for Americans voters because Trump is denying them easy access to additional illegals or immigrants:
"It is crazy," said Jazmin Jimenez, 24, who zipped through a two-week training program at New Mexico Junior College in Hobbs, about 100 miles north of Midland, and was hired by Chevron Corp. as a well-pump checker. "Honestly I never thought I'd see myself at an oilfield company. But now that I'm here — I think this is it."
That's understandable, considering the $28-a-hour she makes is double what she was earning until December as a guard at the Lea County Correctional Facility in Hobbs. But when the boom goes bust, as history suggests they all do, shale-extraction businesses won't be able to out-pay most employers anymore. Jimenez said she'll take the money as long as it lasts.
According to the job-advertising site Indeed.com, Midland employers are offering to hire groundskeepers at $13.5o per hour, pizza drivers at up to $10 to $18 per hour, warehouse workers at up $15 per hour, $13.50 to part-time retail workers, and $10 to $12 an hour for maids.
These rising wages had helped narrow the generic gap from a wide 8.8 points recorded on March 9.
On June 6, Ryan welcomed the wage raises, although he credited Congress' tax cuts for the gains:
Unemployment is at 3.8 percent. 3.8 percent rate is the lowest unemployment rate in half a century. Wages are growing too. The wage growth is truly impressive …

… employers are giving more benefits to employees, they're hiring more people, they are more opportunities …  This result is what matters most. The purpose of all these policies is to improve people's lives, is to build a stronger, healthier, more prosperous America.
The amnesty is being pushed by wealthy donors and their GOP House allies in the face of Trump's reform to curb the long-term inflow of extended-family chain-migrants.
"Our goal is to not cut legal immigration," said Florida GOP Rep. Carlos Curbelo, who is a leader of the discharge-petition group that is demanding the amnesty. Also, the number of illegals who get green cards from the amnesty should be "as high a number as possible," Curbelo told RollCall.com on June 8 The number of young illegal immigrants in the United States is estimated at up to 3.6 million.
Curbelo's donors include some of the Florida millionaires who have threatened to cut off donations until Ryan approves an amnesty. For example, Mike Fernandez's MBF Healthcare Partners has donated $10,800 to Curbelo in the 2018 cycle.
Fernandez's pro-amnesty group 
frankly states
 that it wants more migrants to serve as consumers and workers:
ABIC promotes sensible immigration reform that supports the economy of the United States, provides American companies with both the high-skilled and low-skilled talent they need, and allows the integration of immigrants into our economy as consumers, workers, entrepreneurs and citizens.
Another leader in the discharge-petition group, GOP Rep. Jeff Denham, admits the push for amnesty is a risky vote before the November election. He told the New York Times:
There have been some critics who say that this [discharge-petition strategy] could cost us our majority. My concern is if we do nothing, it could cost us our majority. So yes, it's risky.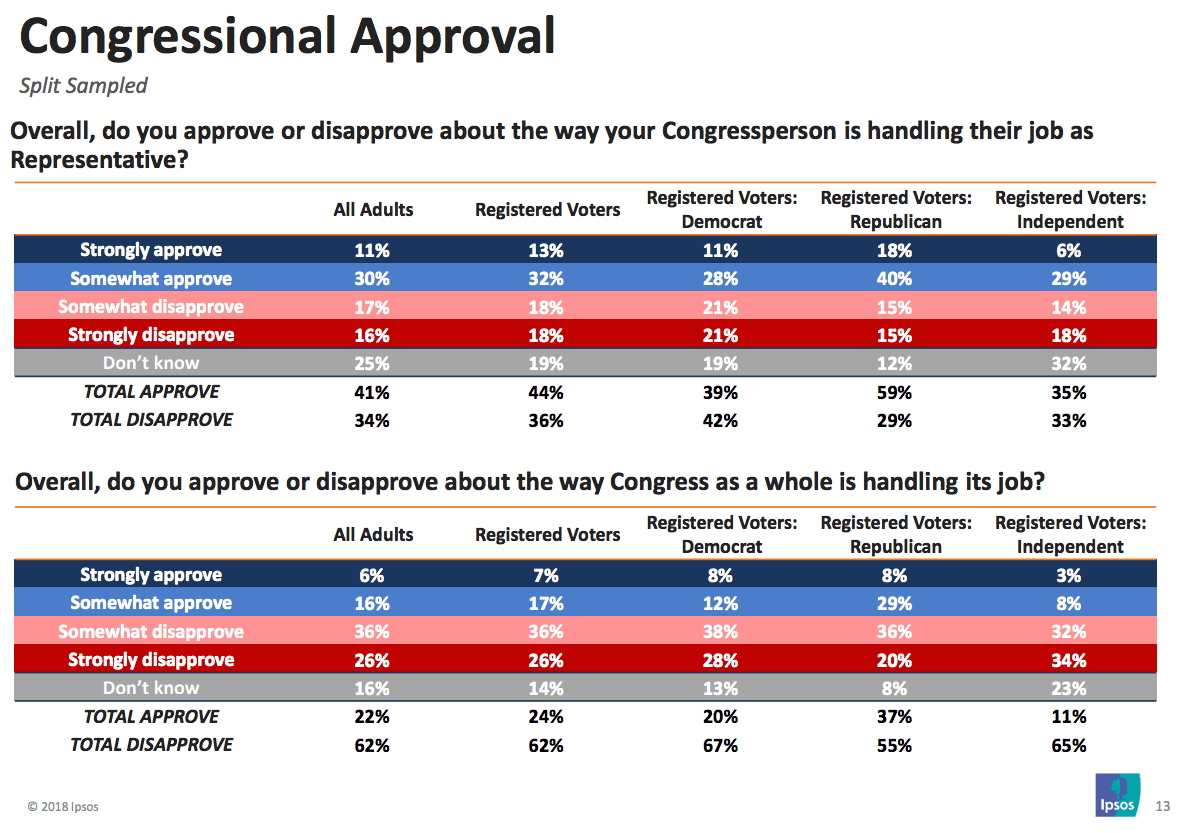 On June 7, Ryan announced that "the next step is putting pen to paper so we can start getting legislation to the floor … Time is of the essence if we want to have a legislative process that we can control."
Amnesty advocates use business-funded pollsters to conduct "Nation of Immigrants" push-polls which show apparent voter-support for DACA amnesty, for immigration, and immigrants. Those pollsters also push their clients' preferences when they advise their political clients.
But "Choice" polls reveal most voters' often-ignored strong preference that CEOs should hire Americans at decent wages before hiring migrants. Those pro-American preferences are held by many blue-collar Blacks, Latinos, and by people who hide their opinions from pollsters.
Similarly, the 2018 polls show that GOP voters are far more concerned about migration — more properly, the economics of migration — than they are concerned about illegal migration and MS-13, taxes, or the return of Rep. Nancy Pelosi.