President Donald Trump's deputies released a draft regulation which will shut the 2015 Flores catch-and-release loophole, and largely end the migration of unskilled Central American laborers into the United States.
The regulation will help Trump fulfill his campaign promise to block illegal migration because it will allow officials to quietly detain migrant families together while judges assess their legal claims.
Few migrants can win their immigration or asylum claims, so the no-release process will likely deter many poor migrants — such as Guatemalan David Xol — from paying smugglers to help them seek jobs in the United States.
The 2015 Flores catch-and-release loophole allows migrants who bring their children to be released into the United States after just 20 days in detention. For example, the Texas Tribune reported that:
Xol said he brought [his seven-year-old child] Byron with him on the advice of a local smuggler, who told him that parents with children have an easier time getting into the country than adults traveling solo.
Once the Flores-replacement regulation is finalized and published in several months, it will be hammered by lawsuits and progressive judges. The rule will then be approved or rejected by the Supreme Court — unless a pro-migration Democratic President withdraws the rule in early 2021.
Elite pro-migration lawyers and wealthy progressives immediately promised to block the regulation, even though it would help nudge up Americans' wages by reducing the labor inflow, and also reduce crowding in public schools by reducing the intake of foreign children and gang members. In 2017, for example, officials were forced to provide 400,000 work permits to unskilled migrants who were allowed into the country to claim asylum by President Barack Obama.
No way this is happening without a major battle. Get ready. https://t.co/ZNCewoHAg5

— (((Greg Siskind))) (@gsiskind) September 6, 2018
Progressives are portraying the new regulation as a plan to hold "immigrant children" in indefinite detention. For example, the Human Rights First group:
condemned the Trump Administration's attempt to terminate the Flores Settlement Agreement, which limits the government's ability to indefinitely incarcerate immigrant children and requires licensing by state child protection authorities of facilities that hold them. The organization notes that today's proposed regulations are an attempt to strip legal protections from families and children seeking refuge in the United States.
The New York Times declared:
Trump Administration Moves to Sidestep Restrictions on Detaining Migrant Children
The Washington Post headline said:
Trump administration to circumvent court limits on detention of child migrants
The public is being invited to send their comments on the draft rules, during the next 60 days, to a federal website, ICE.Regulations@ice.dhs.gov.
The draft regulation was developed under Attorney General Jeff Sessions, who is rolling out a wide series of management reforms to rebuild control of the border. Sessions is proceeding carefully because he expects legal challenges.
Congress could impose much faster changes, but pro-migrant Democrats and business-first Republicans have blocked pro-Americans reforms. For example, they voted in February to block Trump's Four Pillars immigration reforms.
Homeland defense Secretary Kirstjen Nielsen said:
Today, legal loopholes significantly hinder the Department's ability to appropriately detain and promptly remove family units that have no legal basis to remain in the country. This rule addresses one of the primary pull factors for illegal immigration and allows the federal government to enforce immigration laws as passed by Congress.
The lengthy document says:
The rule would adopt in regulations provisions that parallel the relevant and substantive terms of the FSA [Flores Settlement Agreement], consistent with the HSA [Homeland Security Act of 2002] and TVPRA [William Wilberforce Trafficking Victims Protection Reauthorization Act of 2008], with some modifications discussed further below to reflect intervening statutory and operational changes while still providing similar substantive protections and standards. It therefore would terminate the FSA. The rule would satisfy the basic purpose of the FSA in ensuring that all juveniles in the government's custody are treated with dignity, respect, and special concern for their particular vulnerability as minors, while doing so in a manner that is workable in light of subsequent changes.
The long draft carefully picks its way through the tangle of laws, court decisions, and existing regulations to close up the loophole, step-by-step.
For example, the regulation says that the quality of federal family detention centers will be overseen by federal inspectors, not state inspectors, as required by the Flores decree, which was established by Judge Dolly Gee in 1997 and expanded in 2015. That switch from state to federal inspectors is vital because no state has created an agency to oversee family detention centers, so preventing the federal agencies from funding non-government family detention centers.
"The rule here would eliminate that barrier to the continued use of FRCs [family residential centers], by creating an alternative federal licensing scheme for such facilities," said the regulation.
The new regulations will also only allow government officials to release young migrants to either parents or legal guardians. This rule enforces Congress' law and ends an Obama-era practice of allowing officials to deliver smuggled children to people who say they are relatives of the migrants. Under rules set by Obama, and continuing under Trump, officials do not check if the recipients of the children are illegal immigrants.
The new post-Flores regulations complement Sessions' reforms of asylum rules and his upgrade to immigration courts.
Sessions' work is already producing a massive rise in the number of migrants who are facing deportation orders: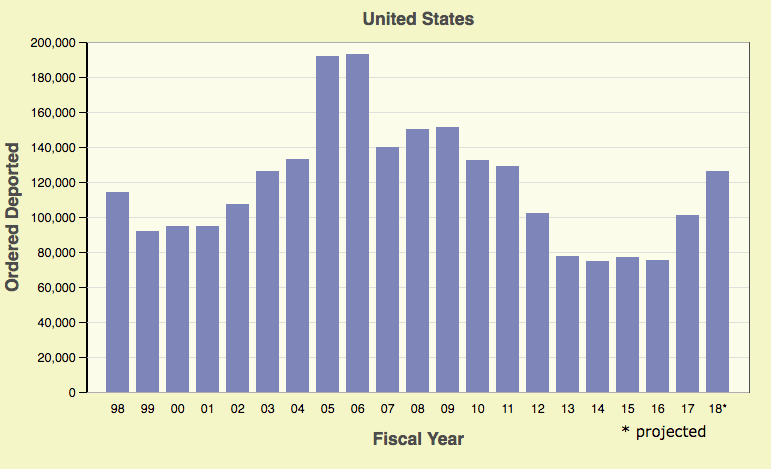 Sessions is also forcing down the number and percentage of migrants who are defeating deportation enforcement. For example, this chart from a non-profit at Syracuse University shows how Sessions has halved the rate at which migrants win deportation cases, from roughly 56 percent in 2017 down to roughly 28 percent in 2o18.