When Baltimore broke out in riots this week, the Islamic State (ISIS/ISIL) once again took advantage of the turmoil to spread its propaganda on social media.
While property destruction has ebbed in Baltimore, there are still a few ISIS supporters tweeting under the #BaltimoreRiots hashtag. This man claims that ISIS is in Rome, which the group threatened in the video where they beheaded 21 Coptic Christians.
https://twitter.com/lionelioner/status/594132368446849024
This one tweeted a video of the ISIS founders.
https://twitter.com/Degtyarev_ak47/status/594141653671239681
A few people appealed to those who cried racism. ISIS also used this strategy when Ferguson, MO, erupted after the death of Michael Brown. The Washington Post inserted English tweets from ISIS supporters who reached out to the blacks and promised equality in Islam: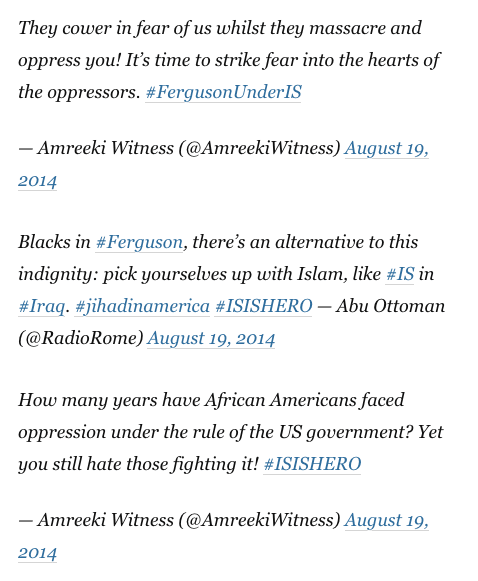 Experts have contradicted these claims of racial solidarity. For almost a year, Nigerian radical Islamic group Boko Haram pledged allegiance to ISIS. A U.S. intelligence officer told NBC News in February that ISIS will not likely team up with Boko Haram in any official capacity due to the group's racism against black Africans. ISIS allegedly accepted the alliance in March after many defeats in Iraq and Syria. Boko Haram changed its name to the "Islamic State West Africa Province" (ISWAP) in April, but there is still no absolute confirmation the groups are working together.
ISIS hijacked numerous hashtags since they burst into the international spotlight in June 2014. The terrorist group took over hashtags associated with the 2014 World Cup, the biggest sports tournament in the world. Supporters and fighters posted gruesome pictures labeled with #Brazil2014 and #WC2014. Pictures also showed militants playing soccer with heads, while other posts attempted "to persuade other Western Muslims to join their ranks." While gruesome, experts were impressed by their use of social media to promote their group.
"The slick nature of ISIS media releases has undoubtedly allowed it to become somewhat the 'celebrity' actor within the international jihadist community," explained Charles Lister, terrorism expert at the Brookings Doha Centre. "On social media, not a day goes by without a foreign supporter – from London, to Mogadishu, to Manila – expressing their support and allegiance to ISIS's cause."
The terrorists also hijacked the Napa earthquake hashtags #napaquake and #napaearthquake in August. On February 22, the anniversary of the game when America defeated the mighty Soviet Union hockey team in the 1980 Winter Olympics, militants posted propaganda under #MiracleOnIce and #HockeyDayInAmerica. The tweets mainly wanted to remind the world the terrorist group is still around.
Americans struck back a few times. Last August, ISIS used #AmessagefromISIStoUS to send out warnings of impending attacks. Americans countered with posts under the hashtag to show the militants they are not scared and America will always win.