A jihadist in Somalia believed to have ties to al-Shabaab tweeted a message demanding Americans attack the 'Draw Muhammad' contest in Garland, Texas, Sunday. The discovery of these tweets follows reports from at least one law enforcement official that the gunmen responded directly to Twitter requests to attack the event.
American jihadist Mohamed Abduhallahi Hassan, also known as "Mujahid Miski," asked Islam's brothers in the United States to attack the Draw Muhammad event, SITE Intelligence reports:

"If only we had men like these brothers in the #States," he said in another tweet. "Our beloved Muhammad would not have been drawn."
He also claimed he spoke personally with at least one of the gunmen in Texas, but the FBI did not provide more information.
"He was truly a man of wisdom. I'm gonna miss his greeting every morning on twitter," he wrote.
Here is a screenshot of his old account: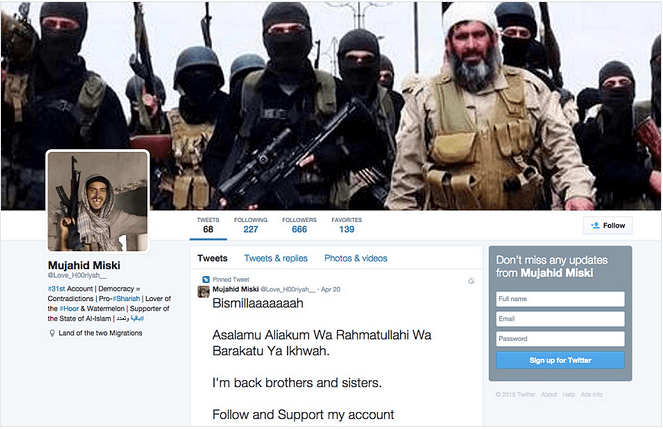 This account is believed to be Hassan's 31st, as Twitter kept suspending his accounts for jihadist activity. While SITE and the Investigative Project on Terrorism (IPT) have reported that others pushed Muslims in America to attack, Hassan's account appears to be the only one still available online, due to Twitter's policy of shutting down jihadist accounts. These calls to violence are especially notable because the IPT source claims Simpson "apparently saw some of those calls to violence and headed to Texas intending to kill as many of the Garland conference attendees as possible," rather than independently forming the plan of attack.
David Isben, the executive director of the Counter Extremism project, considers Hassan "one of the most influential terror recruiters to have taken to Twitter." The group, along with Twitter, cannot stop Hassan from returning to social media. Hassan, originally from Minneapolis, left for Somalia in 2008 when he was only 17-years-old.
Hassan regularly calls for violence on his social media accounts. He once demanded "the beheading of Frances Townsend, the Counter Extremism Project president and former homeland security advisor to former President George W. Bush."
CNN terrorism analyst Paul Cruickshank claims Simpson tweeted out his links to ISIS right before the attack:
May Allah accept us as mujahideen," the tweet said, adding that Simpson and his fellow attacker had pledged loyalty to "Amirul Mu'mineen" (the leader of the faithful) — a description that CNN terrorism analyst Paul Cruickshank said likely refers to ISIS leader Abu Bakr al Baghdadi.
However, there is concrete proof of Simpson's interest in al-Shabaab. He was arrested in 2010 after the FBI began following him in 2006 "because of his radical leanings." They sent an informant to Simpson's mosque, whom Simpson told he was hoping to "bounce" to Somalia. He was arrested upon making plans to travel to Somalia through South Africa "under the pretense of studying at a madrassa." The government could not place him on the No Fly List and only charged him with making false statements.