Following the media's near-radio silence after the most recent spate of terrorist attacks against Jews in Israel by Israeli Arabs-Palestinians, two Florida-based public figures have started a global movement to stand up against antisemitism by donating thousands of Israeli flags to citizens across the United States and Canada to be hung in a show of solidarity with world's only Jewish State.
Miami-based custom clothing designer Joseph Waks and Bal Harbour Councilman Gabriel Groisman's grassroots #Flags4Israel campaign will officially launch this Thursday by donating 10,000 Israeli flags to be flown across the nation. Thousands are expected to turn up for the event. An anonymous donor generously provided 10,000 Israeli flags for the duo's cause.
Waks and Groisman decided to proceed with the launch following the success of their "1,000 Flags for Israel" just a few days ago. Last Wednesday, Waks and Groisman gave out close to 3,000 flags in Miami Beach.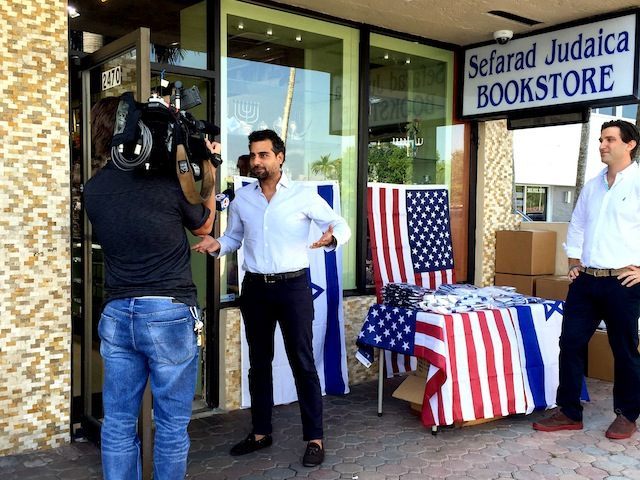 In a press release, Groisman noted "that the world stands silent as our families are being brutally attacked on the streets of Israel is no longer a surprise. It is our obligation, however, to stand up tall and to show our support for the people of Israel, and to spread the truth of what is happening on the ground in Israel."
The latest attacks were leading up to what is known as a "Day of Rage" against Jews in Israel. Waks and Groisman have decided to turn Thursday into a "Day of Love" full of love and support for the State of Israel.
Waks believes a major part of the problem is a lack of understanding that "the terrorism happening in Israel right now is being carried out by neighbors of Israeli citizens, who are Muslim Israeli citizens themselves [and] who are coming up against these people just because they're Jewish… Our children are taught love and theirs are taught to hate."
He told Breitbart News he felt the wrath of antisemitism during his time living in Europe. "I was spit at because I was Jewish," he said. "That's when I realized Europe was going down the drain because of antisemitism. And America was the land of the free, home of the brave, built on moral Democracy." He decided to make the move to the United States. "Not even our worst enemy is treated the way Israel is being treated on the world scale."
Groisman and Waks posted a video on Facebook promoting Thursday's cause.
"It's important the Israelis know that we are supporting them because in the media, the they are getting slapped. The lies that are being spewed about them in the media are deadly," Waks said.
He referenced major outlets like the BBC News Network and an article with a Palestinian slant in the Los Angeles Times which made the Arab terrorists look like the victims. "We want to show that individual people can rise up and change the [false] perceptions."
"We Americans support and love the State of Israel and we have a strategic and symbolic relationship with the State of Israel." He said as Jews, Israel is the only place they have to go in the world. "So it's an obligation for us to support the Jewish State of Israel."
On Monday, Waks reposted a text message he received from a Turkish-Muslim man named Ilker showing him and his brother Duran holding up an Israeli flag in a show of solidarity with the Jewish State.
Joseph my brother. Me and my brother as Muslims [would] like to send our support to Israel to bring peace [to] to the whole Middle East. That's why we are going to hang the flag you gave us. We have suffered in the hands of terrorism in Turkey as well. No more killing and suffering for your people. We are all children of God!
Anyone living in South Florida who wishes to pick up an Israeli flag to hang outside their home, vehicle or place of business should visit the #Flags4Israel Facebook event page here for details.
"The only Democracy in the Middle East that is living to our expectation is Israel," Waks told Breitbart News. "Even if the rest of the world is silent, we won't be."
Follow Adelle Nazarian on Twitter @AdelleNaz and on Facebook.