The Islamic State (ISIS/ISIL) released ten Assyrian Christians they kidnapped over nine months ago.
The Assyrian Monitor for Human Rights posted this update on their Facebook page: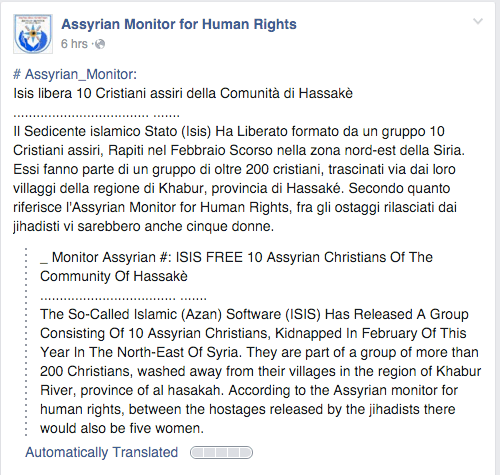 ISIS abducted over 220 Christian civilians while over 3,000 people fled over three days last February in numerous villages in Syria. During that time, the men burned churches and homes, destroying everything in their path. The terrorists demanded millions in ransom the last few months.
"The released Assyrians, who are residents of the towns of Tel Shamiram, Tel Jazeera, Qabr Shamiya and Tel Fayda, are in good health conditions," stated the Assyrian Network for Human Rights. "The total number of the released since the start of the negotiations has reached 98, mostly sick and elderly."
The Assyrian International News Agency (AINA) released the names of those ISIS released:
1. Timotheous Awetar Ishmael — Tel Jazeera
2. Awiya Youkhana Hormiz — Qabr Shamiya
3. Adoniya Emanuel Youkhana – Tel Jazeera
4. Awiya Ishmael Youkhana – Tel Jazeera
5. Ampolia Talya Talya — Tel Shamiram
6. Laya Ibrahim Mirza — Tel Jazeera
7. Sheren Abdulahad Darmo — Tel Jazeera
8. Hana Ibrahim Elias Yousef — Tel Jazeera
9. Dewaniya Benyamin Rehana — Tel Faitha
10. Shawel Elisha Elisha — Tel Jazeera
They used some of the Christians as props in their propaganda tools. Terrorists used one who allegedly converted to Islam of his own free will in a promotional video. In the video, he pleaded for his fellow Christians and family to also convert. Syrian Kurdish journalist Egid Yusuf said an Assyrian Christian would not "convert to another religion if not under torture or threatened with death."
ISIS released 19 hostages in early March. One hostage, only known as Robert, told AINA that the group prohibited them from returning to their homes despite setting them "free." On the day they were released, the militants told the Assyrians they cannot stay in the country. If the Islamic State captured any of them again, they were told, they would die. A hired car driven by a non-Islamic State member drove the hostages back to the Hasaka province. Robert said the people were scared, but very happy "to see the church of St. Mary full and all the people there." They will not be allowed to stay there, however, and Robert claimed the Assyrians were on their way to Lebanon.
That same month, Mar Awa Royel, a bishop for the Diocese of California of the Assyrian Church of the East, spoke with Breitbart News about the crisis in Syria.
Militants also released these hostages this year:
November 24: 10 released
November 7: 37 released
August 11: 22 released
June 16: Francois Sawa released
May 26: two elderly women released, Ramziyya Rehana (80) from Tel Jazira and Yoniyya Kanoon (70) from Tel Shamiran
March 3: Two Assyrians from Tel Shamiram were released, Yatroun Marko and his wife Wardiyya Yonan. Two Assyrians from Tel Goran were released, 6 year-old Mariana Mirza and her father's aunt, Bobo Mirza.