A radical Canadian imam called for Muslims to "look forward" as "Rome will be conquered," in a Friday sermon posted on the Internet on Feb. 16 and translated by the Middle East Monitoring Research Institute (MEMRI).
"The prophecies of the Prophet Muhammad came true. But some prophecies have not come true yet. Look forward to it, because the Prophet Muhammad said that Rome would be conquered! It will be conquered," preached Imam Shaban Sherif Mady.
Mady, based in Edmonton, also spoke of restoring the "rightly-guided" Islamic Caliphate.
His reference to conquering Rome mirrors a similar call by Islamic State leader Abu Bakr al-Baghdadi.
"This is my advice to you. If you hold to it you will conquer Rome and own the world, if Allah wills," Baghdadi preached in an attempt to garner more recruits to ISIS.
Mady's Facebook page reveals the extent of his radicalism, boasting a cover photo featuring Muslim Brotherhood leaders including ousted Egyptian President Mohammad Morsi and Turkish leader Recep Tayyip Erdogan.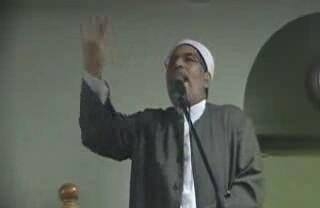 In one photo, Mady is shown signalling the infamous Muslim Brotherhood four-fingered salute.
On Tuesday, Mady shared a Hamas propaganda video on his Facebook page depicting terrorists sniping and killing Israeli soldiers, issuing threats to Israelis in Hebrew and Arabic. Mady captioned the video by writing: "Qassam (Hamas' terrorist wing), the earth's best soldiers."
Moreover, on Feb. 13, Mady posted photos of Hamas terrorists celebrating "the martyrdom of Imam Hassan al Banna, founder of the Muslim Brotherhood," according to an Investigative Project on Terrorism (IPT) translation.
A day later, Mady shared a gruesome video of a wounded woman and called for the destruction of Israel.
"Israel is a terrorist state, in its government and people…The Intifada continues until we restore all of free Palestine…And Jerusalem is the capital of righteous Islamic Caliphate," Mady wrote in the caption accompanying the video.
Mady was a scholar at Egypt's Al-Azhar University and served with the Egyptian Ministry of Education. He is now an imam in Edmonton and has preached extremely radical Friday sermons in the past to his Muslim congregation in Edmonton, reports CIJ News.
He recently praised Canadian Prime Minister Justin Trudeau for welcoming Muslim refugees, but also called on Allah to destroy enemies of the faith:
"Why (was the Muslim Brotherhood movement was designated as) a terrorist organization? Because it calls for the return of the Caliphate (Islamic State). If so, I'm an operative of the Muslim Brotherhood, I'm a terrorist… (O Allah) to those who want to harm Islam and the Muslims, make their animosity annihilate themselves, make them kill themselves, destroy them completely, annihilate them all, like you did to the peoples of A'd and Thamoud…O Allah, support all mujahideen in any place around the globe."
This post originally appeared at the Investigative Project on Terrorism.