Supporters of socialist president of Venezuela, Nicolás Maduro, beat opposition legislator Julio Borges with metal sticks in broad daylight Thursday, causing multiple nose fractures. They also injured several others before the nation's National Electoral Council, where opposition leaders had convened urging the council to speed up the verification process for a recall on their president.
Borges, National Assembly President Henry Ramos Allup, and other leaders of the anti-socialist opposition marched Thursday afternoon towards the National Electoral Council (CNE) to request a meeting with the agency's head, Tibisay Lucena, and demand the hundreds of thousands of signatures gathered calling for a recall vote on President Maduro be ratified in a timely manner. The Venezuelan government ordered the Bolivarian National Guard (GNB) to surround the building and forbid the legislators from entering. Waiting before the line of soldiers, the legislators were surrounded by members of Chavista gangs known as "colectivos" and beaten until they were forced to leave to seek medical attention.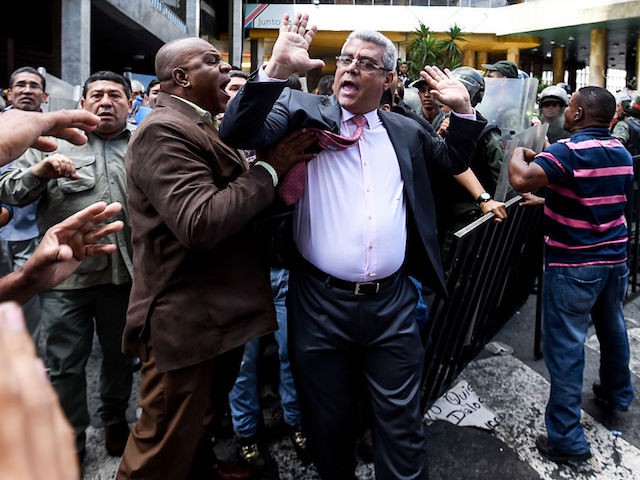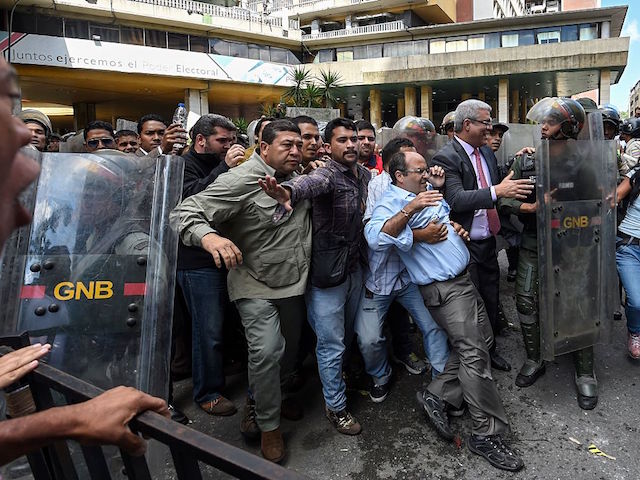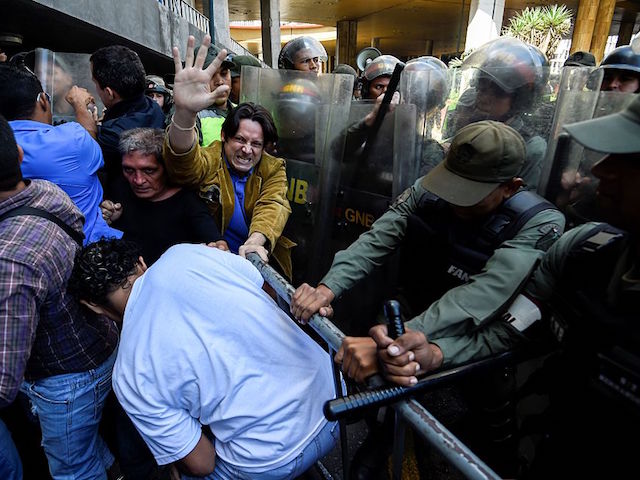 "With total impunity, the colectivos beat us with tubes, motorcycle helmets, rocks, and detonated an explosive by the lawmakers," Julio Borges told reporters following the assault on him. Another lawmaker present, Juan Guaidó, confirmed that "the police did nothing to protect us." Rather than defend them against attack, reports confirm that the National Guard used tear gas to disperse the lawmakers. The Spanish newspaper El Mundo counts 40 lawmakers among the number of those physically assaulted before the electoral board's headquarters, and Colombia's El Tiempo identifies at least one journalist, Odel López, who was seen being hit with a baseball bat.
Allí tiene @ernestosamperp El Jefe bancada @unidadvenezuela AN por ir a CNE a pedir fecha validación firmas! pic.twitter.com/27KhsTPQyL

— Henrique Capriles R. (@hcapriles) June 9, 2016
#9Jun Agredido el Dip. @Eudorogonzalez a las afueras del CNE. #360Mundo pic.twitter.com/BjjffJ5xny

— 360 Mundo (@360mundo) June 9, 2016
#Ahora: [10:50 am] @JulioBorges y Francisco León agredidos en enfrentamiento frente al CNE este #9Jun pic.twitter.com/rRle8JPubS

— Efecto Cocuyo (@EfectoCocuyo) June 9, 2016
The National Guard has a record under Maduro of using tear gas against public officials, whether legislators or governors, who attend peaceful anti-socialist rallies.
Borges retreated to the legislative headquarters in Caracas and addressed the press with a bloodied face. "Every blow makes us stronger," he said in a statement. "Maduro is violence; the recall is peace."
Later that night, speaking through thick bandages around his broken nose, Borges told CNN en Español that the attack on legislators represented a turning point for the nation's military, particularly those in the National Guard who find themselves repeatedly ordered to attack civilians. Among the most gruesome such attacks was the murder of 14-year-old Kluiverth Roa, who was shot and killed by a National Guard soldier on his way home from school. The path home cut through an anti-socialist protest.
"It is time in Venezuela for our armed forces to decide whether they are with the Constitution or with Nicolás Maduro," Borges told CNN. He noted that this week, "seven people have been killed leaving the house to buy food," stating, "In Venezuela, mothers leave the house to find medicine and are beaten on a daily basis. … This isn't just about us deputies or governors."
The anti-socialist opposition is looking to oust Maduro through a constitutionally permissible referendum, which requires submitting two petitions to the National Electoral Council to get Maduro back on the ballot. The opposition submitted the first round of signatures 40 days ago, and the board has yet to validate or dismiss the signatures. "This should have taken five days," Borges lamented to CNN on Thursday.
Adding to the suspense are the rampant reports of fraud occurring in the signature-ratification process. On Friday, Henrique Capriles Radonski – the governor of Miranda state and opposition candidate in the last two presidential elections – found that the National Electoral Board had invalidated his signature from the first recall petition, without providing a reason. "They are trampling the will of the people," Capriles said in a statement posted on Twitter, demanding the board explain its exclusion of his signature.