Breitbart News presents live coverage of the aftermath of the jihadist Omar Mateen's massacre at Orlando's Pulse night club. Three days after the largest terrorist attack on U.S. soil since 9/11, an opinion poll shows the public's initial reaction to the various responses suggested by the country's political figures.
All times Eastern Standard Time.
*****
Top developments:
• Mateen appeared to call a local news station and say he committed the attack for the Islamic State. This was not reported Sunday but three days later.
• Twitter suspends Milo Yiannopoulos hours before his speech at "Ground Zero" in Orlando
• Is Omar Mateen's wife Noor on the lam?
• Milo condemns local mosque for hosting speaker who incited violence against gays
*****
10:32 PM: Boston Globe's Thursday front page:
The @BostonGlobe is making a pretty extraordinary statement. Here is tomorrow's front page. pic.twitter.com/Ldt8Re9DAH

— Matt Viser (@mviser) June 16, 2016
10:23 PM: Orlando terrorist reportedly told co-workers he wanted to be a "martyr."
10:20 PM: Craigslist ad warns San Diego is next.
9:35 PM:: Sen. Ron Johnson (R-WI) asks Facebook to "provide all Facebook data on Mr. Mateen's activities on his account and any affiliated Facebook accounts, including but not limited to activity logs, Facebook timeline information, Facebook messages, photos, and posts." The Orlando terrorist may have had at least five accounts linked to him.
9:15 PM: Report: Orlando terrorist made 16 phone calls during the terrorist attack and searched for words like "Pulse Orlando." Investigators are reportedly "tracking down each of the recipients of those calls." He also searched for the San Bernardino terrorist couple.
8:35 PM: Authorities: Orlando terror investigation could take years.
7:50 PM: On CNN, Sen. Jeff Sessions (R-AL) says Trump can turn around his unfavorable number because his message, especially on trade and immigration, will resonate with working Americans.
7:40 PM: Joe Biden pushing gun control at Sandy Hook Promise Gala:
But Biden tells @sandyhook "there's hope," citing Senate filibuster to get vote on "no fly, no buy" bill. pic.twitter.com/CHovj1dtzZ

— Mark Knoller (@markknoller) June 15, 2016
"This borders on irrational," says @VP that new gun control laws not enacted. "But I refuse to give up. We refuse to give up."

— Mark Knoller (@markknoller) June 15, 2016
Joe Biden to parents of SandyHook victims: you'd think by now we'd be in a different place w/ #GunViolence. @wusa9 pic.twitter.com/DZg2nnWBjx

— Mola Lenghi (@MolaReports) June 15, 2016
7:11 PM: CBS Poll: Plurality of Americans want more "conservative" policies.
At the same time, @CBSNewsPoll shows most voters want a change from Obama policies: pic.twitter.com/WGWvXILPaU

— Mark Knoller (@markknoller) June 15, 2016
Clinton holds lead over Trump in national CBS poll:
CBS News poll: Clinton 39% – Trump 32% – Johnson 11% pic.twitter.com/M1fFcYT83h

— Alan He (@alanhe) June 15, 2016
7:00 PM: FBI says gay night club was terrorist's only target.
6:40 PM: Report: Orlando terrorist had a pattern of "disruptive behavior" stretching back to elementary school. Though he was born in New York, he was reportedly "sent to finish kindergarten at Frances K. Sweet Elementary because he was limited in reading, writing and speaking English, according to documents. Mateen's first language was Afghani, which was primarily spoken at home, according to records."
Mateen's first language was Afghani, which was primarily spoken at home, according to records.
6:23 PM — Grand Jury will determine whether terrorist's wife will be charged.
A U.S. attorney plans to bring evidence before a federal grand jury to determine whether charges will be brought against Noor Salman, the widow of Orlando nightclub gunman Omar Mateen, according to two law enforcement officials.
6:21 PM —
NYPD says the name of those killed in #OrlandoShooting. Police are having 1st Pride celebration at HQ in 10 yrs pic.twitter.com/a7bHW4nh0O

— Zolan Kanno-Youngs (@KannoYoungs) June 15, 2016
6:17 PM — CNN reporter "alarmed" that many Americans favor a temporary ban on Muslim immigration:
I'm frankly alarmed by how many people have responded to our story with the words "good start". https://t.co/9K5MmOjg2C

— Jim Sciutto (@jimsciutto) June 15, 2016
6:15 PM — Suspects reportedly tried to run down Orlando police officer:
Chief: suspects tried to run down officer. Gunfire came from police gun not suspect. #Wftv

— Shannon Butler (@SButlerWFTV) June 15, 2016
6:00 PM — Local Orlando children make care packages for police.
So sweet! Local children made a ton of care packages for 1st responders & dropped them off near shooting site. pic.twitter.com/uE5kXWyGkW

— Orlando Police (@OrlandoPolice) June 15, 2016
Every single one of these bags contains snacks & personal note to first responders. Folks were weepy after reading. pic.twitter.com/g8RrCrObQa

— Orlando Police (@OrlandoPolice) June 15, 2016
5:50 PM — 2016:
— Sanders campaign vows to go to convention.
— Cruz plots comeback as Rubio ponders another Senate run.
5:01 PM — Chilling Facebook post from Orlando terrorist moments before attack warns of more ISIS attacks in the U.S.
NEW: @CBSNews has learned that Mateen posted the following on @facebook moments before attack. #OrlandoShooting pic.twitter.com/pqLaPwU3Gy

— Paula Reid (@PaulaReidCBS) June 15, 2016
4:35 PM — Orlando terrorist reportedly abused gay man at gym.
4:30 PM —
University of Denver tolls bell 49 times for each Orlando shooting victim: https://t.co/wCQ7qfePuC via @YouTube

— 9NEWS Denver (@9NEWS) June 15, 2016
4:25 PM — Also an indictment of the Republican establishment permanent political class:
Happy first anniversary to the saddest major presidential campaign of all time. https://t.co/Mbv8wOWUau pic.twitter.com/mOkHyaTXei

— Miami New Times (@MiamiNewTimes) June 15, 2016
After Orlando terror attack, Rubio reconsidering Senate run:
4:24 PM — Trump heading to the Lone Star State again:
Trump's Texas itinerary:
– Thursday: Fundraiser and rally in Dallas
– Friday: Fundraisers in San Antonio and Houston, rally in The Woodlands

— Patrick Svitek (@PatrickSvitek) June 15, 2016
4:21 PM — Sen. Warren, pushing more gun control after the Orlando attacks, says Senators will have "blood on their hands" if they fail to ban so-called "assault weapons."
Elizabeth Warren says "members of this Congress will have blood on our hands" if they fail to ban an assault weapon used in future shooting.

— Sahil Kapur (@sahilkapur) June 15, 2016
4:17 PM — Filibustering to push for gun control more important to some Senate Dems.
It appears the Dems on Senate floor will skip the 4pET classified briefing by the FBI director and DHS secy on the #Orlando shooting.

— Steven Portnoy (@stevenportnoy) June 15, 2016
4:10 PM — Clinton uses post-Orlando press conference to slam Trump's proposal to build a wall as campaign releases video attacking Trump (Trump has edge over Clinton on terrorism, according to multiple national polls):
Clinton says wall would not have stopped Orlando attack: I don't know how one builds a wall to keep the internet out https://t.co/T4wjN5z1Ie

— This Week (@ThisWeekABC) June 15, 2016
Your @GOP presidential nominee responding to a terrorist attack with lies and conspiracy theories.https://t.co/TZJmXefmx4

— Hillary Clinton (@HillaryClinton) June 15, 2016
4:00 PM — Obama finally calls Florida Gov. Rick Scott.
3:50 PM — Full doc on Mateen's firearms proficiency:
Shooter's certificate of firearm proficiency #OrlandoShooting pic.twitter.com/5FP0txAfQe

— Shoshana Walter (@shoeshine) June 15, 2016
3:44 PM — 
White House: Obama and Biden to visit Orlando to meet with families of victims

— Zeke Miller (@ZekeJMiller) June 15, 2016
3:31 PM — TMZ report: Mateen also tried to pick up women on dating app Plenty of Fish.
Cord Cedeno says he connected with Mateen a couple years ago on Grindr, but it was hardly titillating. Cedeno says Mateen — whose profile was a pic of him in a tie — would only say "Hi" over and over. He says he eventually blocked Mateen, but knows 4 friends who say the Orlando murderer remained active on other apps.

He says Mateen used Adam4Adam to send shots of his penis to men — but never showed his face. Cedeno says he has no knowledge Mateen was ever successful in hooking up with a man.

On the other hand … a female user on Plenty Of Fish says Mateen reached out to her 18 months ago. She says he was "nice, normal … mentioned he had a child, but said he was single and looking for a good woman to marry."
3:25 PM — 
New pics of Orlando shooter Omar Mateen from his 2015 Florida gun permits pic.twitter.com/71Dzu0eovI

— Jayne Miller (@jemillerwbal) June 15, 2016
3:22 PM — FBI stonewalling on the tip from Disney World.
I asked FBI 6+ times when agents were notified about shooter's April trip to Disney- a lot of "I don't have that info" or "I'm not aware"

— Karla Ray (@KRayWFTV) June 15, 2016
3:18 PM — Possible new threat.
On Tuesday evening, a 10News viewer saw the post in the men-seeking-men section of the Craigslist San Diego personal ads. He took a screenshot and sent it to us before the post was flagged and removed.

The post is titled, "We need more Orlando's (sic)." It is accompanied by a photo of a hand firing a revolver with a bullet coming out of the barrel.

The post read: "Orlando was long overdue. Cleanse your community of the filth that gives decent gay men and women a bad name. Those people were walking diseases, bug chasers, and thank god for AIDS and 9-11 and now Orlando. San Diego you are next…"
3:11 PM — Milo concludes with a denunciation of social media companies Twitter and Facebook, particularly the meeting that Facebook CEO Mark Zuckerberg had with conservatives several weeks ago.
3:07 PM — Milo: Gays are starting to pick up on the fact that Trump "could be the most gay-friendly president in history."
3:04 PM — "The only people who are surprised" that Muslims want to kill gays "are the people who write your newspapers."
3:02 PM — Milo says Twitter, with its largest investor being Saudi, has become "Sharia compliant" and American colleges are, as well.
3:01 PM — Milo says he has received too many death threats to read through; his "swag" store has received over 100 on its own. The threats are in Arabic and English. "My staff are freaked the fuck out."
2:59 PM — "If there's something you can do to save gay people in this country, it's this: Close the border."
2:57 PM — On Muslim community's response: "This is not the time for 'Out, damned spot.' This is the time for 'We fucked up and we're sorry.'"
2:55 PM — Yiannopoulos references the Imam hosted at a mosque 45 minutes from Orlando who said it was "compassionate" to kill gays. Says moral equivalence from the likes of Sally Kohn is "offensive… a term I don't use often."
2:53 PM — "As a straight man standing up here with a gay man, I would just like to say 'Fuck you, Islam.'" Milo then grabs Gavin's head and kisses him.
2:50 PM — Gavin McInnes takes the spotlight. "We are consumed with Islamophobia… We would literally rather die than offend."
2:48 PM — "Most of this talk would have got me arrested in Europe."
2:47 PM — Milo encourages gay people to say "never again." To signal to Islamic supremacists "that we will shoot back."
2:43 PM — Milo says that Orlando mosques were "crawling" with police posted for protection yesterday — while a university said they could not muster enough police to protect him on its campus.
2:39 PM — Milo: Gun-free zones provide a safe space for killers. "They walk in there confident in the knowledge that no one will fight back."
2:38 PM — He continues: the politicians do not have your back. The only response is to defend and protect yourselves.
2:37 PM — Milo: Recent survey shows 100% of British Muslims believe that homosexuality is unacceptable. "This is in the West… This is not radical Islam. This is Islam."
2:36 PM — Milo arrives and quips of a rainbow "Don't Tread on Me" flag, "It should say, 'Fire back.'"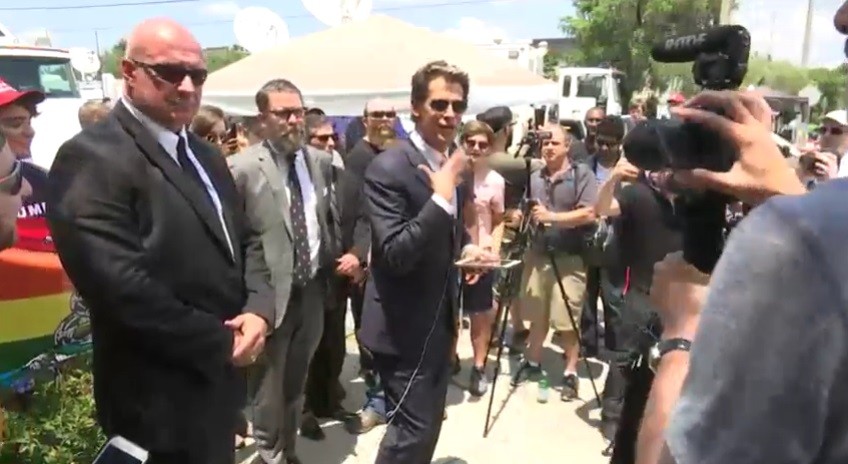 2:33 PM — Scenes from site of Milo speech.
On the scene at #PulseNightclub waiting for Milo to speak with a crowd of supporters #OrlandoShooting pic.twitter.com/W3XjqUD8J8

— ⏳ (@stranahan) June 15, 2016
2:26 PM — Authorities have obtained video of Mateen and his wife purchasing ammunition.
2:25 PM — FBI poster for more info on Mateen. The bureau is now the lead investigative agency on this case:
Just released @FBI poster seeking information about Orlando nightclub gunman Omar Mateen pic.twitter.com/lldjtmCgTV

— Jason Sickles (@jasonsickles) June 15, 2016
2:23 PM — At site of Milo's talk, Breitbart Texas's Brandon Darby says on a Periscope live stream, "There's a backpack here nobody's claiming."
2:12 PM — 
FBI: intelligence bulletins issued to gay clubs in #Orlando area as a precaution; no credible or specific threats of imminent attacks. #CNN

— David Daniel (@CNNLADavid) June 15, 2016
2:07 PM — FBI spox says the attack is both terrorism and a hate crime.
Q: Are reports credible that Mateen patronized other gay clubs in Orlando? Hopper says he has no knowledge of that.

— Kathryn Varn (@kathrynvarn) June 15, 2016
2:03 PM — FBI spox says no other shooters aside from Mateen and police officers.
2:01 PM — FBI spox says no indications there were any other targets for an attack besides Pulse.
2:00 PM — Reporters asking questions now.
FBI: Mateen's wife is one of many people investigators have spoken with. Declined to comment further. #OrlandoShooting

— Joe Fryer (@joefryer) June 15, 2016
1:55 PM —
Orlando Mayor Buddy Dyer: OneOrlando fund has raised $3.6 million in two days.

— Zack Sampson (@ZackSampson) June 15, 2016
Camera operator just collapsed at Orlando presser. It is ridiculously hot.

— Matt Zapotosky (@mattzap) June 15, 2016
1:50 PM — Rick Scott: This is clearly an attack on the gay community, Hispanic community — and a terror attack on our nation and our way of life.
1:45 PM — Really, no new info at this presser.
NOW- US attorney lee Bentley

— Karla Ray (@KRayWFTV) June 15, 2016
Will not speculate on any charges that may be brought. #Wftv

— Karla Ray (@KRayWFTV) June 15, 2016
1:41 PM — Nothing new.
FBI says no additional information on investigation into #Orlando shooting at this time.

— Harry Horton (@harry_horton) June 15, 2016
1:38 PM —
FBI Asst. Special Agent in charge Ronald Hopper mentions Mateen's name, then says, like his director, he won't do so again.

— Evan McMurry (@evanmcmurry) June 15, 2016
1:36 PM — FBI spox says the bureau will investigate any acts of "retaliation" against local Muslims.
1:35 PM — 
Pulse Orlando shooting update: FBI Special Agent Ron Hopper: "There's certainly things I just cannot discuss at this time."

— Andrew O'Brien (@aobrien7) June 15, 2016
1:31 PM — Orlando press conference begins soon.
At newser – FBI asst. Special Agent in Charge Ronald Hopper, Orlando Police Chief John Mina, US Attorney Lee Bently & Gov. Scott. @CBSMiami

— Carey (@ccoddcbs4news) June 15, 2016
1:22 PM — Trump says Obama's speech Tuesday "was all about political correctness." Retorts: "we're going down the wrong path and our country is in serious trouble."
1:21 PM — Trump says that while Mateen while born here, "his ideas were born somewhere else."
Trump on Omar Mateen: "He was born here, but his ideas weren't born here, his ideas were born someplace else."

— Zeke Miller (@ZekeJMiller) June 15, 2016
1:18 PM — Trump pivots to Germany's problems with unchecked Islamic migration. He says friends who praised the country as a great place to live — for decades — are now moving away.
1:16 PM — Powerful address from Israeli PM Benjamin Netanyahu (with video):
PM Netanyahu: We stand together with the LGBT community as one

In Orlando, a terrorist walks into a nightclub and murders nearly 50 human beings. Sons and daughters, brothers and sisters cut down in cold blood.They did nothing wrong. They were dancing with friends, they were enjoying music with loved ones.Why did the terrorist murder them? Because he was driven by a fanatical hatred.He targeted the LGBT community because he believed they were evil.Now, the murderer wasn't alone. Regimes and terrorist organizations around the world ruthlessly persecute the LGBT community.In Syria, ISIS throws gays off rooftops. In Iran, the regime hangs gays from cranes. Too many people have remained silent in the face of this awful persecution.This week's shooting wasn't merely an attack on the LGBT community. It was an attack on all of us, on our common values of freedom and diversity and choice. Radical Islamist terror makes no distinction between shades of infidel.This week it was gays in Orlando. A few days before that it was Jews in Tel Aviv. Before that it was music fans in Paris; Travelers in Brussels; Yazidis in Iraq; Community workers in San Bernardino; Christians and journalists in Syria.All of us are targets.We believe that all people are created in the image of God. ISIS, by contrast, believes that all people who aren't just like them deserve to die.We will not be terrified into submission.We will fight back. And we will triumph.Today I ask you to reach out to friends in the LGBT community. Comfort them.Tell them you stand together, we stand together as one. And that you will always remember the victims.Tell them they will never be alone, that we are all one family deserving of dignity, deserving of life.I have no doubt that those who seek to spread hate and fear will be defeated.Working together we will defeat them even faster.We need to stand united, resolute in the belief that all people regardless of their sexual orientation, regardless of their race, regardless of their ethnicity, all people deserve respect, deserve dignity.Video: GPO

Posted by The Prime Minister of Israel on Wednesday, June 15, 2016
1:14 PM — Trump says part of the reason terrorist attacks continue is because "they have no respect for us whatsoever."
1:12 PM — If some of those great people who were in the club that night had guns strapped to their waists or guns strapped to their ankles, Trump says, it still would have been horrible but the carnage would have been nothing like the 100+ it became.
1:09 PM — Trump stresses support from LGBT community, his own history opening a club that welcomed gay patrons.
1:07 PM — Trump says it's impossible to vet Middle Eastern refugees because they don't have "papers."
1:06 PM — Trump brings up Clinton Foundation taking in "tens of millions of dollars" from nations that "want to enslave women" and kill gays.
1:05 PM — Trump: "It's going to happen again and again and again, because we are not doing what we have to be doing."
1:01 PM — In Atlanta rally, Trump repeats accusation that Muslim terrorist family's don't report plots to the authorities.
12:54 PM — 
BREAKING: NRA says anyone on terrorism watchlist who tries to buy a gun should be investigated by the FBI and the sale delayed.

— Reuters U.S. News (@ReutersUS) June 15, 2016
MORE: NRA says 'due process protections' should be put in place allowing people wrongly put on a watchlist to be removed.

— Reuters U.S. News (@ReutersUS) June 15, 2016
12:51 PM — Mateen's father, again:
The Orlando shooter's father says terrorists planted the idea of carrying out a mass shooting in his son's head — and he didn't even know it was happening.

"My son was killed by terrorists," said Seddique Mateen this morning from his home in Port St. Lucie. "Fifty people were killed by terrorism. This was a terrorist idea. (My son) learned from them."
12:40 PM — Tiny detail to add, as the local report is not clear: Seddique was present at Noor's sister's house.
Bunch of reporters outside #PulseShooting gunman Omar Mateen's wife's sister's house, where police were sent earlier pic.twitter.com/QTsoXKD1NW

— (((Adam Lichtenstein))) (@ABLichtenstein) June 15, 2016
12:35 PM — Red alert.
At a Fort Pierce home owned by members of the Mateen family, deputies arrived, went into the house for a few minutes, then left at around noon Wednesday.

Earlier in the day, Seddique Mateen — father of the Orlando massacre shooter Omar Mateen — arrived at the home and said Omar's wife Noor Salman is "no longer here" and that she was no longer in the area. He would not say where she had gone.
12:28 PM — Jeffrey Goldberg in the Atlantic. Obama thinks so little of Muslims that he won't call out problems in the community:
Obama, in my reading, does not—contra his right-leaning critics—suffer illusions about the pathologies afflicting the broader Muslim world. If anything, his pessimism on matters related to the dysfunctions of Muslim states, and to the inability of the umma—the worldwide community of Muslims—to contain and ultimately neutralize the extremist elements in its midst, has, at times, an almost paralyzing effect on him. The president has come to the conclusion (as I outlined in my recent Atlantic cover story, "The Obama Doctrine") that the underlying problems afflicting Islam are too deep, and too resistant to American intervention, to warrant implementation of the sort of policies that his critics, including his critics in foreign-policy think tanks, demand.
12:26 PM — Obama bringing gun control sermon to prayer vigil.
Obama to attend prayer vigil at the Amway Center in Orlando Thursday https://t.co/TYCvZX2YcO

— Mary Ellen Klas (@MaryEllenKlas) June 15, 2016
12:21 PM — NBC News corrects its headline from yesterday which buried the lede on Noor Salman:
Orlando Gunman's Wife Gave No Warning to Cops Before Attack

The Orlando gunman's wife feared he was going to attack a gay nightclub overnight Saturday and pleaded with him not to do anything violent — but failed to warn police after he left, NBC News has learned.

Omar Mateen's wife, Noor Zahi Salman, told the FBI that her husband assured her he was simply going to see friends, although she believed he was actually planning to unleash terror at the Pulse nightclub, a two-hour drive north from their home in Port St. Lucie.
12:11 PM — From CNN:
Orlando nightclub gunman Omar Mateen visited online gay chat rooms despite expressing outrage at the sight of two men kissing and making inflammatory comments about gays, law enforcement officials said.

Investigators don't know whether he visited the chat rooms for personal reasons or for surveillance before carrying out the brutal attack early Sunday at the Pulse gay nightclub in Orlando, killing 49 people and wounding more than 50 others.
12:02 PM — 
Breaking : three St Lucie County sheriff deputies just arrive at Mateen family members home – go inside @wsvn pic.twitter.com/5BNPEqgWRe

— Brian Entin (@BrianEntin) June 15, 2016
11:50 AM — Minutes after Milo's suspension hits the top story on Drudge Report, he's reinstated. Hmmm…
https://twitter.com/bakedalaska/status/743108584851013636
https://twitter.com/Nero/status/743108267996385280
11:42 AM — Archive of Milo's Twitter timeline from this morning. What could be the complaint? That he published a death threat Direct Message from an account set to Private?
Our guess is it has something to do with Milo saying that moderate Islam is a threat to gays, not just radical Islam, yesterday. It likely took Twitter some time to sign off on his punishment. They're not giving any reasons to the public, however! Feel free to speculate until they do…
11:26 AM — 
I asked Mateen's father if he would have accepted a gay son: "I tell you he wasn't, so I don't want to speculate" he replied tersely.

— Jackson Proskow (@JProskowGlobal) June 15, 2016
Mateen's father says that he considers the victims part of his family.

Then he challenged Donald Trump to a debate about terrorism.

— Jackson Proskow (@JProskowGlobal) June 15, 2016
11:20 AM — 
Mateen's psych eval certificate from 2007. Don't see that he took one at a later date. #OrlandoShooting pic.twitter.com/7P8zHSYVTk

— Shoshana Walter (@shoeshine) June 15, 2016
11:13 AM — Minor question: Why didn't local news report the "I did it for ISIS" phone call on Sunday instead of, say, Wednesday?
11:11 AM — Chasing down all the important leads.
NBC News has obtained Omar Mateen's firearms proficiency test. His exam score was 100.

— Tom Winter (@Tom_Winter) June 15, 2016
11:09 AM —
Therapy dogs comfort mourners at temporary #Pulse memorial site. The spotted fella is missing a leg. pic.twitter.com/Qc4vaIREW5

— Patrick Terpstra (@PatrickTerpstra) June 15, 2016
11:08 AM — Milo Yiannopoulos's Twitter account @Nero has been suspended.
11:07 AM —
So disturbing. CNN's Pamela Brown just reported that Omar Mateen called a friend to say goodbye during the attack at Pulse.

— MJ Lee (@mj_lee) June 15, 2016
10:54 AM — From Reuters:
U.S. Senator Angus King, a member of the Senate Intelligence Committee, which received a briefing on the investigation into Sunday's massacre, told CNN it appeared Salman had "some knowledge" of what was going on.

"She definitely is, I guess you would say, a person of interest right now and appears to be cooperating and can provide us with some important information," King said.
10:51 AM — L'horreur.
Seth Meyers bans Donald Trump from 'Late Night' following Orlando response: https://t.co/QmqyGBCbHS

— The Daily Dot (@dailydot) June 15, 2016
10:40 AM — A close look at Seddique Mateen's social media shows him posing with lawmakers like Charlie Rangel and visiting the State Department to lobby for Afghanistan (and against Pakistan).
10:37 AM — New York Times report makes it seem as though the FBI is waffling on whether to charge Mateen's wife.
Ms. Salman is not in custody, the official said. While a person who withholds knowledge of a crime could face criminal charges, she is not facing imminent arrest, and no decisions have been made on whether she might be prosecuted, the official said.
10:35 AM — Florida man walks down driveway.
NOW: Mateen's father now at another family home- says he doesn't have a lawyer. "Maybe when the time comes" @wsvn pic.twitter.com/rA8W1xUr8K

— Brian Entin (@BrianEntin) June 15, 2016
10:26 AM — The Huffington Post, never to be upstaged in the Hot Take Game: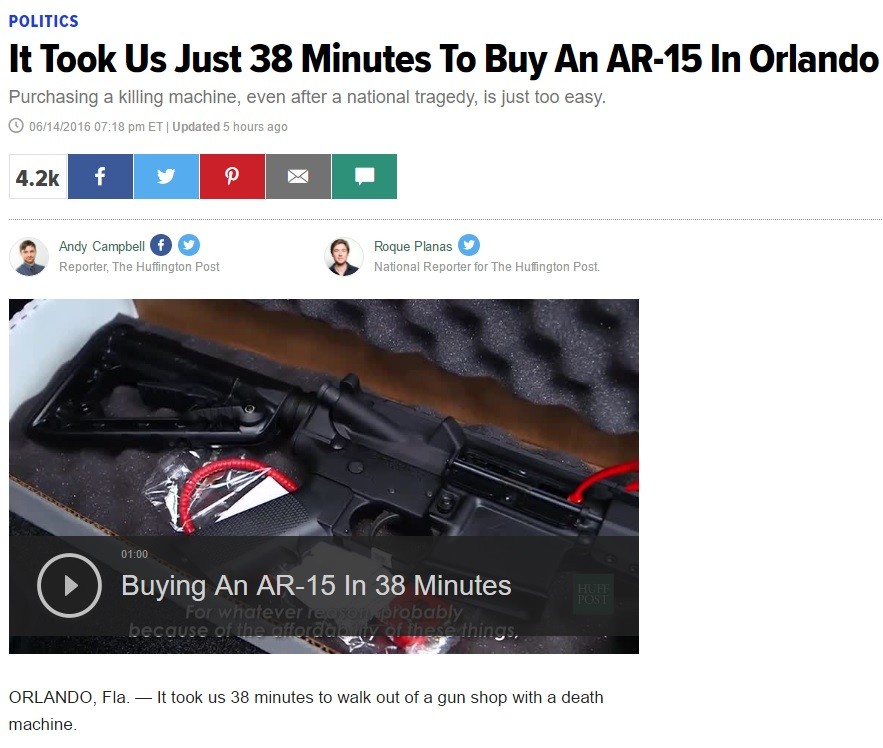 10:22 AM —
Omar Mateen's Father — I Blame Pulse Nightclub For Not Stopping My Son (VIDEO) https://t.co/kwZ6zGiXs6

— TMZ (@TMZ) June 15, 2016
10:17 AM — Following two cancellations at his first venue choice, Milo takes his talk to "Ground Zero" in Orlando.
https://twitter.com/Nero/status/743064986319245313
https://twitter.com/Nero/status/743065171460030464
https://twitter.com/Nero/status/743065345645252608
https://twitter.com/Nero/status/743065671769161729
https://twitter.com/Nero/status/743065942775746560
https://twitter.com/Nero/status/743066157402468352
10:14 AM —
#Orlando churches offering free funeral services for Pulse shooting victims. https://t.co/JrqjkvHHAw pic.twitter.com/99BDo3xMDd

— FOX 11 Los Angeles (@FOXLA) June 15, 2016
10:12 AM — 
Before the #Orlandoshooting, Omar Mateen's employer G4S didn't heed warnings about two other killers: https://t.co/CWPQz9cw6d

— Reveal (@reveal) June 15, 2016
9:57 AM — 
I will be meeting with the NRA, who has endorsed me, about not allowing people on the terrorist watch list, or the no fly list, to buy guns.

— Donald J. Trump (@realDonaldTrump) June 15, 2016
9:56 AM — 
#BREAKING– @SenBillNelson files legislation that would require FBI notification if a terror suspect purchases firearms. #WFTV

— Karla Ray (@KRayWFTV) June 15, 2016
9:55 AM — "Though the owner of Pulse nightclub is still in shock, Barbara Poma is adamant about one thing — an intent to rebuild the club as a place of safety and fun for the gay, lesbian and transgender community."
9:43 AM — Thermonuclear take from bit player on Mad Men:
plenty of people at Trump rallies would love to kill us. Omar Mateen was an American, buddy.

— Kit Williamson (@kitwilliamson) June 15, 2016
9:36 AM — Remember, per Vox: when you call someone a fascist/Nazi, that is an incitement to violence.
https://twitter.com/AaronBlake/status/743074408298876929
9:34 AM — CNN neck-and-neck with New York Times.
NYT blames Republicans for Orlando. https://t.co/0jBFEJtRGn pic.twitter.com/aU3aafKBi7

— James Taranto (@jamestaranto) June 15, 2016
9:21 AM — CNN home page starting the day with a strong bid for Hottest Take:
9:18 AM — Purported photo of Mateen's Jack'd profile "100% hoax."
reporting that @jackd profile of #Orlando shooter is 100% hoax. You are spot on @letkevin

— Juju Chang (@JujuChangABC) June 15, 2016
9:07 AM — Mateen was in a documentary about the BP oil spill.
Footage from a 2012 award-winning documentary, "The Big Fix," has emerged showing Orlando gunman Omar Mateen working as a security guard contracted to the security company G4S following the 2010 BP oil spill. He seems skeptical of the cleanup efforts.

"No one gives a s*** here. Everybody's just, get out to get paid. They're like hoping for more oil to come out and more people to complain so they'll have jobs," Mateen tells a reporter. "They want more disaster to happen."

A G4S spokesperson confirmed to CBS News that Mateen is indeed the man featured in the documentary.
9:02 AM — Chris Barron of GOProud is lobbying for Donald Trump in the wake of the Pulse massacre.
A prominent gay Republican is coordinating an effort to mobilize a coalition of conservative lesbian, gay, bisexual and transgender (LGBT) voters in support of Donald Trump, CNN has learned, a project that has intensified in the wake of a terrorist attack at a gay club in Orlando, Florida.

Chris Barron, the former president of the now-defunct gay conservative group GOProud, was recently a vocal Trump critic, but now is circulating a letter among like-minded members of the LGBT community, arguing that Republican Trump will better-suited to protect them from acts of extremism as president than Democrat Hillary Clinton.

"I have no doubt that Donald Trump would be better for LGBT Americans," Barron said in an interview with CNN. "Hillary Clinton wants to continue a reckless foreign policy that has made the world less safe for all Americans, including LGBT Americans. She can find plenty of time to crucify Christians in the U.S. for perceived anti-gay bias, but when we've got ISIS throwing gay people off of buildings, when we have Muslim states that are prescribing the death penalty for people who are gay, I would think this would be something that a friend of the LGBT community would be able to speak out on, and Hillary Clinton finds it unable to do so."
9:00 AM — The horror we have feared for days now. Orlando police chief admits friendly fire may have killed victims.
Monday, Orlando Police Chief John Mina and other law enforcement officers offered new details about the shooting, including the possibility that some victims may have been killed by officers trying to save them.

"I will say this, that's all part of the investigation," Mina said. "But I will say when our SWAT officers, about eight or nine officers, opened fire, the backdrop was a concrete wall, and they were being fired upon."

A law enforcement source close to the investigation who asked not to be named said a crowd of up to 300 people and the complex layout of the dance club may have resulted in some patrons being struck by gunfire from officers.
8:56 AM — God bless America.
A strip club near Omar Mateen's house is weighing in on the debate over the phrase "Radical Islamic Terrorism" pic.twitter.com/vrDJW8RgOO

— Hunter Walker (@hunterw) June 15, 2016
8:53 AM — During the shooting, someone called a local news station claiming to be Mateen.
Gentili said he was aware of the shooting. "Yes, I'm getting calls. I am hearing reports of a shooting," he replied to the caller, who then cut him off.

"I'm the shooter. It's me. I am the shooter," the person on the other end said.

Gentili said he didn't know what to say. The caller then started to say he committed the shooting for the Islamic State (militant group).

"He did it for ISIS, and he started speaking Arabic," Gentili said of the early morning phone call. "At the time, I didn't know what he was saying. He was speaking so fast. But it was … he was speaking fluently. Whatever language he was speaking, he knew it. And he was speaking it very quickly. And that is when I said to him, 'Sir. Please. Speak in English, please.'"
8:49 AM — CBS News poll, conducted this Monday and Tuesday (surveying Americans in general, not likely voters):
President Obama gets net positive ratings for his response to the shooting in Orlando. 44 percent approve, while 34 percent disapprove. About a quarter don't have an opinion.

When asked to assess the responses of the presumptive nominees for President, Americans are divided on Hillary Clinton's response to the attack, while ratings of Trump are more negative. 51 percent of Americans disapprove of the way Trump is responding to the Orlando attack, while just 25 percent approve.

Most Democrats (62 percent) approve of Clinton's response, while just half of Republicans (50 percent) approve of Trump's. More independents are critical of Trump's response than Clinton's.