WASHINGTON, D.C. — Demonstrators organized by the National Black Church Initiative (NBCI) gathered outside the embassy of Qatar Wednesday chanting "stop killing Christians" and "stop terror."
Breitbart London Editor-in-Chief Raheem Kassam spoke during the protest, condemning Qatar as the "Club Med for terrorists."
The Qatari government has provided sanctuary to various members of jihadist organizations, namely the Taliban, al-Qaeda, Hamas, and the Muslim Brotherhood, allowing some of them to establish official offices on its territory.
Various Muslim countries and the United States have also affiliated Qatar with Shiite state sponsor of terrorism Iran.
According to the CIA World Factbook, nearly 14 percent of the Qatari population is Christian, about 68 percent Muslim, almost 3 percent Buddhist, and the rest Jewish, other, or unaffiliated.
The demonstrators blasted Qatar for persecuting the Christian minority in the country.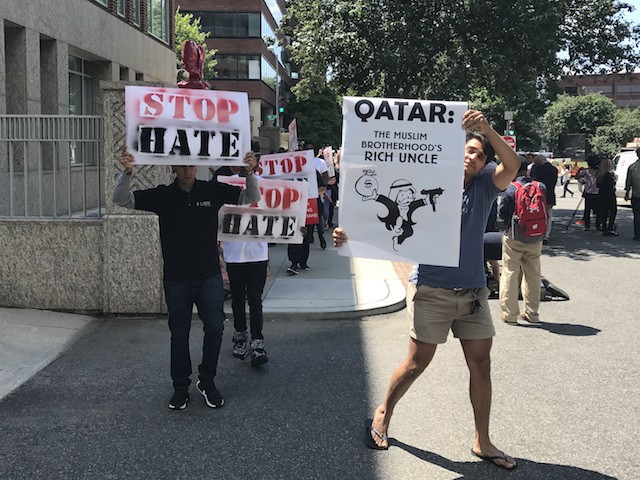 Rev. Anthony Evans, the president of NBCI, spoke against religious intolerance in Qatar and demanded that the country stop mistreating Christians.
"I'm here standing in front of the embassy of Qatar to send a very clear message that what they're doing to promote religious intolerance is wrong," he declared. "What they're doing to persecute Christians is wrong. And that we in the Black church who have a history of being persecuted [ourselves] will not stand for any persecution of any Christians, or any Muslims, or any Jews or anyone else."
"We will not tolerate any abuse from any government in the Middle East concerning Christians. We will not even tolerate any abuse of anyone, whether they're Muslim or Jews, anywhere," he also said, later adding. "We will stand against it, we will protest against it, that's why we're here. We are not afraid… We will not be silent as our brothers and sisters are persecuted in the Middle East."
The reverend opened the speech he gave during the demonstration with a prayer highlighting the plight of Middle East Christians.
"We appeal to the governments of Qatar, of Iraq, of Egypt, of Yemen, and all who would harm the Christian church not to do so. We seek peace, not violence in his holy name, Amen," prayed Rev. Evans.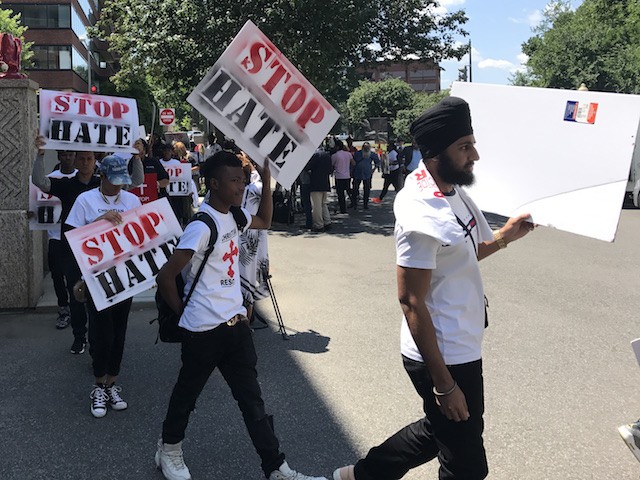 Breitbart's Kassam also blasted Qatar for supporting terror and persecuting Christians.
"They have no shame about it," he said, adding that the country represents "evil."
"Nobody here is doing anything here for any ulterior motives than they want their Christian brothers and sisters to be able to worship freely," Kassam added later.
A man who refused to identify himself, but appeared to be an embassy employee, defended Qatar and said the protestors had no business criticizing a country they were unable to find on a map.
"Someone is paying the U.S. media to spread false rumors about Qatar," he claimed.
Echoing Kassam, Jim Hanson, an activist and author who served in the U.S. Army, told the crowd Qatar is "shameless" about backing Islamic terrorism.
"Those people in that building send millions of dollars every year to the worst terrorist groups," he declared, referring to the embassy office. "They fund al-Qaeda. They fund ISIS. They fund Hamas. They fund Hezbollah. They Fund the Muslim Brotherhood, and they're shameless about it."
The National Black Church Initiative organized Wednesday's protest.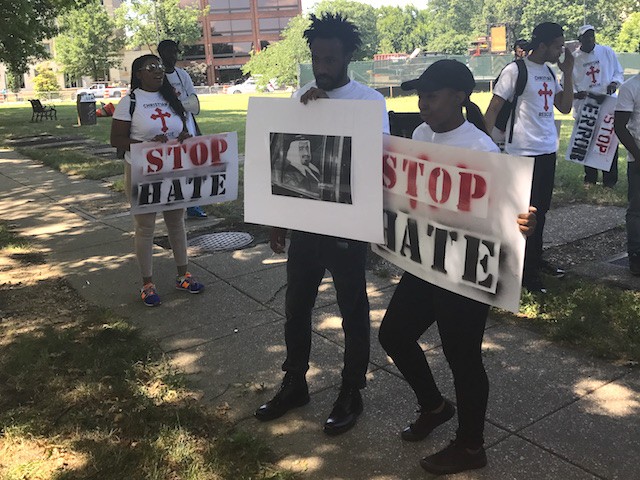 "I have every reason to be concerned with the fate of the Christian community in the Arab world," proclaimed the group's president, Rev. Evans.
NBCI is self-described as "a coalition of 34,000 African-American and Latino churches working to eradicate racial disparities in healthcare, technology, education, housing, and the environment."
The demonstration appeared to have brought together strange bedfellows: Democrats, Republicans, and Independents.
Saudi Arabia, the United Arab Emirates (UAE), Egypt, and Bahrain have cut ties with their fellow predominantly Sunni nation Qatar, accusing it of destabilizing the Muslim world with its support for Islamic terrorist organizations.
Sunni Saudi Arabia and Iran are regional foes. U.S. President Donald Trump's administration has joined the Saudi kingdom in rebuking Qatar's support for terror.