UNITED NATIONS – U.N. Secretary-General António Guterres continued the U.N.'s preference for dialogue and negotiations in dealing with the socialist dictatorship of Venezuela, dismissing President Trump's consideration of possible military action in the region.
Trump raised eyebrows Friday when, after calling Venezuela a "dangerous mess," he refused to rule out military action to topple dictator Nicolás Maduro.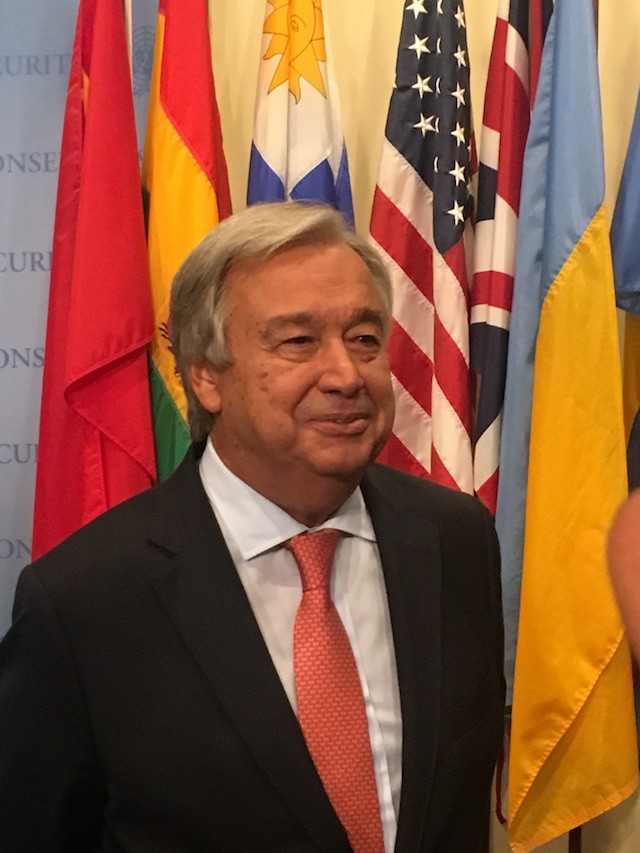 The country frequently hailed by socialists all over the world as a success has spiraled out of control in recent months, with famine and riots surging through the country as Maduro has amassed more power and doctored the results of a recent election.
The U.N.'s refugee agency (UNHCR) announced in July that the number of asylum applications from Venezuelans had "soared" with almost 50,000 applying for asylum in 2017, almost double the 27,000 that applied in the entirety of 2016.
"We have many options for Venezuela, I'm not ruling out military options," Trump said.
But at a press stakeout outside the U.N. Security Council Wednesday, Guterres shrugged off the suggestion when asked by a reporter.
"Latin America has successfully managed to get rid of both foreign intervention and authoritarianism, and this is a lesson that is very important to make sure that this legacy is safeguarded and namely in Venezuela, both aspects of it," he said.
Guterres told reporters that he would continue to push for dialogue, a theme the U.N. and Guterres himself has been pushing for months, despite calls from the U.S. and others for the international body to up its efforts.
Well, it's a very clear message that Venezuela needs a political solution based on dialogue and compromise between the Government and the opposition. I recognize the efforts [of] international facilitators and regional leaders that are assisting the Venezuelan Government and the opposition in trying to advance political negotiations. I strongly support those efforts. I've been in close contact with all of them, and I urge the Government and the opposition to restart negotiations because I believe that the only solution is a political solution based on those negotiations.
The U.S. has been looking for tougher action from the U.N. but has often been met with indifference. The Egyptian Ambassador to the United Nations, speaking in his role as president of the Security Council, told reporters last week that the crisis was not a matter for the Security Council.
"Until now I think, of course, there is some concern, but at the end of the day we see [the Venezuelan crisis] as internal affairs," he said. "It does not harm peace and security right now from my point of view."
U.S. Ambassador to the U.N. Nikki Haley has repeatedly blasted the U.N. Human Rights Council for ignoring the crisis while obsessing over Israel.
"It's hard to accept that this Council has never considered a resolution on Venezuela, and yet it adopted five biased resolutions in March against a single country: Israel," she said in June.
She also called for Venezuela to step down from its seat on the Council.
"If Venezuela cannot, then it should voluntarily step down from its seat on the Human Rights Council until it can get its own house in order," she said. "Being a member of this council is a privilege, and no country who is a human right violator should be allowed a seat at the table."
Venezuela, along with other countries with poor human rights record such as Cuba and Saudi Arabia, remains a member of the Council.
There are signs, however, that the U.N. is beginning to pick up its feet on the crisis. The Office of the High Commissioner for Human Rights deployed a team to monitor the country in June. While the report from the team is out later this month, a release from the office last week said it had found "widespread and systematic" human rights abuses in the country.
"Since the wave of demonstrations began in April, there has been a clear pattern of excessive force used against protesters. Several thousand people have been arbitrarily detained, many reportedly subjected to ill-treatment and even torture, while several hundred have been brought before military rather than civilian courts," said High Commissioner Zeid Ra'ad Al Hussein in a statement. "And these patterns show no signs of abating."
"The responsibility for the human rights violations we are recording lies at the highest levels of Government," Zeid added.
Adam Shaw is a Breitbart News politics reporter based in New York. Follow Adam on Twitter: @AdamShawNY.