New Year's Eve was met with celebrations in the streets of Mosul and a fireworks display, the first such revelry since the Islamic State captured the city four years ago.
The Associated Press collected some striking images and video:
https://twitter.com/zaidbenjamin/status/947648172859432960?ref_src=twsrc%5Etfw&ref_url=http%3A%2F%2Ffox4kc.com%2F2017%2F12%2F31%2Fafter-isis-defeat-photos-show-mosul-iraq-celebrating-new-years-for-first-time-in-4-years%2F
– جانب من إحتفالات الأهالي في اعياد رأس السنة في مدينة الموصل بعد ثلاث سنوات من الدماء والتكميم والقتل وتحريم كل ما هو جميل . .

من هذه المدينة الجريحة نقول لكم كل عام وانتم بخير.. نتمنى أن يعم الأمن والسلام على العالم اجمع#Mosul pic.twitter.com/qn5xG9JplW

— Hussein El-Ali (@HusseinMosul) December 31, 2017
More from Mosul Eye, which says "the simple but significant action of welcoming the new year in Mosul is unprecedented and highly symbolic – a new path for the future is open."
This is how New Year's like in Mosul

Videos just coming in

This is hour 0000, 2018 pic.twitter.com/6DZN0vN1FB

— Mosul Eye عين الموصل (@MosulEye) December 31, 2017
The images bound to linger in many minds are spotlighted by the UK Daily Mail: the child dressed as Santa Claus looking up to Mosul's Christmas tree of lights…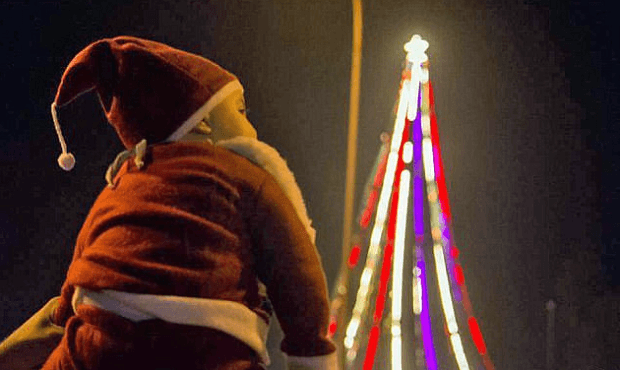 … and fireworks filling the sky over that tree, proclaiming a truly new year for the long-captive city.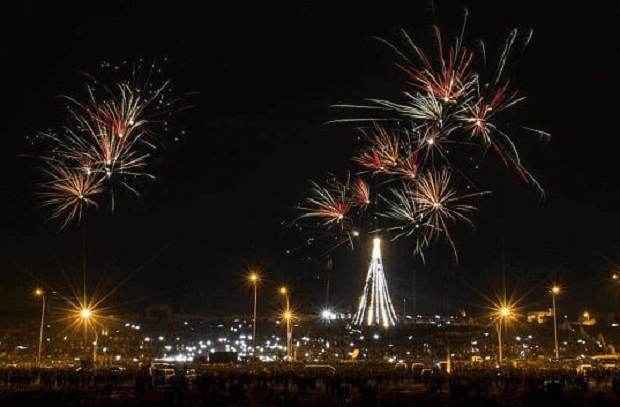 Patrick Cockburn at the UK Independent predicts a tough New Year awaits the Islamic State, which is still dangerous, but might never again be able to conquer territory and develop its "caliphate" fantasy into something resembling a nation-state:
The caliphate may have been destroyed but the caliph, Mohammed Baqr al-Baghdadi, is still alive. After the loss of Mosul, Isis did not make a last stand in any of its remaining strongholds such as Tal Afar and Hawaija; likewise in Syria after the fall of Raqqa, it did not fight to the last man in Deir Ezzor, acting as if it was determined to preserve some of its combat strength.

But a second resurrection by Isis will be much more difficult that the first because local, regional and international forces will not want to be caught napping a second time. It has lost the advantage of surprise; its adversaries will see it coming and take precautions. In 2014, Isis looked like a winner to many Sunni Arabs in the Middle East who briefly imagined that its blitzkrieg attacks would capture Damascus and Baghdad. But today these victories, which Isis publicised as being divinely inspired, are but a memory and all Isis has to offer is hard-fought defeats.   
Last week, Mosul celebrated its first Christmas since the fall of ISIS with a service at the Chaldean Catholic Church.