Editor's Note: This story incorrectly attributed the denial to the Obama White House/Administration. Ben LaBolt, the source quoted by BuzzFeed, is the Press Secretary of Obama For America, Barack Obama's Election Campaign.
This week the Obama campaign decided to double down on a claim about thePresident's past involvement in a social democratic party in themid-'90s. In 2008 when Stanley Kurtz first raised the issue, the campaignlabeled it a "crackpot smear." Now, despite two newly discovereddocuments that prove Obama joined the New Party in 1996, his campaign is still maintaining Obama was not a member.
The two documents were dug up by Stanley Kurtz last week and published at Buzzfeed yesterday. As previously reported,minutes of a January 11, 1996 meeting plainly state that Obama attended,spoke, answered questions, asked for an endorsement, signed a

The cache of documents published yesterday also includes analphabetical list of members who are caught up on their dues and aseparate list of members who are behind on their dues. The "Not Paid Up"list is dated April 17, 1997 and includes Obama's name. There is also acolumn titled "DATEJOIN" which indicates the date that each delinquentmember first joined the New Party. The date 1/11/96 appears next toObama's name (red arrow below). That is the date of the meeting inquestion, minutes of which state that Obama "joined the New Party."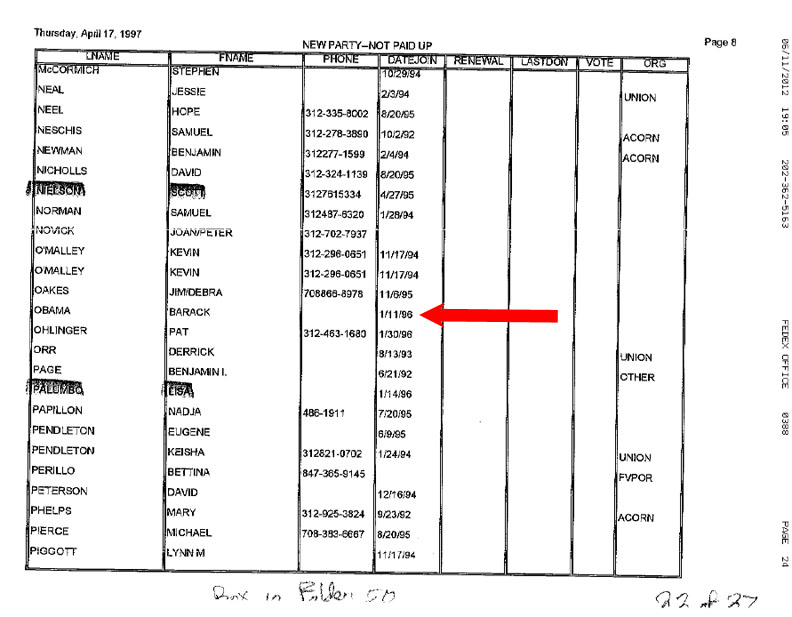 Despite this documentary evidence that Obama joined the New Party on1/11/96 and was listed in their (lapsed) membership rolls in April 1997,Buzzfeed spoke to several members of the Party who claim that Obamawasn't a member and that the group didn't really have membership:
"Obama was never a member, never active in anything," said DanSwinney, a co-chair of the Party at the time and now the head of theCenter for Labor and Community Research in Chicago, who was present atthe 1996 meeting, according to the minutes. "I wish he was. He wasobviously a progressive Democrat, but not a member of the New Party."

"There was really no process" for becoming a member, Swinney said.
This is an astounding claim given documents which appeared on the Party'swebsite at the time. For instance, this1997 page titled "Join the New Party" which reads:
[T]he New Party's work depends on our members. With yoursupport, we can continue to push for living wages, campaign financereform, strong public schools and a clean environment. The New Party offers two membership options; annual dues or monthly sustainer pledges.
The page then includes a form which applicants are to send (alongwith their check) to a New York address "ATTN: Membership Services."Elsewhere on the same site (copyright 1997) the Party explains how chapters are formed from dues-paying members:
The New Party is run by dues-paying members, who are organizedinto chapters. The national organization provides support forchapter growth and coordination. Every member gets one vote.
Additionally, the documents Buzzfeed published contain a 13 pagelist of more than 300 members who had not paid their annual dues(including Barack Obama whose membership would have expired 1/11/97making him 4 months overdue at the time the list was published). Nearlyall of these delinquent members have a phone number associated with their name. The area codes are overwhelmingly 312 and 708, i.e. Chicago area codes.There are 3 exceptions out of 300+, all of which are in Illinois. Inother words, this is (lapsed) membership list for the Chicago chapter ofthe New Party. The claim that the Chicago group did not keep track ofmembership in 1996-1997 is demonstrably false.
In any case, what exactly is the argument being offered here? Twomembers of the Party, Dan Swinney and Amy Sherman, were at the meetingObama attended in 1996 according to the minutes. Both claim theydon't recall him at all. Nevertheless they are both certain that even ifObama was there, he didn't join. It's a very selective memory lapse.
The purpose of keeping meeting minutes is to preserve a writtenrecord of what happened at a given meeting rather than rely on fadingand sometimes faulty recollections. In this case, the meeting minutes,the membership list with Obama's join date, and the "Candidate Contract"which requires candidates receiving an endorsement join the Party–allthese documents trump the faulty memories of former Party members.And please note that none of the people interviewed offered anyexplanation for the meeting minutes. They simply "had no explanation for the document."
But I can offer an explanation for why these former Chicago New Partymembers, Dan Swinney and Amy Sherman, might be motivatedto claim Barack Obama was never a member. Both Swinney and Sherman are Obama supporters. Sherman donated $301 to Obama for America last July. Swinney donated $250 to Obama in April of this year.Given a choice between showing the campaign was dishonest in 2008 or having a convenient memory lapse, it's not hard to guess which option supporters of thePresident would find more appealing. For the record, I contacted bothSwinney and Sherman and asked them to explain their understanding ofmembership. Neither of them responded.
But the most striking fact about the Buzzfeed story is that OFA has chosen to double down on its claim that Obama never joinedthe New Party despite multiple, contemporaneous documents to thecontrary. So far, no one claims the documents are fake or have been altered inany way. The documents state clearly and unambiguously that Obama joinedthe New Party on 1/11/96 and further indicate that doing so meantwriting a dues check. And whether you believe Obama's membership in aEuro-socialist party is a story or not, the fact that team Obama was dishonest about his involvement when this issue came up in 2008 is a story by any standard.