Now that the increasingly erratic and desperately sleazy Obama campaign has decided to cavalierly throw around the word "felony" when it comes to pushing a campaign of lies surrounding Mitt Romney and Bain Capital, this seems like a good time to jump in the wayback machine for a look at the actual convicted felons, criminals, and dubious characters who have always been associated with Barack Obama's political life.
What? What's that? You don't want to talk about this?
Objection overruled, Corrupt Media!
The President opened this door, and now we're going to walk right on through it.
Starting with…
1. Former Illinois Governor Rod Blagojevich: Sentenced to 14 years in prison for political corruption.
President Barack Obama's chief of staff, then a congressman in Illinois, apparently attempted to trade favors with embattled Illinois Gov. Rod Blagojevich while he was in office, according to newly disclosed e-mails obtained by The Associated Press.
Emanuel agreed to sign a letter to the Chicago Tribune supporting Blagojevich in the face of a scathing editorial by the newspaper that ridiculed the governor for self-promotion. Within hours, Emanuel's own staff asked for a favor of its own: The release of a delayed $2 million grant to a school in his district.
—–
2. Tony Rezko: Sentenced to 10 and a half years for corruption and kickbacks.
Rezko raised money for Obama when he ran for Illinois senator, but not during his presidential campaign, the AP noted.
Obama also involved Rezko in a house deal after he was elected to the U.S. Senate, a move he later called "a boneheaded mistake," according to a 2008 report in ABC News.
Obama wanted to purchase a home that the seller had a specific condition on: the adjacent empty lot to the house had to be purchased at the same time, ABC News reported. In the house deal, Rezko's wife paid the full asking price for that parcel, $625,000.
Obama shelled out $300,000 under the house's asking price, paying $1.65 million, according to ABC News. Obama then purchased a part of Rezko's lot for $104,500.
"It was a mistake to have been engaged with him at all in this or any other personal business dealing that would allow him, or anyone else, to believe he had done me a favor," Obama told the Sun-Times at the time.
Obama said his connection to Rezko was "above board and legal."
Rezko and others connected to him gave Obama's 2004 Senate campaign more than $120,000, ABC News reported.
While Rezko's wife paid the full asking price for the land, Obama paid $300,000 under the asking price for the house. The house sold for $1,650,000 and the price Rezko's wife paid for the land was $625,000.
Obama denies there was anything unusual about the price disparity. He says the price on the house was dropped because it had been on the market for some time but that the price for the adjacent land remained high because there was another offer.
Obama then expanded his property by buying a strip of the Rezko land for $104,500, which the senator maintains was a fair market price.
Obama later told the Chicago Sun-Times, "It was a mistake to have been engaged with him at all in this or any other personal business dealing that would allow him, or anyone else, to believe he had done me a favor."
Obama had known Rezko long before the house deal, calling him a "friend."
An ABC News review of campaign records shows Rezko, and people connected to him, contributed more than $120,000 to Obama's 2004 campaign for the U.S. Senate, much of it at a time when Rezko was the target of an FBI investigation.
It's important to keep in mind that this was dutiful reporting from the media. Any attempts to turn this into the Bain-style narrative it deserved and still deserves to be has always been blunted by the media. This is the shadiest land deal involving a politician in my lifetime, and Obama got away with it legally and politically.
—–
3. Courtney Dupree: Democratic fundraiser convicted of bank fraud.  
Dupree, who attended the elite Wharton School of Business, was a rainmaker in Democratic circles.
In 2008, Dupree hosted a $1,000-a-ticket fund-raiser for Barack Obama at his Broad St. apartment that was attended by top aide Valerie Jarrett.
—–
4. Willie Shepherd: Obama bundler plead guilty to assault.
On Tuesday, Shepherd was sentenced to 12 months of supervised probation, according to state court documents.
Shepherd, the former finance co-chairman of the Democratic National Convention host committee, was originally charged with negligent child abuse and third-degree assault that knowingly caused injury — a class one misdemeanor. Those charges were dismissed and Shepherd pleaded guilty to the class two misdemeanor.
Shepherd, 44, the former finance co-chairman of the Democratic National Convention host committee and $100,000-plus bundler for Barack Obama's 2008 presidential campaign, pleaded not guilty to the charges last month at a Denver court hearing.
Denver police on Sept. 13 were called to Shepherd's house by his wife, Sarah Trainor-Shepherd, who said she had been the victim of domestic violence, according to the arrest affidavit.
The court document says police officers noticed a red mark on her brow and bruises on her face and arm, but Trainor-Shepherd then told police she did not want to press charges.
—–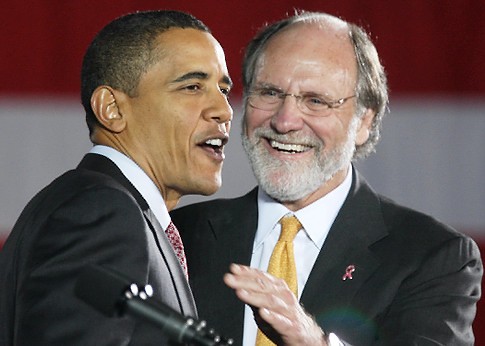 5. John Corzine: Top Obama fundraiser currently under FBI investigation. Obama's "Wall Street guy."
Jon Corzine, now the center of an FBI investigation into the handling of hundreds of millions of dollars invested in his securities firm, was one of the leading Wall Street fundraisers for President Obama's campaign and suggested to investors that he might take a top administration post if the president were re-elected.
His new legal troubles, sparked by the bankruptcy filing of his investment firm, MF Global, could complicate the president's efforts to raise money from the financial community given Corzine's central role in those efforts.
A recent list of top "bundlers" or elite fundraisers released by Obama's campaign listed Corzine in the highest category — reporting that he had raised more than $500,000 for the campaign. A substantial chunk of those funds were collected at a $35,800 per ticket fundraiser that Corzine hosted at his wife's spacious Fifth Avenue apartment last April — an event that was touted at the time as part of a concerted effort by the president's campaign team to reach out to well-heeled Wall Street donors who had been alienated by some of his policies and previous public comments. 
In a sign of his emerging role as a financial guru for Barack Obama, Gov. Jon Corzine Sunday unveiled the latest piece of the presidential candidate's plan to curb soaring oil prices.
The governor touted an Obama proposal that marked the latest clash between the Democrat and Republican opponent John McCain over energy policy, as voters rank the economy as their biggest concern heading into the November election.
In his plan, Obama calls for more regulation in oil markets by promising to close the so-called "Enron loophole" that exempts some energy trading from federal oversight. The rollout also provided a showcase for Corzine, the former Goldman Sachs CEO whom Obama referred to as "our Wall Street guy" at a meeting of Democratic governors in Chicago on Friday.
—–
6. Shervin Neman: Obama bundler currently under investigation for fraud.
The Obama campaign will return the donations of an accused Ponzi schemer who is facing an SEC investigation, a campaign official confirms.
"With 1.8 million donors thus far, we constantly review those contributions for issues. In this particular case, we will be refunding the contributions and have placed the funds in escrow until a trusteeship or other appropriate place to return these funds is established given the interests of the investors," a campaign official told POLITICO.
Shervin Neman, a hedge fund manager in Los Angeles, stands accused by the SEC of defrauding members of his California Persian-Jewish community, the conservative Washington Free Beacon reports.
—–
7. Abake Assongba: Obama bundler under investigation for fraud.
New Yorker Abake Assongba has pledged to help President Obama win reelection, and as one of his 400 volunteer fundraisers, she has delivered $50,000 to the cause.
But she is also trailed by some controversy, accused in court of defrauding a businessman out of $657,000, impersonating a bank official and dodging creditors.
Assongba disputes the allegations, but the mysteries around her personal life highlight a challenge for Obama's reelection effort and other presidential campaigns. The astronomical cost of running for the White House requires an army of bundlers, many of whom are strangers to the campaign. And as candidates quickly learn, it is no small task to woo — and vet — those citizen fundraisers.
—–
8. Alberto and Carlos Cardona: Obama bundlers with ties to a Mexican fugitive accused of attempted assassinations.
The Obama campaign will return more than $200,000 in campaign donations from the American relatives of a fugitive Mexican businessman and casino owner, a campaign official said Tuesday.
"On the basis of the questions that have been raised, we will return the contributions from these individuals and from any other donors they brought to the campaign," said Ben LaBolt, a spokesman for the campaign.
The fugitive, Juan Jose Rojas "Pepe" Cardona, fled drug charges and other legal troubles in Iowa in 1994 and rose to prominence as a wealthy Mexican casino operator. State Department reports have also linked him as a suspect in attempted assassinations of business rivals and illegal political donations in Mexico.
According to a story first reported by The New York Times, Pepe Cardona's American brothers have suddenly emerged as major Democratic donors — raising and contributing up to $300,000 to the Obama campaign alone, mostly from relatives. The donations put one brother, Alberto Rojas Cardona, in the top bracket of Obama campaign volunteer fundraisers, known as bundlers.
According to the Times, another brother, Carlos Cardona, has also been approaching political figures — including a former chairman of the Iowa Democratic Party and a former governor of Iowa — trying to seek a pardon for his brother Pepe Cardona.
—–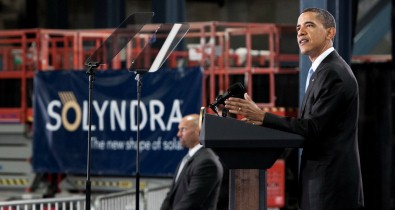 9. Solyndra: First company to receive taxpayer backed loans from Obama. Solyndra's investors are Obama bundlers. The FBI raided Solyndra last September.
The Obama Administration loaned over $500 million to Solyndra via an accelerated process; later, of course, Solyndra went bankrupt and had to fire 1,100 employees. Some of Solyndra's biggest stakeholders were major Obama donors – George Kaiser, an Oklahoma billionaire, raised between $50,000 and $100,000 in 2008; Steve Westly, an Obama bundler, was linked with Solyndra; so was Steve Spinner, another Obama fundraiser, who pushed the Administration to greenlight the loan, even while his wife's law firm was legally representing the company.
An FBI raid on Solyndra Inc., a solar-panel maker that failed after receiving a $535 million loan guarantee from the U.S. Energy Department, may signal the escalation of a probe into the Obama administration's clean- energy program.
Agents for Energy Department Inspector General Gregory Friedman, who has called the department's clean-energy loan program lacking in "transparency and accountability," joined in the search yesterday at the Fremont, California, headquarters of Solyndra, which filed for bankruptcy protection on Sept. 6.
—–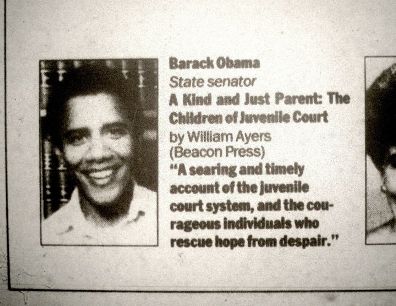 10. Bill Ayers: Unrepentant domestic terrorist. Early Obama backer. Fellow board-member of the Woods Foundation. 4th of July pal.
As a presidential candidate in 2008, Barack Obama disavowed any connection with former domestic terrorist Bill Ayers, the Weather Underground radical who was one of Obama's early backers and his colleague on the board of the Woods Fund in Chicago. We now have proof that Obama's association with Ayers continued even after Obama had been elected to represent Illinois in the U.S. Senate–in the form of a now-scrubbed blog post placing Obama at the home of Ayers and his wife, fellow radical Bernardine Dohrn, on July 4, 2005.
Dr. Tom Perrin, Assistant Professor of English at Huntingdon College in Montgomery, Alabama, was a graduate student at the University of Chicago at the time, and maintained a blog called "Rambling Thomas." He lived next door to Ayers and Dohrn in Hyde Park. He wrote at 8:44 a.m. on July 6, 2005:
Guess what? I spent the 4th of July evening with star Democrat Barack Obama! Actually, that's a lie. Obama was at a barbecue at the house next door (given by a law professor who is a former member of the Weather Underground) and we saw him over the fence at our barbecue. Well, the others did. It had started raining and he had gone inside be the time I got there. Nevertheless.
Dohrn is a Clinical Associate Professor of Law at Northwestern University, and Chicago did, in fact, record rainfall on the Fourth of July holiday in 2005.
—–
We all know the media will refuse to vet Obama's sordid past until he's safely out of office. But other than Ayers, every convicted felon and person under investigation listed here was a part of Obama's political life while he was president or running for president.
In the case of domestic terrorist Bill Ayers, he and Obama enjoyed that barbecue together in 2005, when Obama was only a United States Senator.
Follow John Nolte on Twitter @NolteNC