Members of grassroots parent groups fighting to defeat the Common Core standards in Louisiana knew they were up against tough and well-funded competition in the form of special interest groups lobbying for the nationalized education standards. What parents did not expect, however, was to be treated with open ridicule and mocking, and even intimidation, by members of pro-Common Core organizations.
Louisiana Parents Against Common Core provides the accounts of several parents present for a meeting of the state Senate Education Committee on May 22, a day that four Common Core-related bills were being heard. The pro-Common Core agenda was represented by Brigitte Nieland, vice president of Workforce Development and Research of Louisiana Association of Business and Industry (LABI); Kelli Bottger of Louisiana Federation for Children; and Stephanie Desselles of Council for a Better Louisiana (CABL).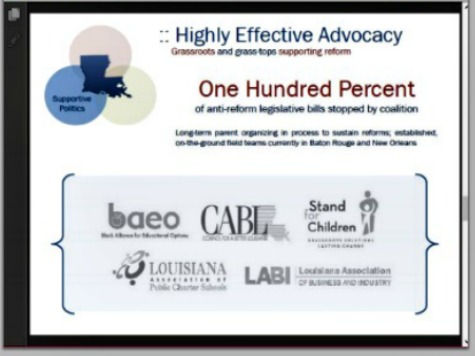 Also representing pro-Common Core interests were Jason Hughes and Carrie Monica, for Stand for Children, a recipient of $9 million in funding from the Bill and Melinda Gates Foundation. A review of Stand for Children can be found at the Washington Post.
Louisiana parent Amy Lemoine reports that while she often heard audible grumbles from the pro-Common Core representatives when individual parents rose to speak against the standards, she was especially struck by the open mocking of one parent, Sara Wood, an attorney and mother of four from south Louisiana, when she got up to speak.
Lemoine writes:
She presented a very well articulated testimony in opposition to HB953. Towards the end of her testimony, this mom got a little emotional, and started to tear up. It was at that moment that the line had been crossed. You see, the [pro-Common Core representatives] started mocking this mother. We heard things such as "Oh, let's go cry in the corner," and other mockings of her emotional state.
Having witnessed that behavior, Lemoine said she left her seat for the hallway where she phoned LABI to complain about the behavior of their staff person, Brigitte Nieland. Within minutes of returning to her seat, Lemoine said Nieland's phone rang. Lemoine said she could hear Nieland respond to the person on the other end, "Yeah there are some parents here; they are just upset because they just lost a big bill."
Lemoine said the phone call did nothing to curb Nieland's behavior. She writes:
She and her pals continued to snicker and make condescending comments about the parents. I reacted. I turned in my seat to face them. I spoke up and asked her (specifically) to please stop. "Please act a little more professional," I said to her.  We had a quick exchange of words. She said something to me about my being disingenuous. I again asked for her to stop, and act in a more professional manner.
"At that point Mr. Hughes (Stand for Children) stood up, leaned in my direction and pointed his finger at me," Lemoine continues. "He told me that we were not going to do this right here. I need to stop. I need to go.  He then went on to wave over the sergeant at arms (the committee security guard) and insinuate that I was causing a problem and needed to go."
Lemoine said the sergeant at arms did not see a problem and walked away.
As the public comment period followed, Lemoine reports that the pro-Common Core representatives openly grumbled and complained, making remarks such as, "This is just disgusting," and "Oh God."
Undeterred, Lemoine said she called the LABI office the following morning and spoke to its president, Stephen Waguespack.
While Waguespack apologized to Lemoine for his staff's behavior, within hours, he posted an editorial to the LABI website, titled "President's View: Civility Is Not a Sign of Weakness," in which he reiterated his organization's firm commitment to the Common Core standards, but added, "It is time to tone down the rhetoric and instead focus on substantive and civil debate."
Lemoine told Breitbart News she believed the editorial was meant to be "pre-emptive."
Other parents described Nieland's behavior as "mocking," "rude," and "obscene." Stephanie Desselles of CABL was reported as "snickering" and "laughing" as parents testified, to the point of being "disruptive."
Similarly, another Louisiana parent observed the following at the Senate Education hearing on May 22:
The one lady who was with Stand for Children who was on the front row [Carrie Monica, Stand for Children Marketing and Communications Director] laughing when Sarah Wood the Attorney was giving her statement. Also, a young lady [Kelli Bogget] and young man [Jason Hughes] who were sitting in the top row next to each other both laughing at several parents giving statements including Sarah Wood the Attorney.  I thought that it was not only disrespectful but, I thought they were taking a bit too much joy in the fact that these parents were so upset with the whole process regarding Common Core. It actually disturbed me to look over several times to see them taking lightly the concerns of the mothers who took the time to speak before the Education Committee. The two bothered me most were the lady with Stand for Children and the young man.
Breitbart News reached out to Brigitte Nieland of LABI and Carrie Griffin Monica of Stand for Children, but neither responded to requests for comments.