Senator Kay Hagan (D-NC) greeted President Obama warmly at the airport on his arrival in Charlotte, North Carolina on Tuesday to address the national convention of the American Legion.
Smiling broadly on the tarmac and even embracing the president in a half-hug as the two shared an intimate moment of conversation, the event produced images that starkly contrasted Hagan's statement Friday distancing herself from the deeply unpopular Obama on veterans' issues.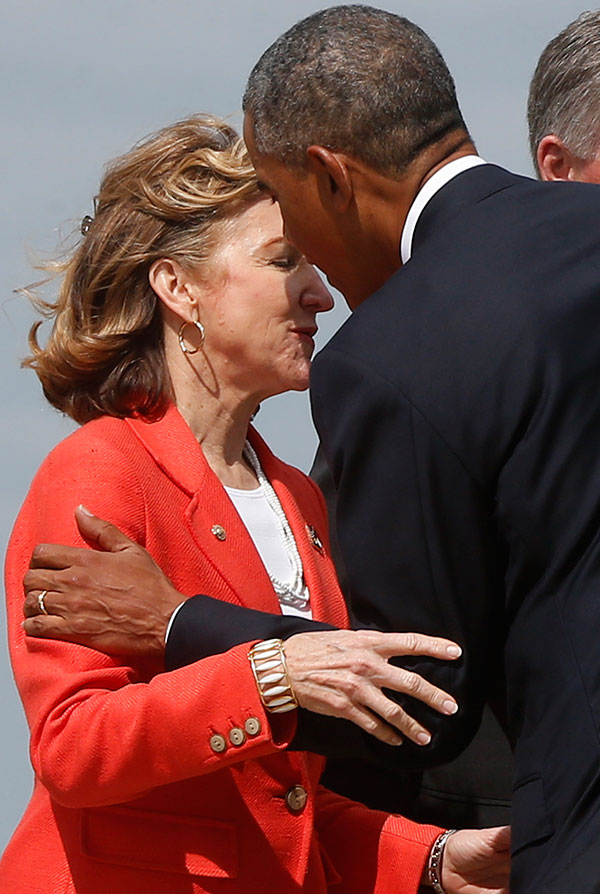 The White House announced on Friday that President Obama would be speaking to the American Legion on Tuesday. Later on Friday, Hagan, facing a heated contest to retain her seat in the Senate, attempted to distance herself from Obama, who lost North Carolina in 2012 to Mitt Romney and has since his standing in polls there plummet even further since. 
In a press release, Hagan stated "[t]he Obama Administration has not yet done enough to earn the lasting trust of our veterans and implement real and permanent reforms at the VA. I hope to hear the President address these challenges at the American Legion's National Convention in Charlotte."
Monday afternoon, Thom Tillis, Hagan's Republican rival in the November election, called Hagan's efforts pure political theater.
Hagan, said Tillis, is merely a "rubber stamp" for Obama's policies. Hagan's spokesman pushed back, claiming Tillis was treating the veterans attending the American Legion convention as "political pawns."
Mr. Tillis will not be a featured speaker at the convention, nor will he be in attendance.
President Obama addressed the convention at noon. Senator Hagan was scheduled to speak after him. 
After the President's speech, Hagan and Obama exchanged another hug as President Obama shook hands with American Legion dignitaries.
Recent polls show that the race is very close. In a two-way race, Hagan leads Tillis by one point. When Libertarian candidate Sean Haugh is included, Hagan's lead over Tillis jumps to four points. Most of Haugh's 8% support comes at the expense of Tillis.