A horrifying new detail about the mass murder at a church in Charleston, South Carolina emerges from police reports: the killer evidently attended the prayer meeting he attacked for nearly an hour before opening fire and killing nine people.
ABC News reports the victims included three males and six females, although few other details have been released about them. Three people were also injured during the attack but survived.
WSOC News in Charlotte reports that according to South Carolina House Minority Leader Todd Rutherford, one of the victims killed in the shooting was the church's pastor, State Senator Clementa Pinckney. Former North Carolina State Senator Malcolm Graham, once an attendee at Emmanuel AME church services, was told his sister was inside the church at the time of the shooting, although as of this writing there has been no word about whether she was injured.
The suspect, who remains at large at the time of this writing, is described as a white male aged 21-25, "wearing a sweatshirt with distinctive markings and Timberland boots." ABC relates the police saying his car's license plate was also "very distinctive."
New images of the suspect have been released by the Charleston Police Department:
Help police find the suspect in the shooting @ 110 Calhoun St pic.twitter.com/92GW7fMCTA

— Charleston P.D. (@CharlestonPD) June 18, 2015
An image of his car captured by a surveillance camera has also been released, courtesy of WSOC News: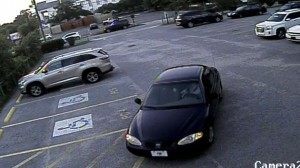 The attack is being investigated as a hate crime, and the FBI is said to be involved.  FBI Special Agent in Charge David A. Thomas attended an early-morning press briefing with Charleston Police Chief Greg Mullen.
Update, 9:30 AM EST: Some more details about the shooting were related to Sylvia Johnson, cousin of slain Pastor Clementa Pinckney, by witnesses to the attack.  Johnson said in an MSNBC interview that the killer launched into a racist tirade before opening fire, saying "You have to go… I have to do it… you rape our women, and you're taking over our country."  She also said he reloaded his weapon five times, while people inside the church pleaded with him to stop shooting.
Update, 9:45 AM EST: Although there is no firm evidence at this time to believe it was in any way connected with the Charleston attack, a shot were fired into a church in Memphis, Tennessee during choir recital on Thursday morning.  WREG News reports the police were called to the St. Matthew Missionary Baptist Church at about 6:45 Thursday morning, although it's not clear when the shot was fired.  No injuries were reported.  The scene of this incident would be about 700 miles west from last night's Charleston attack.
Update, 10:00 AM EST: A moving memorial to Pastor Pinckney, who was also a state senator:
A black drape is placed over Senator Pinckney's Senate desk. #thestate#charlestonshootingpic.twitter.com/Hg5Fb4abQB

— Cassie Cope (@cassielcope) June 18, 2015
Update, 10:05 AM EST: A video report from WCIV in Charleston includes some footage of the Emanuel African Methodist Episcopal Church, as well as video from the crime scene and local reactions.
WCIV says eight of the victims died at the scene, while the ninth died at the hospital.  Another horrifying detail: a 5-year-old child was present inside the church when the attack occurred, and survived by playing dead.
The police and FBI have identified a suspect, 21-year-old Dyann Roof:
#BREAKING: FBI confirms to Charleston's @postandcourier the church shooting suspect is 21-year-old Dylann Roof. pic.twitter.com/C0xw1rY3ia

— WSB-TV (@wsbtv) June 18, 2015
#CharlestonShooting suspect ID'd as Dylann Storm Roof. He's 5'9″ 120 lbs. His 2000 Elantra GS has the SC plate LGF330 pic.twitter.com/OVmuloFtfB

— Bob Owens (@bob_owens) June 18, 2015
Another message identifying Roof, with contact info for the FBI, and an image that appears to come from his Facebook page, showing him wearing patches said to come from apartheid-era South Africa:
Suspect in #Charleston shooting identified as 21 yr old Dylann Roof. If you know his whereabouts, call 1-800-CALL-FBI pic.twitter.com/EmFL5gLMCL

— Berkeley County SC (@BerkeleySCGov) June 18, 2015
Update, 10:30 AM EST: A bit more about the patches on Roof's jacket in that Facebook photo:
Appears that other flag on #DylannStormRoof jacket is Rhodesian flag. pic.twitter.com/NVw7mIj9wm

— Ben Shapiro (@benshapiro) June 18, 2015
Update, 11:30 AM EST: CNN reports that police have taken Dylann Roof into custody in North Carolina.