The cost of wind energy is significantly more expensive than its advocates pretend, a new US study has found.
If you believe this chart produced by the US Energy Information Administration (EIA), then onshore wind is one of the cheapest forms of power – more competitive than nuclear, coal or hydro, and a lot more than solar.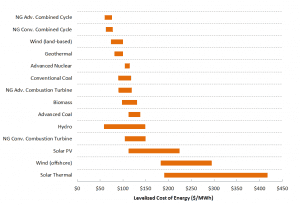 But when you take into account the true costs of wind, it's around 48 per cent more expensive than the industry's official estimates – according to new research conducted by Utah State University.
"In this study, we refer to the 'true cost' of wind as the price tag consumers and society as a whole pay both to purchase wind-generated electricity and to subsidize the wind energy industry through taxes and government debt," said Ryan Yonk Ph.D., one of the report's authors and a founder of Strata Policy. "After examining all of these cost factors and carefully reviewing existing cost estimates, we were able to better understand how much higher the cost is for Americans."

The peer-reviewed report accounted for the following factors:

The federal Production Tax Credit (PTC), a crucial subsidy for wind producers, has distorted the energy market by artificially lowering the cost of expensive technologies and directing taxpayer money to the wind industry.
States have enacted Renewable Portfolio Standards (RPS) that require utilities to purchase electricity produced from renewable sources, which drives up the cost of electricity for consumers.
Because wind resources are often located far from existing transmission lines, expanding the grid is expensive, and the costs are passed on to taxpayers and consumers.
Conventional generators must be kept on call as backup to meet demand when wind is unable to do so, driving up the cost of electricity for consumers.

"Innovation is a wonderful thing and renewable energy is no exception. Wind power has experienced tremendous growth since the 1990's, but it has largely been a response to generous federal subsidies," Yonk stated.
Among the factors wind advocates fail to acknowledge, the report shows, is the "opportunity cost" of the massive subsidies which taxpayers are forced to provide in order to persuade producers to indulge in this otherwise grotesquely inefficient and largely pointless form of power generation.
In the US this amounts to an annual $5 billion per year in Production Tax Credits (PTC). Here is money that could have been spent on education, healthcare, defence or, indeed, which could have been left in the pockets of taxpayers to spend as they prefer.
Instead it has been squandered on bribing rent-seeking crony-capitalists to carpet the landscape with bat-chomping, bird-slicing eco-crucifixes to produce energy so intermittent that it is often unavailable when needed most (on very hot or very cold days when demand for air-conditioning or heating is high) and only too available on other occasions when a glut means that wind producers actually have to pay utilities to accept their unwanted energy. This phenomenon, known as "negative pricing", is worthwhile to wind producers because they only get their subsidy credits when they are producing power (whether it is needed or not). But clearly not worthwhile to the people who end up footing the bill: ie taxpayers.
Hence the observation of serial wind energy "investor" Warren Buffett, who says: "We get a tax credit if we build a lot of wind farms. That's the only reason to build them. They don't make sense without the tax credit."
But even this report may underestimate the real costs of wind energy. It doesn't account for the damage caused to the health of people unfortunate enough to live near wind turbines, as acknowledged officially for the first time in this report produced for the Australian government.
Nor does it account for the environmental blight caused to the landscape – far greater, as Christopher Booker has reported, than that created by the greenies' bete noire fracking.
When Professor David MacKay stepped down as chief scientific adviser to the Department of Energy and Climate Change (Decc) last year, he produced a report comparing the environmental impact of a fracking site to that of wind farms. Over 25 years, he calculated, a single "shale gas pad" covering five acres, with a drilling rig 85ft high (only needed for less than a year), would produce as much energy as 87 giant wind turbines, covering 5.6 square miles and visible up to 20 miles away. Yet, to the greenies, the first of these, capable of producing energy whenever needed, without a penny of subsidy, is anathema; while the second, producing electricity very unreliably in return for millions of pounds in subsidies, fills them with rapture.
Nor yet does it factor in the epic destruction of avian fauna caused by these supposedly eco-friendly devices. According to Oxford University ecologist Clive Hambler:
Every year in Spain alone — according to research by the conservation group SEO/Birdlife — between 6 and 18 million birds and bats are killed by wind farms. They kill roughly twice as many bats as birds. This breaks down as approximately 110–330 birds per turbine per year and 200–670 bats per year. And these figures may be conservative if you compare them to statistics published in December 2002 by the California Energy Commission: 'In a summary of avian impacts at wind turbines by Benner et al (1993) bird deaths per turbine per year were as high as 309 in Germany and 895 in Sweden.'

Because wind farms tend to be built on uplands, where there are good thermals, they kill a disproportionate number of raptors. In Australia, the Tasmanian wedge-tailed eagle is threatened with global extinction by wind farms. In north America, wind farms are killing tens of thousands of raptors including golden eagles and America's national bird, the bald eagle. In Spain, the Egyptian vulture is threatened, as too is the Griffon vulture — 400 of which were killed in one year at Navarra alone. Norwegian wind farms kill over ten white-tailed eagles per year and the population of Smøla has been severely impacted by turbines built against the opposition of ornithologists.

Nor are many other avian species safe. In North America, for example, proposed wind farms on the Great Lakes would kill large numbers of migratory songbirds. In the Atlantic, seabirds such as the Manx Shearwater are threatened. Offshore wind farms are just as bad as onshore ones, posing a growing threat to seabirds and migratory birds, and reducing habitat availability for marine birds (such as common scoter and eider ducks).
In Britain, Chancellor of the Exchequer George Osborne has belatedly acknowledged the problem – which his Prime Minister's "greenest government ever" helped create – by promising to rein in green energy subsidies.
The cost of subsidising new wind farms is spiralling out of control, government sources have privately warned.

Officials admitted that so-called "green" energy schemes will require a staggering £9 billion a year in subsidies – paid for by customers – by 2020. This is £1.5 billion more than the maximum limit the coalition had originally planned.

The mounting costs will mean every household in the country is forced to pay an estimated £170 a year by the end of the decade to support the renewable electricity schemes that were promoted by the coalition.
But given the damage that has already done to the British landscape by wind turbines it may well be a case of shutting the stable door after the horse has bolted. Especially when you consider that this man has already made £100 million out of the scam and that there are no mechanisms to get any of that wasted money back.