**WARNING: GRAPHIC CONTENT**
The Center for Bioethical Reform, in partnership with the Grantham collection, has released the full version of a video which became a source of political controversy after the 2nd Republican debate.
The 13 minute long video shows the birth of what CBR describes as a "17 1/2 week fetus." The fetus is placed in a metal pan with a clamp attached to its umbilical cord. A comparison demonstrates the new video is the source of the brief segment that appeared in a video produced by the Center for Medical Progress (CMP), a pro-life investigatory group which has produced undercover videos critical of Planned Parenthood.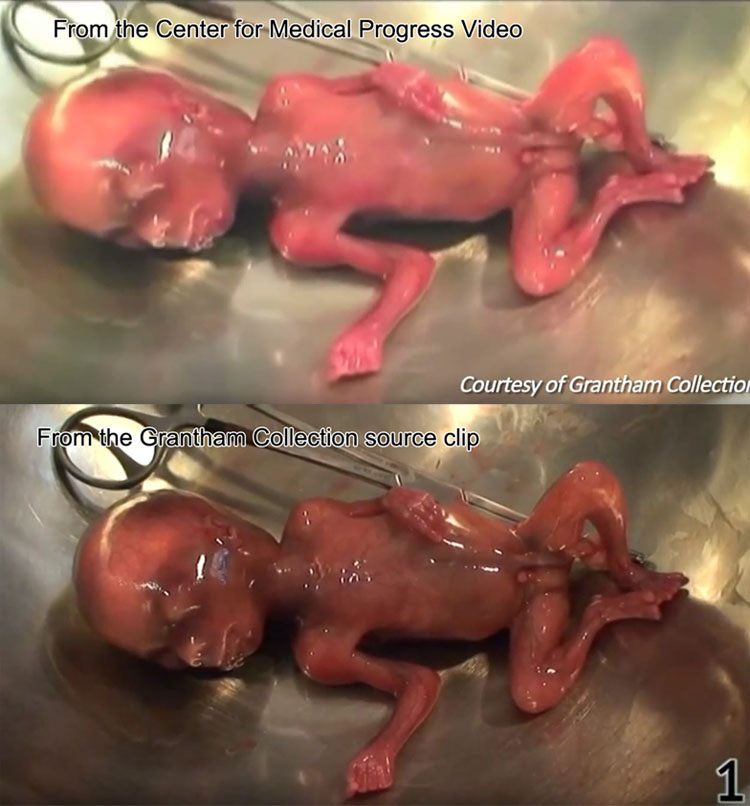 During CNN's Republican primary debate on September 16, Carly Fiorina challenged Hillary Clinton to watch a video clip which showed "a fully formed fetus on the table, its heart beating, its legs kicking, while someone says, 'We have to keep it alive to harvest its brain.'"
After the debate, various news outlets claimed to be unable to locate any such video. In a post titled, "Carly Fiorina is wrong about the Planned Parenthood tapes. I know because I watched them," Vox's Sarah Kliff said the video was "pure fiction." Kliff later updated her story after a link to the video in question was provided by the Federalist's Mollie Hemingway.
The graphic video of a "fully formed fetus… its legs kicking" appears in episode 3 of a multi-part documentary produced by the Center for Medical Progress (CMP). This video shows former tissue procurement specialist Holly O'Donnell describing how she was shown an intact fetus with a beating heart. O'Donnell says of this moment, "I don't know if that constitutes it's technically dead, or it's alive." O'Donnell was then asked to harvest brain tissue from the same fetus by cutting through its face.
As O'Donnell narrates her gruesome experience, the video shifts to 10 seconds of a fetus in a metal bowl which is still moving. The video is clearly labeled as coming from the Grantham Collection & Center for Bioethical Reform. It is not video of the fetus O'Donnell is describing but was inserted by the producers to illustrate what a living fetus at this gestation would look like.
The Examiner helpfully broke down the claims made by Carly Fiorina as follows:
A) Footage of a baby who survived an abortion — notably, this baby may not have been at Planned Parenthood*, and we have no reason to think he or she was cut up for his or her organs.

B) Abortion clinic officials saying things that could suggest they may deliver live babies, rather than abort them, in order to preserve the value of the body parts.

C) The first-hand account of former biotech worker Holly O'Donnell, who described an aborted baby boy whose heart was still beating and who was cut up for his brain.
Carly Fiorina appears to have conflated the video of the fetus with the story being told by O'Donnell at the same time. It's fair to say Fiorina's description was incorrect to the degree it treated both incidents as relating to one fetus; however, both the brain harvesting incident and the video of a fully formed, kicking fetus are real.
Breitbart News spoke to the source of the video, the Center for Bioethical Reform, last week. CBR's Gregg Cunningham said at the time, "This is an absolutely real video of an abortion." He added, "People always try to claim the images and video are not real." Cunningham explained that their agreement with abortion clinics strictly prevents them from releasing any information which might lead to the clinic being identified. A press release today states, "Violating these prohibitions could subject CBR to legal liability and jeopardize clinic access for current and future projects. We are even obligated to delete the audio track on all of our videos."
As for the documentary produced by the Center for Medical Progress, Cunningham explained that he allowed his video to be used by CMP on one condition, that it was clearly labeled so their would be no misunderstanding about what was being shown. Cunningham says he believes CMP's David Daleiden lived up to that requirement: "I feel that he, in a very intellectually honest way, indicated that this was not part of his undercover work." He added, "I feel that he's being held to an unfair standard."
Breitbart News is providing the full video released by the Center for Bioethical Reform so viewers can verify for themselves that this is the source of the brief clip previously seen in the CMP documentary which led to its being described in the GOP debate. CBR released the clip early Tuesday morning with the title "Carly Fiorina was right."
Warning to Readers: This video is extremely graphic and includes the fetus being expelled from a woman's body as well as images of the fetus in the metal bowl. The section that appeared in the CMP video clip can be found at about 3:40 into this clip.