Welcome to Breitbart News's daily live updates of the 2016 horse race. 
—
7:55: Trump says though he has a 21-point lead in Louisiana, "let's assume we're tied" so people go out and vote. Trump says wouldn't it be nice if the country could spend the least and be no. 1 at everything like his campaign. Trump says we're going to "win, win, win, win" and "make America great again."
"Go out and vote," Trump says. "So much fun."
7:50: Trump says he "Hillary Rodham Clinton" shouldn't be allowed to run and a Clinton presidency will be just another four years of "Barack Hussein Obama." He says "we're not going to let her get away with it" and what Clinton did with the private email server will "do her in."
7:35: Trump mimics Bernie Sanders's sheepish walk and blasts him for giving up his microphone to "Black Lives Matter" protesters. He says he will never give up the podium… as protesters continue to disrupt his event….
7:33: Trump says we have a right to be a little upset at the way things are going in the country…
7:30: Donald Trump Jr. says his dad is going to "give you a voice again" at his raucous Louisiana rally.
7:28: Addressing a heckler in the audience, Trump says people with the biggest mouths are the "most fragile." Trump now says they don't even make great movies anymore…
7:17: Trump says he'll sneak a trip to Trump National Doral on Sunday to watch the final round of the Cadillac Championship.
7:16: Trump talks some PGA golf. He says there's a great leaderboard at Trump National Doral (first World Golf Championship event of the golf season)… Rory. Adam (Scott). Dustin (Johnson)… He segued to golf (Cadillac Championship being played at his Blue Monster course) after saying people in Pennsylvania are driving Cadillacs because of fracking and New York should enable more fracking…
7:14: Trump says Michigan is not even in play for the other candidates but he will have a chance of winning New York. Crowd is raucous. "New York loves Trump," Trump says. "New York values…. is good stuff…" he says in the South…
Trump says we're going to win Florida, Ohio…. Mississippi
7:10: "Get 'em out of here," Trump says of the protesters. He says he loves protesters because the huge crowd sizes are then shown. Trump says millions are voting because of Trump and not because of "lyin' Ted" and "Little Marco."
7:08: Trump: Millions Who 'Never Gave a Damn Before" Voting in Droves… 'I am Just a Messenger'
Trump says a movement is no good if you lose. Trump says Ali could talk a lot of smack because he backed it up by knocking people out. Trump says "I am just a messenger" and "we are creating something very, very big… We're in this together." He blasts Romney as a "choke artist" who is jealous because this movement never happened with him. Trump says millions are going out to vote "that never gave a damn before."
7:07: Trump says the debates are like "gold" with him in them and they wouldn't give them up for anything now. Trump thinks "we've had enough."
7:06: Crowd chanting, "who dat say dey gonna beat Donald Trump?"
Crowd chanting "Who dat say dey gonna beat Donald Trump?"as @realDonaldTrump takes stage with a baby dressed as Trump

— Gambit (@The_Gambit) March 5, 2016
7:05: Trump takes stage in Louisiana with a baby he autographed.
Look at that hair! @realDonaldTrump takes the stage in #NewOrleans carrying a baby. https://t.co/Lpx2En1mEE pic.twitter.com/6f7eC2Hkjx

— OutFrontCNN (@OutFrontCNN) March 5, 2016
Trump just held the baby he signed last time he was in Louisiana on stage

— Jeremy Diamond (@JDiamond1) March 5, 2016
THE TRUMP BABY!!! in New Orleans…how cute!!! pic.twitter.com/MnStBA2iEH

— DeplorableBettyNeels30/30 (@bettyneels134) March 5, 2016
6:55: Kasich: He wants people to watch Cooking Channel/Golf Channel
Kasich encourages people to watch Cooking Channel, Golf Channel or bowling instead of news since media is trying to get ppl in a "bad mood."

— Kailani Koenig (@kailanikm) March 4, 2016
"As a president, you gotta be out here amongst the people," Kasich says. He's only candidate left doing daily town hall mtgs w/ audience Qs.

— Kailani Koenig (@kailanikm) March 4, 2016
5:50: Carson on two words that describe him: "The children." He says what he is doing is about them and their future. He said his whole career was about giving children a second chance and it has been so wonderful to see people he has operated on on the campaign trail.
Carson says anybody who tells him that something inside a uterus is just a bunch of useless cells has "no idea what they're talking about" after describing a woman he operated on when she was in her mother's womb.
Carson urges the remaining candidates to not injure the Republican brand weakening the potential nominee in the general election.
5:45: Carson says the GOP candidates are not addressing the "fiscal gap." He says he is not a politician so he can talk about unfunded liabilities vs. the money that we have coming back in through taxes and other revenue sources. He says nobody talks about the $200 trillion fiscal gap.
5:43: Carson says he would prefer in general not to have one but there is a reason that the process is in place. Carson says he would have a problem, though, if someone started changing the rules.
Carson points out that he has "millions" of supporters when the questioner asks him where his "thousands" of supporters should go. Carson says he has heard from supporters that they will not vote if he is not on the ticket. He doesn't like hearing that because not voting is actually voting for the other side and giving Hillary Clinton up to four Supreme Court picks. Carson says people need to exercise their civic duty because we will have done our children in if we choose another "secular progressive."
5:35: Carson said he did the math, looked at the delegate counts and realized that "it simply wasn't going to happen." He said he didn't want to "interfere with the process."
Carson says it is sad that the most common question he got from the international press was "aren't you embarrassed." He blames the media for trying to stir up fights instead of being interested in answers, solutions. Carson says the media are more interested in ratings. He says he has talked to all of the remaining candidates this week and he asked them to rise above the noise and discuss policy issues.
5:30: Carson: People Love Me but 'They Won't Vote for Me.' Tells CPAC He's 'Leaving Campaign Trail'
Dr. Ben Carson tells CPAC people tend to make bad decisions when they are angry and fearful. He gets a standing ovation at CPAC…. people clearly like him. Carson says there's a lot of people who love me but "they won't vote for me." Carson says he is "leaving the campaign trail." Carson says he will still continue to be heavily involved in trying to save our nation. Carson will head My Faith Votes, an organization that will focus on getting Christian voters to the polls.
He says Obama doesn't get to decide whether we're a Judeo-Christian nation and blasts him for saying that America isn't a Judeo-Christian nation.
Carson says we cannot allow ourselves to get molded by the political class and the media. "That is going to destroy us." Carson says it is kinda sad because the press is the only business that is protected by the Constitution. He says they were supposed to be allies of the people and not take sides like they have done. Carson asks the younger members of the press not to be "captured" by those who want to implement a radical agenda and calls on them to be fair. Carson says he can enjoy the rest of his life in luxury but he can't knowing that the next generation is in trouble and he will do everything he can to preserve the greatness of America.
5:12: Cruz says the media are not reporting that his campaign has won young people in states like Iowa, South Carolina, Arkansas, Texas. And he says the Washington establishment is terrified of the people gathered here. He says if he wins the nomination, he will unite the party, defeat Clinton, and turn the country around.
5:02: Hannity asks Cruz how he will deal with Democrats who will try to label Republicans as racist, sexist, homophobic. When asked how he will deal with the predictable lies, Cruz talks about "projection." Cruz says Democrats are unwilling to say "all lives matter" and asks "when did it become controversial to say every human being is a precious gift from God and we value everybody?"… Regarding "Black Lives Matter," Cruz says the bravery of our policies officers has saved thousands of black lives. He says "blue lives matter" and we stand with the men and women who protect us. Cruz says you have to take the case right to Democrats and he "cannot wait to stand on that general election stage with Hillary Clinton." Cruz says Clinton will prattle on about income inequality and he will tell her that it has increased dramatically under her policies. Cruz says "I agree with Bernie Sanders" after he says that he will say a sentence that has never been aid at CPAC and promises that it won't be X-rated because he is not Donald Trump. Cruz says Sanders is right in defining the problem re: how Washington is fundamentally corrupt. Cruz says where he disagrees with Bernie is if problem is government is corrupt, "then the answer ain't let's have a whole bunch more government."
5:00: What happened to his Namath-esque guarantee?
Rubio hedging in Florida? " it's going to be close" b/c of Trump "and the amount of national attention he's gotten." https://t.co/GL4HCjUwGy

— Ed O'Keefe (@edokeefe) March 4, 2016
4:58: An "ominous develop" for Hillary Clinton, Cruz says of the person who set up her private email server getting immunity. "When Paulie flips and goes to the Feds, it ain't good for Fat Tony." He also says "we've never had a general election debate convened at Leavenworth, but this year might be the first."
Cruz says "orange is the new Democratic blue," he says after Hannity jests that Clinton likes orange pantsuits.
4:56: Cruz says he would put all of his rivals who dropped out in his cabinet and asks their supporters to join his campaign to defeat Trump.
4:55: Trump thanks Macomb County, home of Reagan Democrats, for turning out in droves to attend his campaign rally:
Thank you Macomb County, Michigan! #MakeAmericaGreatAgain #Trump2016 pic.twitter.com/9TBvy6obcE

— Donald J. Trump (@realDonaldTrump) March 4, 2016
4:51: Cruz tells Hannity at CPAC that Romney is "entitled to express his views" as a citizen but the concerns Romney expressed are those that people have all over the country. Cruz says we will lose the Supreme Court for a generation if Trump is the nominee because Clinton will win the White House. Cruz says "Super Tuesday" was a "clarifying moment." He says he is the only one who has repeatedly beaten Trump. Cruz says the establishment is frustrated because the voters keep rejecting their "golden children." Cruz says there will be a "manifest revolt" if there is a brokered convention–Cruz says you beat Donald Trump by beating him with the voters.
4:48: At CPAC, Cruz says it took Jimmy Carter to give us Ronald Reagan and Obama's lasting legacy will be creating a new generation of leaders who stand and fight for liberty, who stands and fight for the Constitution, and who stand and fight for the Judeo-Christian values that built this great nation.
4:45: Cruz says we'll have a president willing to utter the words "radical Islamic terrorism." He says one of the most disgraceful things we've seen over the last seven years is sending soldiers into combat with rules on engagement that ties their hands behind their backs. He says it is "immoral, wrong" and will end when he becomes president. He also says if we have to go to war, we should use "overwhelming force" and "get the heck out."
4:40: Cruz slams Trump for skipping CPAC, but he points out that the is "angry: too:
Cruz: "I get being angry, I'm angry too."

— Betsy Klein (@betsy_klein) March 4, 2016
CRUZ at CPAC:"So Donald Trump is skipping CPAC. I think somebody told him Megyn Kelly was going to be here… Or even worse, conservatives."

— Betsy Klein (@betsy_klein) March 4, 2016
4:00: More good poll numbers for Trump post-Carson:
First post-Carson poll—Michigan by Mitchell Research—shows little Trump vulnerability: Trump 42%, Cruz 19%, Rubio 15%, Kasich 14%.

— Taniel (@Taniel) March 4, 2016
3:38: On CNN, Jamiel Shaw Sr., whose son was murdered by an illegal immigrant (not "undocumented" as host Brooke Baldwin said), talks about his support for Trump. Shaw, who is a black American, points out that his son was being recruited by schools like Stanford and Rutgers to play football and was a good student. He says his son was on the cusp of doing something really good when an illegal immigrant gang member shot his son in the head a day after he was released from jail. Shaw trusts Trump to enforce the country's immigration laws. Shaw says when he heard Trump talk about illegal immigrant "rapists" in his announcement speech, he supported him but thought Trump was being too nice because "murderers" like the illegal immigrant who killed his son are worse than "rapists." Baldwin has a look of shock on her face. Baldwin, speaking to a black American, has to get in her talking points about how "critics" says Trump is a "xenophobe" and has "offended every section of humanity." Baldwin actually asks Shaw if he hesitated when the Trump campaign asked him to be featured in one of their ads for fear that the campaign may be "politicizing" his son's death. Quite telling that Baldwin never brings up the "politicization" concerns when gun-control zealots advocate for gun control. But all of a sudden she cares about "politicization" when a black American is denouncing illegal immigrant crime. Shaw says he has been to D.C. three times and spoken to various lawmakers and "none of them give a damn." He asks Baldwin what she would do if her son got murdered by an illegal immigrant… Shaw says Paul Ryan, Mitch McConnell and every other politician have all said they would enforce the country's illegal immigration laws but have done nothing.
3:30: Bern Force One and Trump Force One on the runway:
#BernForceOne touches down in Michigan…with a little company on the runway. pic.twitter.com/3EHJ0WUj1W

— Danny Freeman (@DannyEFreeman) March 4, 2016
3:20: Associated Press eviscerates Carson's campaign spending: 
The political newcomer, who plans to announce Friday afternoon that he will become chairman of a group that encourages Christians to vote, raised $58 million, more money than any other GOP contender raised.

But an Associated Press review of his campaign finance filings show Carson's campaign is an extreme example of the big-money business of presidential politics. His campaign burned through the millions he raised by spending more on fundraising and consultants than on mass media advertising, on-the-ground employees and other things that could have swayed voters, the filings show
3:18: Kasich's CPAC speech:
3:15: Newt: Good strategy for Trump to skip CPAC:
Trump was right to skip CPAC. The votes are in Kansas not Washington. Why give the anti-trump activists a target

— Newt Gingrich (@newtgingrich) March 4, 2016
2:55: Trump says there was no way he was skipping the Michigan rally. He said it was a "long drive" but he loved it. Trump says "you have to go out and vote." "I don't want your money," Trump says. "I'm controlled by you." He says "go out and vote and we will make America great again."
2:45: Trump says "we want to nation build over here" and "rebuild our country" instead of "nation-building over there." He says he was the first to say "take the oil" because "to the victor go the spoils."
2:34: Trump says  millions of people are going to the polls because of Trump and not "little Marco." He says if he left the GOP, his voters would follow him. "They're coming over to vote for us," Trump says. He says he will take the credit but the new voters are coming to join the movement.
2:25: Trump says his father wanted him to be "softer" and may have wanted him to "softer" on "little Marco." The crowd boos. Trump says Iran won't be getting their $15o billion once he becomes president. Trump says we lost "every single point" on the Iran Deal.
2:23: Trump says Americans are angrier at our "stupid leaders" who are incompetent than China, Mexico.
2:20: Trump says former Mexican president Vicente Fox's anger was more about someone speaking back to him than paying for the wall. Trump blasts Fox for dropping the "F-bomb."
2:16: Crowd chants "Build the wall." "We will build the wall," Trump says. He asks the crowd who is going to build the wall…. and they answer un unison, "MEXICO!"… He blasts the "real geniuses" negotiating trade deals with Mexico that screw over American workers.
2:15: Trump says he only cares about "making America great again." Trump says he had no idea he hit something "so severely" when he addressed illegal immigration in his announcement speech. He says immigration was responsible for catapulting him to the top of the polls and "I have been there ever since."
2:13: Sanders also hammering Clinton on trade/outsourcing:
Sanders campaign finds fodder with Clinton's TV appearance in India on outsourcing https://t.co/DxH2g3VDhg pic.twitter.com/XK1UM4DA3H

— John Wagner (@WPJohnWagner) March 4, 2016
Big part of Team Sanders' push in Mich is circulating this '12 video from India, where Clinton talks outsourcing: https://t.co/s9tBzzKlIv

— Gabriel Debenedetti (@gdebenedetti) March 4, 2016
2:12: Trump hammering on trade. He calls China the "great abuser" on trade. He says America has rebuilt China.
2:10: Sanders tells supporters not to do heroin:
"Stay away from damn heroin," says @BernieSanders at SIUE in Edwardsville, Illinois. pic.twitter.com/5uQojZJfmW

— Danny Freeman (@DannyEFreeman) March 4, 2016
2:09: Trump says Mexico and Japan aren't going take away jobs from Americans. He says "people are tired of being pushed around." He says the "silent majority" is now a very "noisy majority." He says the "establishment people" who lost the last two elections have "no clue" and "don't know how to win."
"I love my people," Trump says. He then tells a male supported in the crowd who was cheering, "I love you too, even though you're a guy."
He praises Matt Drudge and says every online poll had him winning "big league" after the debate.
2:07: Trump addresses supporters in Michigan and praises the crowd size. Cites good poll numbers. He says "when they're no good, I don't report them."
1:58: Trump reverses stand on torture:
Breaking: Donald Trump revises stance on torture, saying he wouldn't order military to break international laws https://t.co/J7ULOmLki0

— The Wall Street Journal (@WSJ) March 4, 2016
1:55: New Polls: Trump leading Kansas/Louisiana:
UNO poll has Trump favorited in Louisiana https://t.co/vGEUtZtvQd

— NOLA.com (@NOLAnews) March 4, 2016
Kansas poll — Trafalgar Group

Trump 35
Cruz 29
Rubio 17
Kasich 13https://t.co/D3LlL7NlIl

— Sahil Kapur (@sahilkapur) March 4, 2016
1:51: Mitt Romney on potential Hillary vs. Trump general election: "Drink the poison or take the bullet."
He told Bloomberg Politics that "if those are my only two choices I'd vote for a conservative on the ballot – and if there weren't one that I was comfortable with, I would write in a name."
Romney also said he may make financial contributions to anti-Trump Super PACs.
1:38: Report: Psycho Glenn Beck: "If I was close enough and had a knife, the stabbing just wouldn't stop."
Glenn Beck reportedly said this on his radio show today: "I don't know what I would have done if I was sitting in" [Cruz or Rubio's shoes]," he said. "I can't say it that way. If I were on the stage, I would have said, 'have you been listening to him tonight? Have you been listening to what I say about him?' I believe these things." He continued, "If I was close enough and had a knife, the stabbing just wouldn't stop."
UPDATE: The Daily Caller updated its post by adding that "during a monologue Friday about Donald Trump's Thursday night debate performance, radio host Glenn Beck said that if he "had a knife, the stabbing just wouldn't stop."
Beck's co-host, Stu Burguiere, told The Daily Caller Friday — after this article's publication — that, despite the appearance of a threat against Trump, Beck was instead playfully threatening to murder his own co-host.
https://twitter.com/WorldOfStu/status/705825357740556288
1:30: Rubio points out Republicans are only being asked if they would support the nominee because the frontrunner is Trump
Rubio on being asked about supporting Trump if nominee: you wouldn't be asking that question about anyone else

— Jonathan Shorman (@jonshorman) March 4, 2016
1:11 – Rubio repeats his support of Trump in the general election during a Kentucky radio interview:
1:00 – Fox News interviews Mitt Romney for some repeat headlines of yesterday's talking points:
.@MittRomney Vows He Will Never Support 'Degrading, Disruptive, Unhinged' Trump @TeamCavuto https://t.co/QCGOVejwxO pic.twitter.com/4oh9xzHNDY

— FoxNewsInsider (@FoxNewsInsider) March 4, 2016
12:53 – Rubio tells supporters he won't give his voice a rest.
– @marcorubio to supporters "I've been told that if I don't rest, I'm going to lose my voice." pic.twitter.com/cr2iBhwzW7

— Charlie Spiering (@charliespiering) March 4, 2016
12:41 – Cruz debuts a yoga mat with his campaign logo based on a Rubio quip last night:
Thankfully, there was no yoga at the #GOPDebate, but now there can be wherever you are: https://t.co/E3woOeLSBw pic.twitter.com/80Ncd7xK4J

— Ted Cruz (@tedcruz) March 4, 2016
12:26 – Trump campaign confirms. Via John Nolte:
The Donald J. Trump for President Campaign has just announced it will be in Witchita, Kanasas for a major rally on Saturday prior to Caucus. He will also be speaking at the Kansas Caucus and then departing for Orlando, Florida and a crowd of approximately 20,000 people or more. Because of this, he will not be able to speak at CPAC as he has done for many consecutive years.
12:09 – The ACU announces Donald Trump will not attend CPAC:
Very disappointed @realDonaldTrump has decided at the last minute to drop out of #CPAC — his choice sends a clear message to conservatives.

— CPAC 2019 (@CPAC) March 4, 2016
11:55 – Hillary's got gifs!
Marriage equality is the law of the land. Deal with it. #GOPdebate pic.twitter.com/gPS1BVgipl

— Hillary Clinton (@HillaryClinton) March 4, 2016
11:44 – Left-wing media is bruising Rubio for saying last night he would support Trump in the primary–since last week, he joined the #NeverTrump hashtag and began selling #NeverTrump merchandise. The #NeverTrump crew will not support The Donald in the general election.
#NeverTrump. Agree?

Add your name here: https://t.co/NmPHhsu5Ik

— Marco Rubio (@marcorubio) February 27, 2016
Rubio camp insists in spin room the "Will you support Trump?" is a hypothetical that won't happen bc Trump won't be nominee.

— Sabrina Siddiqui (@SabrinaSiddiqui) March 4, 2016
Rubio is selling #neverTrump gear pic.twitter.com/1O6BYFa22B

— Zeke Miller (@ZekeJMiller) March 4, 2016
Asked Rubio camp multiple times if saying #NeverTrump meant he'd oppose Trump. Now I know why they never responded. https://t.co/gCBdqfHrjg

— Sahil Kapur (@sahilkapur) March 4, 2016
I don't think Rubio quite got meaning of #nevertrump when he tweeted last week

— Jonathan Martin (@jmartNYT) March 4, 2016
Rubio: #NeverTrump, unless somehow he's the nominee, in which case, sure.

— Jonathan Chait (@jonathanchait) March 4, 2016
11:28 – At CPAC, Rep. Marsha Blackburn told the Washington Times she'd consider being Trump's VP: "Anybody would consider that offer."
11:22 – Cruz: brokered convention a "pipe dream."
Ted Cruz just called the notion of brokered convention a "pipe dream of the establishment" "It ain't gonna happen" https://t.co/tyRnmJ61G8

— Jason K. Morrell (@CNNJason) March 4, 2016
11:12 – During his rally in Michigan, Trump again defended the size of his, uhm, hands.
11:04 – Cruz is giving a press conference where he is declaring a brokered convention that "robs the people of their votes" a "disaster."
Cruz is also blistering Trump over the front-runner's sudden flexibility on immigration.
According to Cruz, though, there are discussions going on behind-the-scenes about the candidates coming together.
10:54 –  "Republican governors steer clear of 'dump-Trump' push"
As Republican party leaders mount a desperate effort to derail the U.S. presidential campaign of billionaire Donald Trump, many of the party's 31 state governors are staying out of the fray.

When New Mexico Governor Susana Martinez steps onto a Kansas stage on Friday to endorse Republican presidential candidate Marco Rubio, she will be only the 10th governor to back one of the four candidates remaining in a nominating contest that could define the party for years to come.

Far more typical is Governor Rick Scott of Florida who said on Thursday he would not endorse a candidate before his state's hotly contested March 15 primary.
10:38 – Excited to create a horse race, one under-covered bit of news from the most of the DC Media is the massive amount of early voting already underway in Florida. With a mammoth 20 point lead, there is no question this benefits Trump. From Marc Caputo's Florida Playbook:
VOTERS ARE VOTING!! Election Day is March 15, but Floridians are already voting. Of the total pre-Election Day primary ballots cast, about 434,000 were cast by Republicans (54%) and almost 362,000 (46%) were by Democrats. All told, 795,000 have voted for the primary and another 16.6k independents voted in local races (they can't vote in Florida's closed primary system). Including independents, total ballots cast: 813,000.
Via Twitter, Caputo says this is a low-ball figure:
@NolteNC that's just Republicans. And I low-balled the estimate. Haven't run this am's #s. Here's yesterday pic.twitter.com/zEBkJXGygu

— Marc Caputo (@MarcACaputo) March 4, 2016
10:29 – "Republicans in tailspin, group forms to draft Ryan for U.S. president"
How many times do Republicans have to lose before the Establishment moves on?
With U.S. Republicans sharply split over a front-runner they cannot unite behind, a new group is trying to push the country's top elected Republican, Paul Ryan, into the White House race.

The Committee to Draft Speaker Ryan filed papers as a Super PAC with the Federal Election Commission on Thursday, adding to the groups of mainstream Republican leaders and donors with a shared goal: stopping Trump.

Ryan, the House of Representatives speaker who spoke out against Trump for not quickly rejecting white supremacist support, did not appear ready to take on the role.

"He is flattered, but not interested," Ryan spokeswoman AshLee Strong said in an email on Friday.
10:16 – Tomorrow, Saturday, 155 GOP delegates are up for grabs in 4 states: Kansas, Kentucky, Louisiana, and Maine.
One poll has come out of KY, it is only 10 days ole, and it shows Trump leading by +13.
In Kansas, Trump leads by +12.
Trump leads in Louisiana by +19.
The last poll out of Maine has Christie up +13. Trump did make a stop there yesterday.
9:54 – The Huffington Post's debate headline: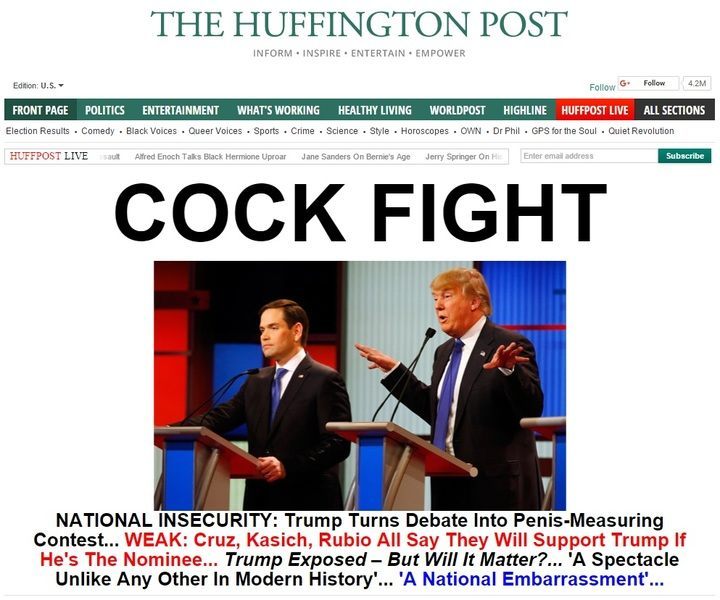 9:36 – On Fox News, Newt Gingrich says he was in Nevada with Trump and Romney in 2012 when Trump endorsed Romney. "Mitt Romney was very nice to Trump that day." Gingrich also believes Romney made a mistake attacking Trump. "I got an email from a friend. 'The losers are attacking now?'"
9: 33 – Trump at a rally in Michigan.
Trump rips Rubio as a "con man:" "He conned the people of Florida … he never votes .. he has the worst voting record in the history of the Senate."
9:27 – Romney joins #NeverTrump.
Romney says he won't vote for Donald Trump.

— Steve Peoples (@sppeoples) March 4, 2016
8:57 – Former Senator Jim Webb, a Democrat, has ruled out voting for Hillary Clinton. Says he could consider Trump:
.@JimWebbUSA: No, I would not vote for @HillaryClinton… 'I'm not sure yet' on @realDonaldTrump https://t.co/VF2TSv2H3f

— Morning Joe (@Morning_Joe) March 4, 2016
8:44 – Record 2016 debate ratings for Fox News last night.
Overnight rating show record numbers of 2016 #GOPDebate on @FoxNews

— Sean Spicer (@seanspicer) March 4, 2016
8:29 – More proof that the media lies and lies and lies and lies and lies
The Better Business Bureau report, with an A rating for Trump University. #GOPDebate https://t.co/ldJ5EFp3HM pic.twitter.com/1K9u09CFQQ

— Donald J. Trump (@realDonaldTrump) March 4, 2016
8:10 – Trump wins the Drudge poll, but Cruz keeps him below 60%. Rubio, who had a very bad night, got smoked.