Welcome to Breitbart News's daily live updates of the 2016 horse race. 
—
12:25: On CNN, Sanders campaign manager Jeff Weaver says Sanders won Michigan because of trade policies that Hillary Clinton supported. Sanders's message crossed racial lines, Weaver says, and that is why he performed better with northern black voters than Southern blacks. Weaver says the calendar will now favor Sanders going forward and it will allow Sanders to pick up the delegates necessary to win the nomination.
12:24: Shocking upset for Sanders:
You can see all the polls that showed Sanders was ahead in Michigan (none!) pic.twitter.com/WaTKXfHpdo

— Jamie Dupree (@jamiedupree) March 9, 2016
12:15: Trump wins in Romney Country:
Oakland County 100% reporting: Trump 36.2% to Kasich 31.86%; Clinton 51.35% to Sanders 46.83%

— Crain's Detroit Business (@crainsdetroit) March 9, 2016
Trump wins Oakland Co, MICH by over 4pct!

Mitt Country….

— Jonathan Martin (@jmartNYT) March 9, 2016
12:07: Cruz projected to win Idaho.
12:01: CNN's Mark Preston reports that the GOP's "stop Trump" movement is now conceding that Trump may well win Florida and Ohio. They will try to convince Messrs. Rubio, Kasich to stay in the race in order to stop Trump at a contested convention.
11:34: Clinton campaign spinning:
Clinton's communication director says that Michigan was demographically advantageous for Sanders. Weren't hearing that much yesterday.

— Dan Merica (@merica) March 9, 2016
11:31: AP Calls Michigan for Sanders:
BREAKING: Bernie Sanders wins the Democratic presidential primary in Michigan. @AP race call at 11:30 p.m. EST. #Election2016 #APracecall

— The Associated Press (@AP) March 9, 2016
11:20: Breitbart's Joel Pollak points out:
At @HillaryClinton victory rally, supporters looked concerned behind her—watching returns from #MichiganPrimary? pic.twitter.com/O3RIn9fWXy

— Joel B. Pollak (@joelpollak) March 9, 2016
11:12: In Idaho, Cruz takes the early lead with 3% reporting:
Cruz: 38.5
Rubio: 28.4
Trump: 22.3
11:11: Sanders even stronger among young black voters:
MI exit polls: Sanders winning white voters 57/42, Clinton winning black voters 65/30 – a better than usual performance for Sanders.

— Joy Reid (@JoyAnnReid) March 9, 2016
11:00: Clinton campaign seems flummoxed about how they blew Michigan. Maybe because she is seen as inauthentic, has been on the wrong side of bad trade deals, and trying to make "technical" arguments that Sanders voted against the bailouts reinforces everything that voters hate about the "calculating" Clinton.
10:52: Sanders: "A fantastic night in Michigan." He is grateful for all of the support.
10:49: Sanders holds a Miami press conference to thank the people of Michigan for "repudiating the polls" that had the campaign 25 points down and repudiated the pundits who said that "Bernie Sanders isn't going anywhere." He thanks his volunteers.
Sanders says tonight showed that his campaign is strong in every part of the country and his strongest states have yet to vote. He says Americans are tired of the rigged economy and a broken criminal justice system.
Trump could wrap up GOP race next week. Democrats might go until June. Isn't politics amazing?

— Taegan Goddard (@politicalwire) March 9, 2016
10:43: According to CNN, Sanders got 49% of black voters under 45 in Michigan. And that's why he may pull off the upset.
10:36: Sanders may pull off arguably one of the greatest political  upsets if he wins Michigan:
If Sanders wins MI tonight, it will break Gary Hart's record in 1984 NH for greatest upset vs. final polling aveage. https://t.co/lSepZ12Kho

— Nate Silver (@NateSilver538) March 9, 2016
10:32: Steve Forbes: Pressure on Rubio to leave race will intensify:
Pressure on Rubio to pull out will grow exponentially. Two very poor finishes. #MichiganPrimary

— Steve Forbes (@SteveForbesCEO) March 9, 2016
10:30: Michigan was Clinton's chance to knock Sanders out of the race. On CNN, Donna Brazile says if Sanders pull out a Michigan win, the race could go to June.
10:28: Chuck Todd on the Never Trump "Smart Set."
For anti-Trump GOPers, they must feel like Charlie Brown & the football. Every time they think they have momentum to stop him, voters vote

— Chuck Todd (@chucktodd) March 9, 2016
10:25: Nolte to 'Never Trump' folks:
https://twitter.com/NolteNC/status/707404515121766400
[Tony Lee: At some point, Trump's constantly talking about process and having to scratch the itch and refute every negative thing said about him while promoting his holdings gets old. He should leave that up to his surrogates. It will start to wear thin in a general election. Trump still needs to be Trump. Lines like thanking the "lobbyists and special interests" for helping his numbers rise are great. But talking incessantly about polls and process may lead voters to ask, "where's the beef?"
It also makes it seem like he's just winging it. Once again, Trump missed a huge opportunity to appeal to more Americans and broaden his base of support. Majorities in Mississippi and Michigan, according to exit polls, believed that bad trade deals are destroying American jobs. Trump's tough talk on trade goes to the core of his appeal. It is also the issue that  may allow him to win a general election against Clinton by attracting working-class whites and minorities who don't want to see their jobs shipped overseas. Trump could have used his first minutes of his press conference to talk about trade, American workers and how the GOP can grow the party by championing the issues he has been talking about on the stump.
He could have addressed American workers in all communities–white-working class workers who thought they would have at least the same middle-class lifestyle their parents had, black communities that have been decimated because factories and plants in their communities have closed due to bad trade deals, Americans of Hispanic and Asian descent who are having trouble finding jobs because of illegal immigration, and white-collar Americans of all backgrounds who are worried that cheaper, less-skilled foreigners will be brought in to replace them while they are forced to train them.
Instead, he spent most of his press conference attacking irrelevant Lindsey Graham, pointing out that Charles Krauthammer finally acknowledged that he did well (why the hell should he care what he thinks?), settling scores with Mitt Romney, blasting bad polls from the Wall Street Journal and incessantly giving play-by-play, blow-by-blow accounts of mind-numbingly process-oriented minutiae that no regular voter gives a damn about except for someone like Trump who seems obsessed about reading every story written about him (to be fair, Trump's insatiable appetite for all news about him does make him a better candidate than those whose advisers keep in a bubble because he knows what the political conversation is on any given day. He should keep reading all that is written about him but he seems small when he feels the need to constantly comment on every poll, every criticism, every bad story, etc.). Trump was all over the map. It's time for him and his team to start gearing up/training for the general election. Get policies/themes down and stick to them while leaving room for Trump to be Trump on the news of the day to stay in the news and not lose his authenticity. He can wing his way to the GOP nomination. But that act won't fly in the general election against the Clinton/mainstream media machine.]
9:50: Meanwhile, none of the networks covered Clinton's speech. All eyes on Trump–because you have no idea what he will say unlike traditional politicians whose speeches everyone has memorized by now:
Clinton wraps up. not one network popped in for a moment.

— Hadas Gold (@Hadas_Gold) March 9, 2016
Apparently, she was targeting 'Scandal' viewers:
Clinton pushing HARD for the Scandal vote with a Defiance, Ohio reference.

— Nate Cohn (@Nate_Cohn) March 9, 2016
9:41: Trump says that he hears that $39 million has been spent attacking him. He says as he was watching his golf tournament, every negative ad in Florida was about him. Trump says it's time to unify because we have "something special going on in the Republican Party" where millions of people are voting. He says the Republican elites do not understand what is going on and should "embrace it." He says Democrats should love what's happening. There's no spirit on the left, he says. Trump blasts "eggheads" in the National Review for not understanding how serious America's trade deficit with China is. He says he can probably get along with Lindsey Graham and Mitt Romney. He says we can unify the party and "nobody's going to beat us."
9:36: Trump says he has nothing to say to Rubio and Rubio will have to decide what the best path for him is going forward. He says hostility works for some people and doesn't for others. He says he had a good relationship with Marco until the "GOP smart set" convinced him to act like a petulant juvenile and launch inane attacks against Trump on the stump.
9:34: Trump says he has won many club championships and he knows how to close. "Winning is winning." Trump says Clinton is a "flawed candidate" and it will be an easy race if Clinton is allowed to run. He says if the government does it job properly, she will not be able to run.
9:30: Trump says politicians will "never get you to the promised land."
9:25: Trump says what this election is showing is that advertising is less important than competence. Trump says even Megyn Kelly said "Donald Trump did well tonight." Trump: "Thank you, Megyn." He says even Charles Krauthammer said so as well. Now Trump is using precious time on all television networks to attack irrelevant Lindsey Graham. He is proud that every single candidate who has attacked him viciously is gone. Now, Trump pivots to ISIS. He says ISIS should not be dictating terms. Trump says Evangelicals don't like the way Ted talks and Trump talks about how Christianity is being chipped away.
Trump says he can win states like New York that Republicans have not been competitive in past elections. He says he will win Michigan. He says for other Republicans, "it's never even a question." He says he will Ohio and Virginia because he has "great properties in Virginia." He says having properties in a  state means you love the state and have a lot of employees in the state.
9:12: Trump, again talking about process, says after $38 million worth of lies, he still won. He says it shows how smart the public is. "I want to thank the public," Trump says before thanking the people of Mississippi and Michigan. Now he touts his friendship with Jack Nicklaus (good play for Ohio–who knows it was intentional or not). He also recognizes former Yankee Paul O'Neil in the audience.
Trump says it is very important that our Senators and Congressmen are re-elected even though not all of them are on his side. Trump says he is happy about turnout. Trump says the biggest story in politics is the huge turnout in GOP primaries with Democrats and Republicans coming over. He says a lot of voter are first-time voters. He wants to thank the "special interests" and the "lobbyists" because they "obviously did something to drive the numbers."
Trump wants to thank Paul Ryan. Trump says he could not have been nicer. "Great respect," he says. He now slams Cruz for saying he is the only one who can beat Donald Trump but "he never beats me." Trump says Cruz will have a tough time in the states ahead. He praises Christie for being a "great prosecutor. I watched what he did to Marco." Now Trump defends his financials (no debt) and his properties (Trump International, Doral, etc.)
Trump is using his press conference to showcase Trump magazine, Trump steaks, Trump water, etc. and ridicules Romney (who claimed Trump steaks and Trump magazine were not around anymore) for attacking his companies. He says he sold his airline. And he defends Trump University. Trump says the press members can take a bottle of wine home if they want.
[Here is what Romney read off of his teleprompter last week: "And whatever happened to Trump Airlines? How about Trump University? And then there's Trump Magazine and Trump Vodka and Trump Steaks and Trump Mortgage. A business genius he is not."]
9:10: Fox News, NBC call Michigan for Trump. 
[Tony Lee: Trump recognized how much GOP primary voters despised the political establishment–and how much immigration and trade mattered–this election cycle like Obama realized how much left-wing liberals hated George W. Bush post-Katrina and the Iraq War in 2008. Though the analogy is not perfect, Kasich, in some ways, reminds me of John Edwards in 2004.]
9:05: Step and repeat/open bar at Trump's press conference:
There's also a Trump Step and Repeat pic.twitter.com/LpbM4HoRp1

— Katy Tur (@KatyTurNBC) March 9, 2016
Also an open bar. pic.twitter.com/HCMqDmiyOl

— Katy Tur (@KatyTurNBC) March 9, 2016
9:02: Bad  night for Rubio:
https://twitter.com/NolteNC/status/707385856542298113
9:00: Polls close in Michigan. No projects yet on either side:
GOP: (21%): Trump 38, Kasich 26.4
Democrats (30% reporting): Sanders 50.7, Clinton 47.4
8:45: Wide range of support for Trump in Mississippi:
Trump takes Mississippi. Wins somewhat conservative, moderate, older, and less educated workers. Per @NBCNews

— Katy Tur (@KatyTurNBC) March 9, 2016
8:40: Michigan update: Dems: Sanders: 50.3, Clinton 48 (21% reporting)
GOP: Trump 37.7%, Kasich 29.2%, Cruz 20.5%, Rubio 8.7% (14% reporting)
8:35: Networks Project Trump to win Mississippi
8:24: Good news for Trump in Michigan. He's leading all of the counties that have reported so far:
Trump is leading in all 9 counties reporting so far in Michigan. Shaping up if later returns hold to be a good night for him there.

— (((Harry Enten))) (@ForecasterEnten) March 9, 2016
8:19: Rubio's juvenile attacks backfired on him:
Oakland County–affluent burbs of DET–is exactly the sort of place where Rubio dominated on Super Tues. He has 8% so far to 35 for Kasich

— Nate Cohn (@Nate_Cohn) March 9, 2016
8:10: Good news for Trump out of Mississippi:
In MS – 6 in 10 GOP voters wanted a political outsider. 7 of 10 of them voted Trump, per exit polls

— Rick Klein (@rickklein) March 9, 2016
8:00: CNN Calls Mississippi for Clinton.
GOP (per exit polling): Trump: 49
Cruz: 36
Kasich: 7
Rubio: 7
7:30: Sanders again is first out of the gate on election night. He addresses supporters in Miami and says his supporters must have the courage to take on big-money interests "whose greed is destroying our economy." Sanders says other candidates are not telling Americans "several truths." Sanders says our "Democratic form of government is under severe attack" because of Citizens United. He blasts the Koch brothers and a few other "billionaires" to elect candidates who will represent the "rich and the powerful." He says "our fight" is to overturn Citizens United and have high voter turnout, end Republican voter suppression. Sanders says let's show the world on Tuesday that democracy is alive and well with a "YUGE voter turnout." He says the plutocrats don't want young people and working-class Americans to participate in politics .
7:25: Red meat ready for Trump's "victory" presser:
TRUMP STEAKS, Trump Chardonnay, Trump Rosé and Trump water will be served to guests at Trump's presser 2nite in FL pic.twitter.com/oAXg5wV8nQ

— Nick Kalman (@NickKalmanFN) March 9, 2016
Display of @realDonaldTrump wines, steaks & spring water for tonight's press conference in Jupiter. pic.twitter.com/4UE8M8aR93

— George Bennett (@gbennettpost) March 9, 2016
7:15: GOP grand pooh-bah Fred Malek opposed to Dump Trump movement:
ICYMI: @FredVMalek says he doesn't agree w/ the "Dump Trump" campaign today on #AMR @MSNBC https://t.co/FbAuroVqpI

— Andrea Mitchell (@mitchellreports) March 8, 2016
7:13: Anti-Trump Republicans want brokered convention:
Non-Trump/Cruz candidates account for 23.5% of delegates selected so far. If that % goes up tonight, so will odds of contested convention.

— Dave Wasserman (@Redistrict) March 9, 2016
ABC/WaPo poll: 63% of Republicans who don't support Trump support a contested convention: https://t.co/SBsdC1Vv1B pic.twitter.com/dEOueXM82A

— ABC News Politics (@ABCPolitics) March 8, 2016
7:07: Cruz reportedly will not a speech tonight, according to CNN's Sunlen Serfaty. He'll be on a plane to Florida.
7:05: Trump hearing some good news out of Michigan/Mississippi:
Word is I am doing very well in Michigan and Mississippi! Wow, and with all that money spent against me! Will be going to Trump Jupiter now!

— Donald J. Trump (@realDonaldTrump) March 8, 2016
6:58: Clinton campaign manager lowering expectations for Michigan:
Clinton's Mook is clearly lowering expectations for MI on CNN, saying it's "very close" and "win or lose…"

— Will Bunch (@Will_Bunch) March 8, 2016
6:55: Kasich relying on Michigan to give him momentum:
Kasich in CNN interview a few minutes ago: '"If I spend any more time in Michigan, I have to start paying taxes"

— Steve Brusk (@stevebruskCNN) March 8, 2016
6:50: MS exit polls:
Cruz is winning late deciders in MS but not by a huge margin. Trump was competitive with late deciders

— Chuck Todd (@chucktodd) March 8, 2016
By a 60-34 margin, MS GOPers want next POTUS to be outside estab. Cruz wins voters who want experience in next POTUS. Trump wins outsider

— Chuck Todd (@chucktodd) March 8, 2016
While nearly 60% of MS GOPers would be "satisfied" if either Trump or Cruz is nominee. 57% of MS GOPers would be "dissatisfied" w/Rubio

— Chuck Todd (@chucktodd) March 8, 2016
6:17: Cruz in North Carolina:
.@tedcruz taking the stage at Central Baptist Church #NC #CruzToVictory #CruzCrew #Cruz2016 #ChooseCruz pic.twitter.com/DeMN7Akcm9

— bruce redden (@brucereddenjr) March 8, 2016
.@tedcruz w/ the one and only @ChuckNellis a true patriot! #CruzCrew #CruzToVictory #Cruz2016 #ChooseCruz #NC pic.twitter.com/HRZ634yjW4

— bruce redden (@brucereddenjr) March 8, 2016
6:11: Cruz referencing March Madness in North Carolina: (Shaka Smart's Longhorns–they beat Carolina in Austin–may make a run in the tourney as well)
CRUZ: "We're in the middle of March Madness. Now I'm told folks in North Carolina know something about that."

Fact check: True.

— Betsy Klein (@betsy_klein) March 8, 2016
6:07: Kasich doing well with those who decided late in Michigan:
EXIT POLLS: Marco Rubio not doing well with late deciders in Michigan. John Kasich fares the best: pic.twitter.com/57GAV2VLfH

— Shepard Smith (@ShepNewsTeam) March 8, 2016
6:05: Lots of independents in GOP's Mich. Primary:
More than 3 in 10 voters in Michigan GOP primary describe themselves as independents: https://t.co/Om3hoFwbqr pic.twitter.com/pStDLFyv0X

— This Week (@ThisWeekABC) March 8, 2016
6:02: Per ABC: Half of GOP primary voters in MS support deporting illegal immigrants instead of "giving them a path to legal status, higher than the average from previous primaries. In Michigan, fewer but nearly four in 10 support deportation. Deportation supporters have been another strong group for Trump in past contests. Rubio's done much better among the somewhat larger group of voters who'd prefer a path to legal status (ditto for Kasich in New Hampshire)."
5:52: Majority of MS Dems think race relations have gotten worse under Obama:
#Decision2016 pic.twitter.com/f99frGaAb7

— Meet the Press (@MeetThePress) March 8, 2016
And they trust Clinton more than Sanders on race relations:
Clinton has wide lead over Sanders among Mississippi voters in handling race relations, per preliminary exit polls: pic.twitter.com/4Or56aa7Ba

— ABC News Politics (@ABCPolitics) March 8, 2016
5:50: Michigan Dems trust Sanders more than Clinton:
Only 58% of Dem voters in #MIprimary think Clinton is honest/trustworthy in prelim exits. Can't love that number. 80% said same of Bernie.

— Ryan Struyk (@ryanstruyk) March 8, 2016
5:46: Potential record black turnout in MS Dem primary:
Six in 10 Mississippi Democratic primary voters are black per preliminary exit poll results, which would be a record if it holds. #MSprimary

— Ryan Struyk (@ryanstruyk) March 8, 2016
5:45: Good news for Clinton in Mississippi:
7/10 Democratic Mississippi voters want next president to continue Pres. Obama's policies https://t.co/ixBbye8t3L pic.twitter.com/JI6Zeuakf3

— This Week (@ThisWeekABC) March 8, 2016
5:43: Republicans/Democrats in Michigan united in opposition to bad trade deals (per Joel Pollak):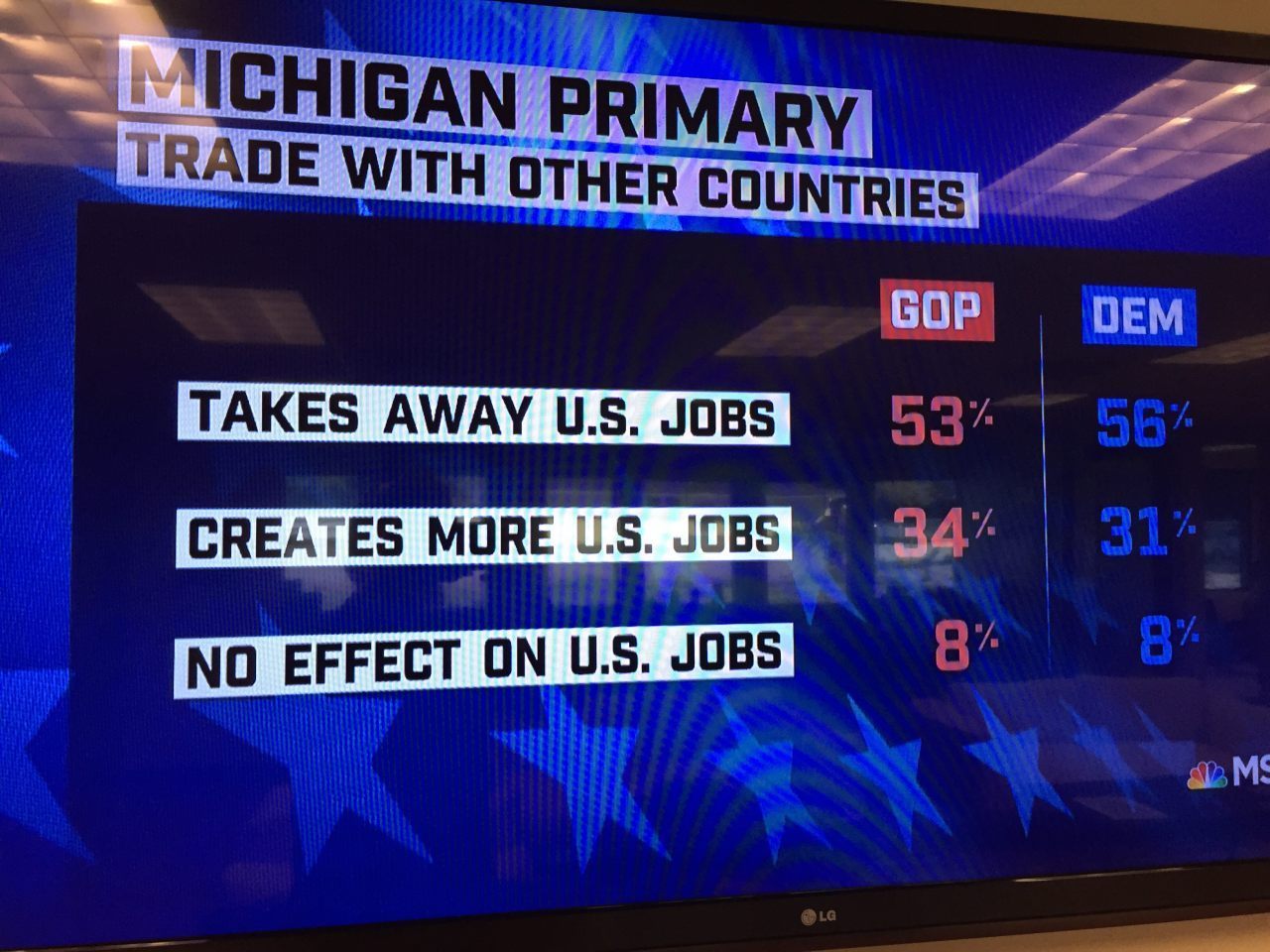 5:35: GOP Exit Polls: "Notably more political independents voting" in Michigan than Mississippi, according to ABC.
5:30: Kasich beats Rubio in latest WSJ/NBC poll:
Trump narrowly leads new WSJ/NBC poll with 30% of GOP voter support, topping 27% for Cruz, 22% for Kasich, 20% Rubio pic.twitter.com/eKA48zS1fr

— Kristina L. Peterson (@kristinapet) March 8, 2016
5:25: Exit Polls (GOP primaries): Majorities in Michigan/Mississippi think bad trade deals taking away American jobs:
On the economic front, majorities in both states today think trade with other countries takes away rather than creates U.S. jobs. And eight in 10 in Mississippi and more than six in 10 in Michigan are very worried about the economy's direction. Such "very worried" voters have been a better group from Trump than Cruz in the primaries so far.
5:23: Exit Polls: Four in 10 Michigan GOP voters and nearly five in 10 in Mississippi decided more than a month ago:
Four in 10 GOP voters in Michigan say they made up their minds more than a month ago, as did nearly half in Mississippi. To date, early deciders have been strong for Trump, while late deciders have been a much closer contest among the top three candidates (and Kasich in New Hampshire).
5:20: More Mississippi voters identify as "very conservative."
EXIT POLL: 50% of Mississippi Republicans identify as "very conservative," up 8 points from 2012. pic.twitter.com/5JPisJGIIz

— Meet the Press (@MeetThePress) March 8, 2016
5:17: Kasich voters in Michigan are anti-Trump/Cruz:
Interesting exit polling from @CBSNews – 33% of Kasich voters in MI primary are voting for the Gov because they don't like Cruz, Trump.

— Russ (@RussMcNamara) March 8, 2016
5:16: Mississippi GOP primary: 76% evangelicals. Michigan GOP primary: 49% evangelicals
5:14: Exit Polls: Mississippi: 44% of GOP voters "angry" and 43%. Michigan: 32% angry at federal government while 55% dissatisfied.
5:09: Exit Polls: Big support among GOP primary voters in Mississippi/Michigan for Muslim ban:
CNN exit poll for Rs: "Three-quarters in Mississippi back a temporary ban on Muslims entering US; that dips to just over 6 in 10 in Mich."

— Manu Raju (@mkraju) March 8, 2016
4:55: Pressure for Sanders to drop out may intensify if he loses Michigan.
4:4o: Rubio making foreign policy case against Trump:
Multiple terror attacks today in Israel, our prayers with the victims. We cannot be neutral between Israel and those who use terror.

— Marco Rubio (@marcorubio) March 8, 2016
4:30: Kasich thanks Michigan voters (he had the state to himself today as other candidates campaigned elsewhere)
Thank you to all the voters who came out for our Michigan send-off today. Let's run through the finish line! pic.twitter.com/JYxpp27UvR

— John Kasich (@JohnKasich) March 8, 2016
4:24: Michigan: Trump voter, who has not been energized to vote FOR a candidate since Reagan, "Donald Trump is the only one that has the cojones to stand up to the establishment."
4:15: Michigan: Clinton strong in urban precincts, struggling with affluent white liberals.
3:55: Santorum stumping for Rubio in Hawaii:
Feeling the #Marcomentum today in Hawaii for @marcorubio !!!#HIcaucus #TeamMarco pic.twitter.com/5WV1zrKDqx

— Rick Santorum (@RickSantorum) March 8, 2016
3:45: Some Muslims in Dearborn, Michigan say they will leave the country if Trump is elected president.
Low enthusiasm for Democrats in Dearborn precincts:
In precinct 2 in Dearborn, Michigan only 67 voters as of 1PM. All but 5 took Democratic ballots

— Ben Jacobs (@Bencjacobs) March 8, 2016
3:22: Where GOP Senators stand on potentially backing Trump:
https://twitter.com/AaronBlake/status/707298530327711748
3:10: Hillary Clinton to attend Nancy Reagan's funeral:
.@HillaryClinton is going to drop off the trail briefly on Friday to attend Nancy Reagan's funeral services in California.

— Nick Merrill (@NickMerrill) March 8, 2016
3:09: Trump's ex-wife Marla Maples will be on "Dancing with the Stars."
2:55: Very interesting: Two Florida Democrats on MSNBC say they are voting for Clinton in the state's closed primary but may vote for Trump in the general election. More evidence of Trump's potential crossover appeal.
2:43: According to Crain's, Trump reportedly qualified for a $302 tax break for married couples making $500,000/yr or less.
2:32: Union workers may help Trump in Michigan today. According to the International Business Times,  "though registered as an independent," one Michigan union worker "said he typically supports Republican presidential candidates. He said he likes Trump's promises to crack down on illegal immigration and roll back unfair trade deals. "
Michigan's union members may help Trump win today's primary pic.twitter.com/OzIMBa2m6c

— The Economist (@TheEconomist) March 8, 2016
2:25: Even Democrats who endorsed Clinton blasting her for distorting the truth yet again:
https://twitter.com/davidsirota/status/707276373237190657
2:20: Two takes on Romney's FEC filing:
If Mitt Romney is not making another attempt to run for POTUS- wonder why he filed with the FEC ON 2/1/2016 pic.twitter.com/YiCo9YtNhZ

— Dan Scavino Jr. (@DanScavino) March 8, 2016
Presidential Campaigns often live many years after they lose. Mitt Romney did not just magically refile with the FEC pic.twitter.com/s16HU7gCED

— This American Adam (@adamconner) March 8, 2016
2:17: Clay Aiken reveals mother voting for Trump:
Clay Aiken says on CNN his mother is voting for Trump because he fights the establishment, even tho he fired Clay on "The Apprentice."

— Philip Rucker (@PhilipRucker) March 8, 2016
2:13: WSJ/NBC national poll: Clinton 53, Sanders 44:
In the current poll, Clinton has the edge over Sanders among those 50 and older (65 percent to 32 percent), non-whites (63 percent to 34 percent), women (61 percent to 37 percent) and self-identified Democrats (60 percent to 38 percent). Clinton also is ahead of Sanders among women 50 and older by a whopping 73 percent-to-25 percent margin.

Sanders, meanwhile, leads Clinton among independents (59 percent to 35 percent), liberals (56 percent to 42 percent) and those younger than 50 (60 percent to 38 percent). He also is ahead among women ages 18 to 49 by a 54 percent-to-44 percent margin.
2:05: Jeb and George W's brother Neil Bush joins Cruz's finance team. Getting George P. Bush on his team would be a much bigger deal.
2:02: Rasmussen poll: 36% of likely GOP voters say they "are likely to vote for Trump if he runs as a third-party" candidate:
It could be bad news for the Republican establishment as it wages an unprecedented effort to stop Donald Trump from winning the party's presidential nomination: GOP voters feel even more strongly that they will support Trump if he runs as an independent.

A new Rasmussen Reports national telephone survey finds that 36% of Likely Republican Voters say they are likely to vote for Trump if he runs as a third-party presidential candidate. That's unchanged from last July when we first asked the question, but it now includes 24% who say they are Very Likely to vote for Trump if he runs independently, up six points from 18% in the previous survey.
1:55: Potential VP pick Julian Castro blasts Sanders on immigration, saying that "time and time again, the Senator from Vermont has showed us firsthand that he doesn't understand our immigration system or what is at stake for Latino and immigrant families." He hits Sanders for voting to protect the minutemen, "a hate group that used military tactics against our community."
Sanders surrogate Chuy Garcia, who tried to unseat Chicago Mayor Rahm Emanuel, hits Clinton/Emanuel on immigration:
Jesus Chuy Garcia blames Rahm Emanuel in part for not pushing immigration reform in Obama's first term…and uses it to hit Clinton.

— Danny Freeman (@DannyEFreeman) March 8, 2016
1:51: Cruz leaving possibility of contested convention open:
1:50: Cruz on Trump's loyalty pledge:
Cruz, asked about Trump backers pledging loyalty, says the only hand-raising he's concerned w/ is putting his hand on Bible at inauguration.

— Patrick Svitek (@PatrickSvitek) March 8, 2016
1:45: GOP grand pooh-bah Fred Malek says Rubio's juvenile attacks hurt the GOP's image along with Trump's insults:
'@FredVMalek tells @mitchellreports that Rubio's attacks on Trump "damaged the image of the Republican Party. I think they both did."

— Alexandra Jaffe (@ajjaffe) March 8, 2016
1:42: Kasich distancing himself from Romney robocalls:
John Kasich on the anti-Trump Mitt Romney robocalls paid for by by his campaign –> "I don't write his scripts" pic.twitter.com/cuNb3a5S5v

— Kailani Koenig (@kailanikm) March 8, 2016
1:38: Romney Tweets anti-Trump ad:
Trump has the best words. Take it from him. @AmFutureFund https://t.co/SC86cTts6E

— Mitt Romney (@MittRomney) March 8, 2016
1:17 – FiveThirtyEight gives Trump a 92% chance of winning Michigan.
1:14 – Local reporter says anti-Trump groups are outspending DJT on media by about five to one in Florida.
As of this morning anti-Trump groups are spending about five times more on TV in Florida than Trump, so if Trump does wind up losing Florida, his frugality will be a factor.
1:05 – The Prince of Light would know.
"The sun is really coming up on the Kasich campaign," an exuberant John Kasich tells the crowd at a rally in Lansing, Mich.

— Thomas Kaplan (@thomaskaplan) March 8, 2016
1:02 – Expectations game.
Donald Trump needs to win 59 delegates today to remain on pace to 1,237.https://t.co/frNZae1ZEy pic.twitter.com/4Ca355s67T

— Frank Luntz (@FrankLuntz) March 8, 2016
12:44 – As the robocalls for Rubio and Kasich suggest, Romney is behind all three anti-Trump candidates:
Speaking with reporters in Raleigh, @tedcruz confirms @MittRomney has "very graciously reached out" to his campaign to offer help.

— Patrick Svitek (@PatrickSvitek) March 8, 2016
12:42 – Is Rubio punking us? This doesn't look like a man trying to win Florida:
.@MarcoRubio's made just 1 ad-buy in Florida after 2,500+ in 18 other states: https://t.co/KDsvLyJJG2 (@10NewsWTSP) pic.twitter.com/CJEoIb8yXn

— Sunlight Foundation (@SunFoundation) March 8, 2016
12:39 – The ride never ends.
Mitt Romney had his chance and blew it. Lindsey Graham ran for president, got ZERO, and quit! Why are they now spokesmen against me? Sad!

— Donald J. Trump (@realDonaldTrump) March 8, 2016
#VoteTrumpMS! #Trump2016https://t.co/KaHD0uENla

— Donald J. Trump (@realDonaldTrump) March 8, 2016
#VoteTrumpMI! #Trump2016https://t.co/IWMxISjH6L

— Donald J. Trump (@realDonaldTrump) March 8, 2016
12:24 – Jeb could still pull votes away from Marco in Florida!
Florida Republican voters sent in 220,000 absentee ballots before Jeb dropped. https://t.co/1kwwYYOZmq
Good piece on Rubio from @ZekeJMiller

— Chris Moody (@moody) March 8, 2016
12:11 – Florida poll commissioned by local news–Trump up 20 in Florida, Cruz closing on Rubio. Also, head-to-heads with Hillary only have Trump on top (but it's all within MOE).
If Trump and Clinton were the candidates in November, Trump would win with 45 percent of the vote to Clinton's 44 percent. If it's between Cruz and Clinton, Clinton would receive 46 percent of the votes while Cruz would receive 44 percent. Clinton would also lead against Rubio with 45 percent of the votes against the Florida senator's 44 percent of the votes.
11:23 – Trump up 10 points in delegate-rich  Illinois.
Overall, Trump had the support of 32 percent, followed by Texas Sen. Ted Cruz with 22 percent, Florida Sen. Marco Rubio with 21 percent and Ohio Gov. John Kasich with 18 percent. An additional 7 percent were undecided. The poll of 600 registered voters likely to cast a ballot in the Republican primary has an error margin of 4.1 percentage points.

The wealthy real estate mogul and former reality TV star led in all areas of the state and among male and female voters, including white suburban women, who tend to be more socially moderate and are a key swing demographic. Trump's backers said not being a government insider was the most important quality in a presidential candidate.
11:18 – Trump blasts out tweet citing local Florida paper's unwillingness to endorse hometown boy, Marco Rubio.
Sun Sentinel says: Rubio lacks the experience, work ethic and gravitas needed to be president. HE HAS NOT EARNED YOUR VOTE!

— Donald J. Trump (@realDonaldTrump) March 8, 2016
10:36 – Former NSA Director Michael Hayden: Trump is making us unsafe!
10:33 – Erick Erickson: #NeverTrump is becoming #NeverTed which is bad so Rubio needs to drop out.
I helped launch the #NeverTrump movement with my piece written late two Friday's ago. That night it got over 60,000 hits and the #NeverTrump hashtag became a worldwide trend. Credit for the hashtag goes to my friend Aaron Gardner. I'd used #AgainstTrump, the title of the National Reviewcover, but Aaron suggested I change it.

What I am seeing at this point, however, is that #NeverTrump is guaranteeing Trump's nomination because #NeverTrump is really #NeverTed. Many of the most vocal supporters of the #NeverTrump movement are Marco Rubio supporters and they are handing the nomination to Trump because they cannot face the reality of this election.

…

The only way to stop Trump now is to ally with Ted Cruz. But too many of the #NeverTrump brigade are really #NeverTed. They don't want to look at the math, they don't want to look at the road ahead, they don't want Ted Cruz. They'd rather lose with Rubio and stay home in November than ally with Ted Cruz and even have a shot in November.

That is genuinely unfortunate and will either guarantee Trump is the nominee or guarantee the Republican Party is destroyed. Marco Rubio, a great man with a struggling campaign, has a cult of personality every bit as committed as Trump's. The difference is that Rubio's cult will give us Trump where Trump's cult alone never could.
10:29 – Bret Baier: Republicans in DC are saying privately that they'll vote for Hillary just to keep their power over the party.
Fox News Channel anchor Bret Baier said it's possible that some Republicans will vote for Hillary Clinton just to stop Donald Trump from taking over the party.

"Listen, there are Republicans in Washington who are privately saying that already," Baier told TheWrap on Monday. "Maybe some don't publicly say it, but I think there are some who are that adamant about it who would."
10:17 – Purported Cruz campaign email monopolizes on CNN's Rubio report:
Alert: The Cruz camp sent out an email citing a false CNN story that Rubio dropping out. Rubio is NOT dropping out! pic.twitter.com/xwXN4QQOMg

— The Reagan Battalion (@ReaganBattalion) March 8, 2016
10:15 – Romney robocall for Kasich in Michigan–seems he's all about the brokered convention rather than an anti-Trump candidate winning a majority of delegates:
"Hello, this is Mitt Romney calling, and I'm calling on behalf Kasich for America," the former Massachusetts governor and 2012 Republican presidential nominee, says at the beginning of the call, audio of which was shared by the Kasich campaign.

"Today you have the opportunity in Michigan to vote for a Republican nominee for president," Romney continues. "These are critical times that demand a serious, thoughtful commander-in-chief. If we Republicans were to choose Donald Trump as our nominee, the prospects for a safe and prosperous future would be greatly diminished — and I'm convinced Donald Trump would lose to Hillary Clinton. Please vote today for a candidate who can defeat HC and who can make us proud."
10:09 – Kasich throws some shade on Bernie Sanders' campaign during a Morning Joe appearance (Bernie has won eight more states that Kasich):
https://twitter.com/EvanMcSan/status/707220945522577408
10:04 – Another finding from the Morning Consult poll: Mitt Romney's speech was a net positive for Trump.
A new Morning Consult poll finds that Mitt Romney's speech last week condemning Donald Trump apparently had very little effect on the GOP front-runner.

Thirty-one percent of GOP voters said they were more likely to vote for Trump, while 20 percent said less likely, and 43 percent said it had no impact either way.
9:57 – Morning Consult national poll: Trump 40, Cruz 23, Rubio 14, Kasich 10. Big gains for Cruz & Kasich:
In the latest survey, taken March 4 through March 6, Cruz picked up 8 percentage points to pull within 17 points of Trump. It's a 12-point swing from our previous poll after the New Yorker dropped four percentage points.
9:54 – NYT op-ed: "Donald Trump Doesn't Understand Common Core (and Neither Do His Rivals)"
9:46 – Mitt Romney does a GOTV robocall for Rubio:
Mitt Romney sent out robocalls on behalf of GOP candidate Marco Rubio this morning. https://t.co/erYbxNDTPK

— WSVN 7 News (@wsvn) March 8, 2016
9:40 – From the "You Have to Go Back" file:
An Egyptian Muslim man who threatened to kill Republican presidential candidate Donald Trump will leave the US of his own accord this week, his lawyers say.

23-year-old aviation student Emadeldin Elsayed was arrested in February by US Customs and Immigration Enforcement (ICE) agents, after posting an article about Trump on Facebook, along with the comment: "I literally don't mind taking a lifetime sentence in jail for killing this guy, I would actually be doing the whole world a favor."

One day after posting the status on February 3, Secret Service agents called him in for questioning and searched his property and phone. They then arrested him less than two weeks later.
9:23 – On Rubio's "half-empty conference room" in Tampa: "No, I'm here to see the trainwreck."
The man was standing alone, leaning against the wall in the still half-empty conference room that the Marco Rubio campaign had rented for the senator's "big" Tampa rally. It was only 15 minutes before start time, and people were only trickling in.

"Are you a Rubio supporter?" I asked the 60-something gentleman.

"No. I'm just here to see the train wreck."
9:16 – WaPo poll: 53% of Republicans oppose brokered convention.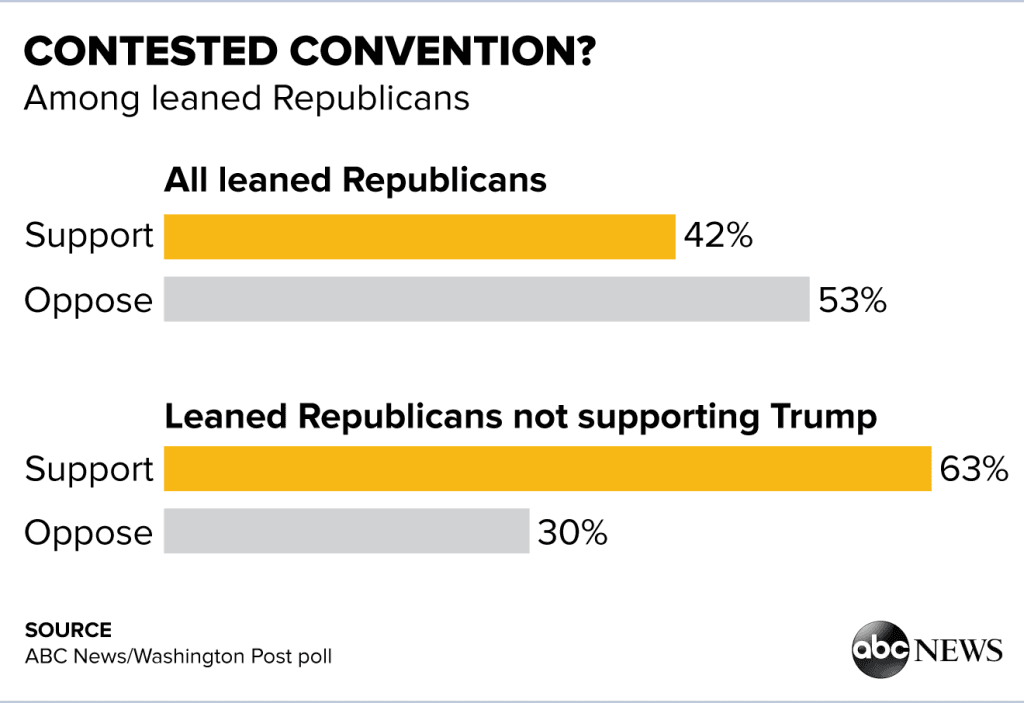 9:10 – WaPo poll: Trump's unfavorables among Republicans in the fifties and sixties.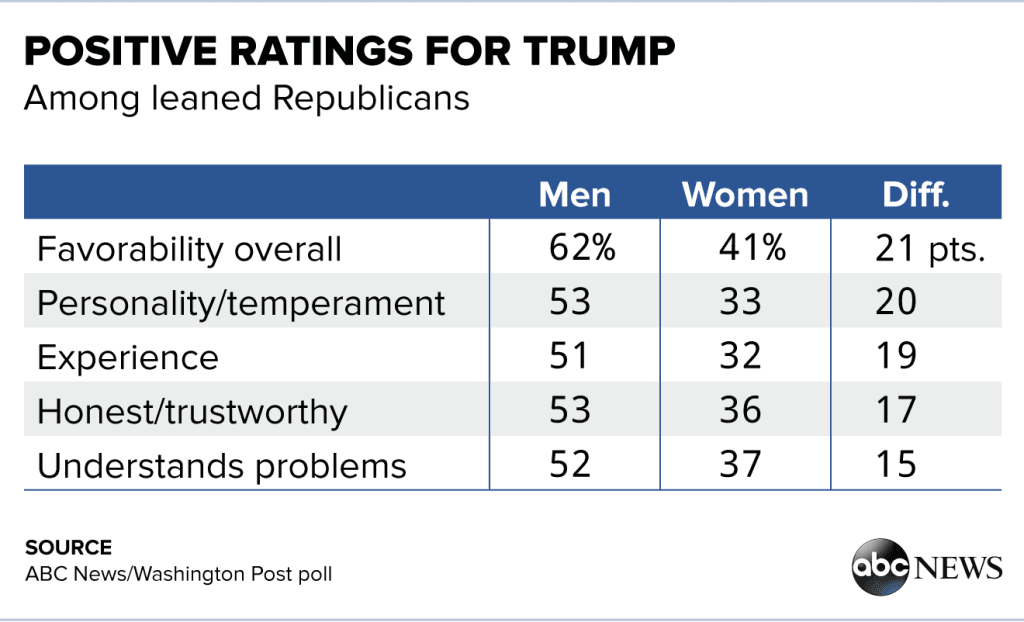 9:08 – Trump: Contested convention would be 'pretty unfair'
"Yeah, I sort of do," Trump said on "Fox and Friends" when asked if he thought it was wrong to have the contested convention if he's leading in the delegate count but fails to reach the required 1,237 delegates.

"I think that whoever is leading at the end should sort of get it. That's the way that democracy works," Trump said on the program.
8:51 – Wapo poll: Trump loses to Cruz and Rubio in one-on-one race.
In hypothetical two-way matchups, Cruz leads Trump by 54-41 percent and Rubio leads Trump by 51-45 percent in this poll, produced for ABC by Langer Research Associates. While the latter lead isn't statistically significant, both are further signs of the apparent limits to Trump's popularity within his party. Indeed, among non-Trump supporters, seven in 10 say they'd prefer Cruz, and as many say they'd pick Rubio, in head-to-head contests.
8:44 – Wapo poll: National race tightens. Trump 34%, Cruz 25%.
Trump continues to lead in a new ABC News/Washington Post poll, with 34 percent of Republicans and Republican-leaning Independents who are registered to vote saying they'd like to see him win the nomination. But he trails both Cruz and Rubio one-on-one. And preferences for Cruz, Rubio and John Kasich have grown as others have left the race, while Trump's support has essentially remained unchanged for months.

In the current multi-candidate race, 25 percent say they'd like to see Cruz win the nomination, with 18 percent for Rubio and 13 percent for Kasich; those are +4, +7 and +11 points compared with January, respectively, to new highs for each. Trump, by contrast, peaked at 38 percent in December.
8:33 – Is Trump Truly Losing Momentum? We'll Find Out Tonight
Tonight's primaries in Michigan and Mississippi — as well as the contests in Idaho (primary) and Hawaii (caucus) — are important for Donald Trump to regain his momentum heading into next week's winner-take-all primaries and increase his narrow delegate lead over Ted Cruz.

Is Trump losing ground? Or were last weekend's results due more to the fact that they were closed contests (not open to non-Republicans)? We'll find out tonight. Both Michigan and Mississippi are open primaries, and Trump SHOULD win them by double digits; Trump is way ahead in the Michigan polls.
8:22 – Mickey Kaus sees through the Establishment Matrix
The campaign to blame a Rubio loss on strategy, staffing–anything but his immigration amnesty fiasco–has begun https://t.co/Q2SbfrJAfx

— Mickey Kaus (@kausmickey) March 8, 2016
—
It wasn't substance (amnesty) that hurt Rubio-it was infrastructure! Of course Trump has no infrastructure either… https://t.co/Q2SbfrJAfx

— Mickey Kaus (@kausmickey) March 8, 2016
8:02 – Trump releases Trump University video that purports to show glowing report cards from two of the three students currently starring in attack ads against him.
Using what might be the most dishonest headline of all time, the Huffington Post accuses Trump of threatening students.
—