Update 3:55 p.m. ET: A sequence of screenshots, corresponding to seconds 0:09-0:10 in the C-SPAN video, illustrates Lewandowski reaching towards Fields:
Update 3:15 p.m. ET: Putting some pieces together, with video made newly available today:
1. The video already available this morning, shot by the local NBC reporter, shows the altercation from a distance. Lewandowski is on Trump's left, as seen at roughly 16:00, when Trump starts to move. At 16:08, Fields is seen next to Trump, on his right. She is then obscured, and does not reappear alongside Trump when he emerges a few seconds later.

2. The new MSNBC clip shows Fields approaching Trump and walking alongside him. At about 0:10, the camera moves suddenly to avoid its view being obscured, then settles again. At roughly 0:13-0:14, Fields is jerked backwards, and does not reappear in the frame. Lewandowski and the security guard do reappear, however, and Washington Post reporter Ben Terris appears to exchange words with Lewandowski.

3. The new C-SPAN clip, as indicated below, shows Lewandowski reaching in Fields's direction at 0:09-0:10. It is, again, unclear that contact is made in that clip, and the scrum passes behind a bank of cameras. That moment, or a moment shortly thereafter, would seem to correspond with 0:13-0:14 in the MSNBC video, which seems to be when Fields is injured.
Additional video will continue to be posted.
Update 2:50 p.m. ET: The C-SPAN video being debated online raises new questions. Lewandowski appears to reach in Fields's direction at 0:09-0:10. It is unclear whether contact has actually been made — though the Daily Beast said that he is shown "briefly grabbing her." (An earlier still shot, purporting to show contact at 0:08, is somewhat less plausible.)
The scrum then moves behind a bank of cameras, roughly at the point where someone — possibly Lewandowski — grabbed Fields's left arm.
Additional video will clarify, and will be posted here when it is released. Fresh clips can be tweeted to @joelpollak.
Update 2:35 p.m. ET: C-SPAN Digital & Social Media Specialist Jeremy Art has posted a previously unseen clip, showing a "Different angle of Michelle Fields, Ben Terris and Corey Lewandowski."
Different angle of Michelle Fields, Ben Terris and Corey Lewandowski. pic.twitter.com/bw3uYfHbKY

— Jeremy Art (@cspanJeremy) March 11, 2016
Update 2:15 p.m. ET: The Trump campaign has evidently leaked an email from Breitbart News Washington political editor Matthew Boyle. In the email Boyle rejects as "false" Daily Beast editor-at-large Lloyd Grove's claim that Lewandowski "acknowledged to Breitbart's Washington political editor, Matthew Boyle, that he did manhandle Fields."
Grove is the author of a recent, false article claiming that Breitbart News was responsible for inciting online mobs to harass a mother-of-two to the point where she felt she needed to purchase a gun. Breitbart News took the unusual step of requesting a retraction.
Update 1:40 p.m. ET: Earlier today, Donald Trump issued a statement, citing this article:
The accusation, which has only been made in the media and never addressed directly with the campaign, is entirely false. As one of the dozens of individuals present as Mr. Trump exited the press conference, I did not witness any encounter. In addition to our staff, which had no knowledge of said situation, not a single camera or reporter of more than 100 in attendance captured the alleged incident.
Update 1:15 p.m. ET: Michelle Fields has filed a criminal complaint with the Jupiter Police Department, alleging misdemeanor battery against Lewandowski.
A news release from the department says, in part:
As with any investigation, specific details concerning criminal investigative information is not releasable while the investigation is considered active. Any additional details regarding this incident will be released once the investigation has concluded. The initial report, outlining the date, time, location, and nature of the incident will be released today.
Update 1:10 p.m.: A short while ago, the Washington Post's Erik Wemple responded to this article (pre-updates), quoting a rebuttal from reporter Ben Terris:
For his part, Terris isn't budging. "I saw what I saw," said Terris in a brief chat with this blog. During the whole incident, says Terris, he had his "eyes trained on Corey Lewandowski," because Terris was there to profile the campaign team with a focus on Lewandowski. Terris took strong issue with Pollak's assertion that mistaken identity is the "likeliest explanation" based in part on Lewandowski's denials. "Because he denied it?" asked Terris. "This is Breitbart."
Update 1:05 p.m. ET: A Vine video has emerged, purporting to show a new angle of the incident. The footage appears inconclusive, but visible in the background is Ken Kurson, editor-in-chief of the New York Observer, who appears to have had a close-up view of the action.
Breitbart News reached out to Kurson, who responded via e-mail:
I was five feet away from the alleged incident and didn't see anything. I was literally looking right at Corey when it supposedly happened. Someone sent me a Vine of it (I look bald as hell, goddammit — and what's with that backpack?!?!!?) and if this happened, I think I would have seen it. I have a lot of experience as both a journalist and operative in these kind of press scrums and I didn't see anything at all out of the norm.
The Observer is owned by Jared Kushner, Trump's son-in-law.
12:40 p.m. ET: MSNBC has now released new footage that presumably shows the altercation, albeit obscured, as well as a previously undisclosed apparent conversation between Terris and Lewandowski.
You can also @bterris talking to @CLewandowski_ immediately after the incident: https://t.co/twmS43veCL

— Mike Warren (@MichaelRWarren) March 11, 2016
***
New video of Donald Trump's press conference Tuesday evening shows that the Washington Post's account of an altercation involving Breitbart News reporter Michelle Fields could not possibly have happened as Ben Terris reported.
In conducting our own due diligence, we have reviewed as much video footage and other evidence as possible, and present it in the interest of transparency.
Contrary to what Donald Trump said Thursday evening after the GOP debate, the incident certainly happened. However, the person who made contact with Fields was likely not Trump campaign manager Corey Lewandowski.
As Trump campaign spokesperson Katrina Pierson said Thursday on the Fox Business Network, "someone probably did grab her," i.e. Fields, though Pierson claimed it could not have been Lewandowski.
Audio of the incident, published on Politico, shows Fields asking Terris if the individual who pulled her left arm was, in fact, "Corey." Terris says it was — an assertion he later repeated in print: "I watched as a man with short-cropped hair and a suit grabbed her arm and yanked her out of the way. He was Corey Lewandowski, Trump's 41-year-old campaign manager."
However, Lewandowski was not the only "man with short-cropped hair and a suit" walking near Trump. And he was walking on the opposite side of Trump from Fields, and Terris.
A photograph by Washington Post photographer Jabin Botsford, Terris's colleague, released by ABC News World News Tonight, and taken seconds before the altercation took place, shows two men with short-cropped hair.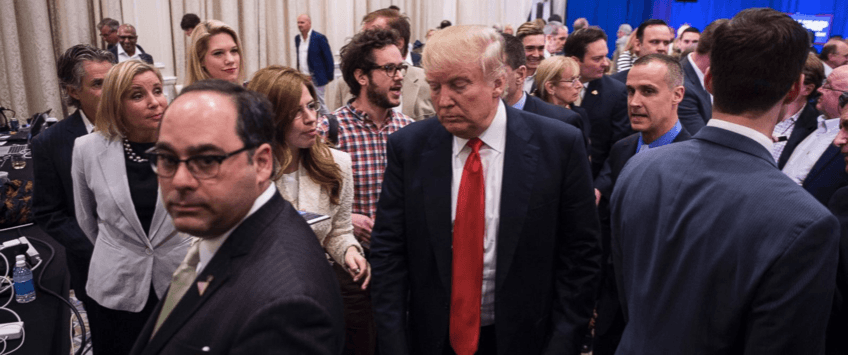 One, to Trump's left, is Lewandowski. The other, behind Trump and to his right, is a security official, who resembles Lewandowski and is slightly taller.
ABC News also showed video footage, but cut away before the altercation.
In fact, a review of live news feeds — CNN, Fox News, MSNBC, and C-SPAN — reveals that all had their cameras focused on Trump at the time. All cut away before the incident — in CNN's case, mere seconds before — but all could have recorded the altercation, and presumably did.
In addition, video footage of the event has been released by reporter Joshua Chavers of West Palm Beach NBC affiliate WPTV, who was streaming video live on WPTV's Facebook page.
In the WPTV video, at 15:41, Terris can be seen at left, in checked shirt and backpack.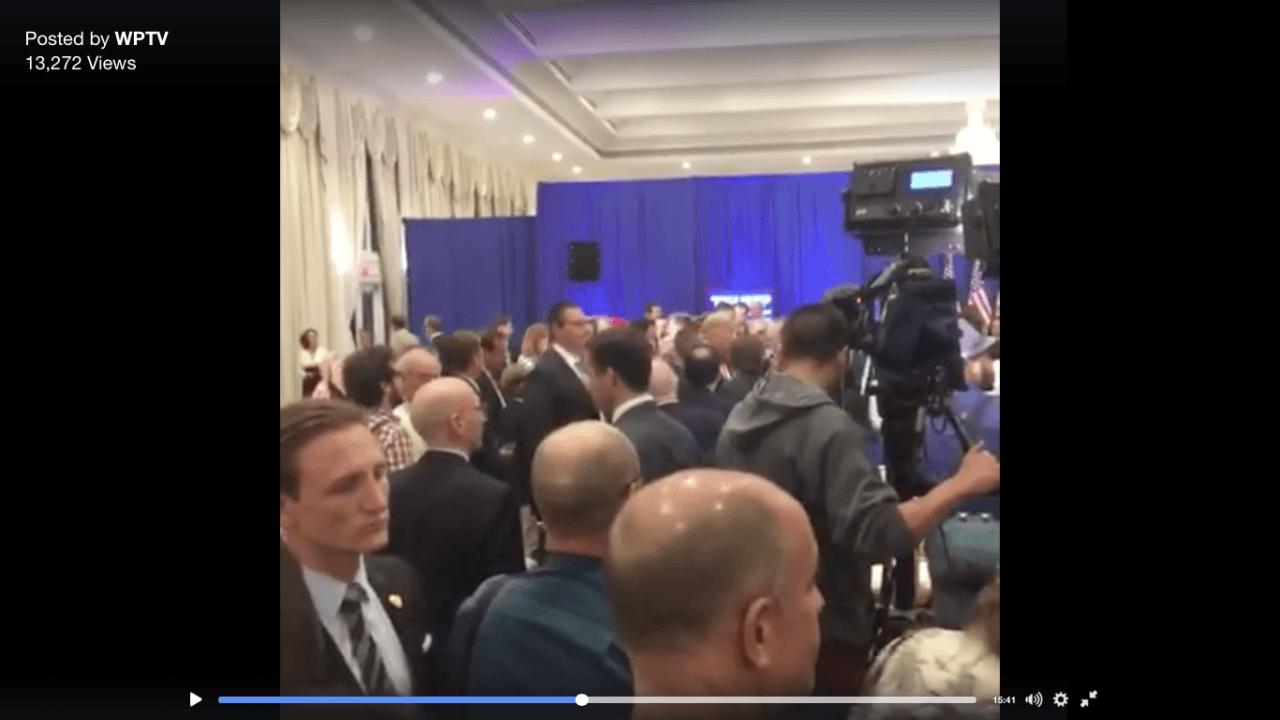 Fields later appears to his left at 16:01, which is also when Trump finishes an interview (apparently with CNN's Sara Murray) and begins to move. The same moment is captured in a brief four-second video by Kristinn Taylor of Gateway Pundit. In that video, as well as in the WPTV video, as Trump moves, Lewandowski is clearly visible on Trump's left-hand side.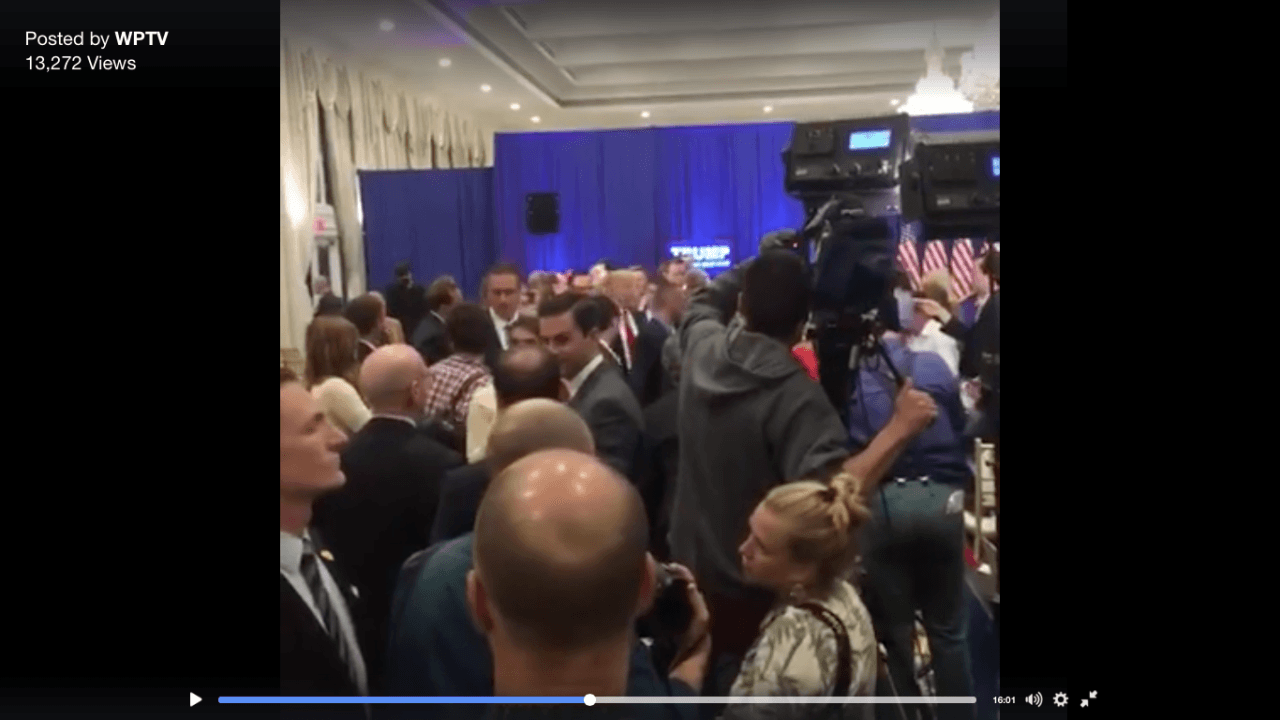 Fields can be seen again at 16:08, at Trump's right, apparently at about the same moment when the ABC News photograph was taken.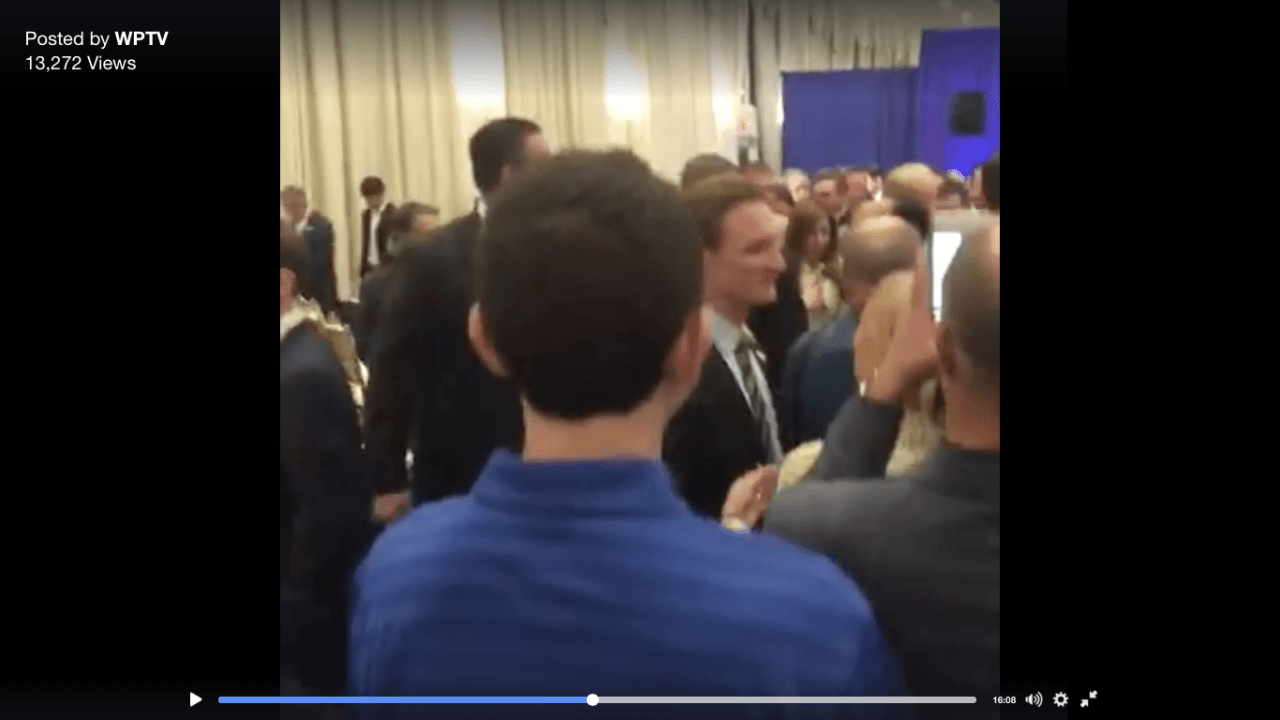 The altercation itself is not shown, but Fields quickly disappears from view, as if pulled back. At 16:18, Trump appears in the frame, holding a book and asking, "Whose book is this?" — which he also is heard saying in the audio published by Politico, right before Fields and Terris discuss what happened. He seems unaware of any altercation.
At 16:21, the security official appears on Trump's right — and extends his arm to move a young man aside.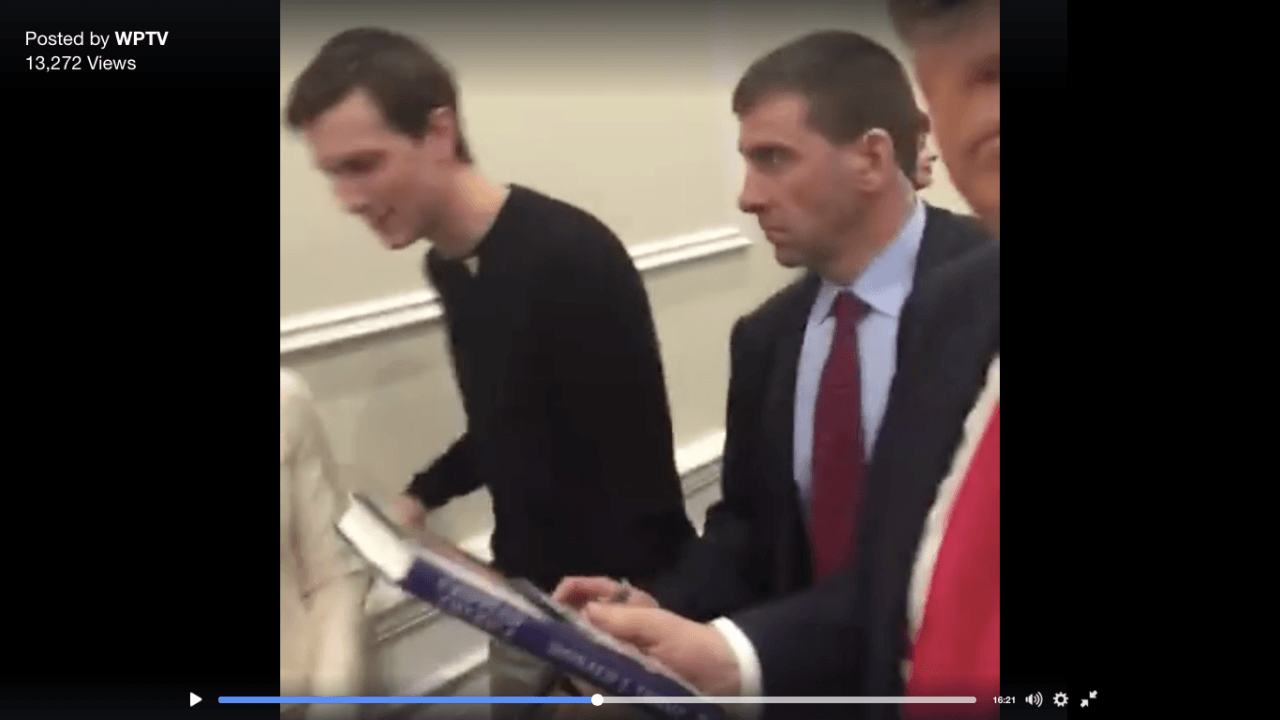 At 16:31, Lewandowski and the security official appear in the frame together again — Lewandowski at left and the security official, with earpiece, on the right. Both have "short-cropped hair," in Terris's terms.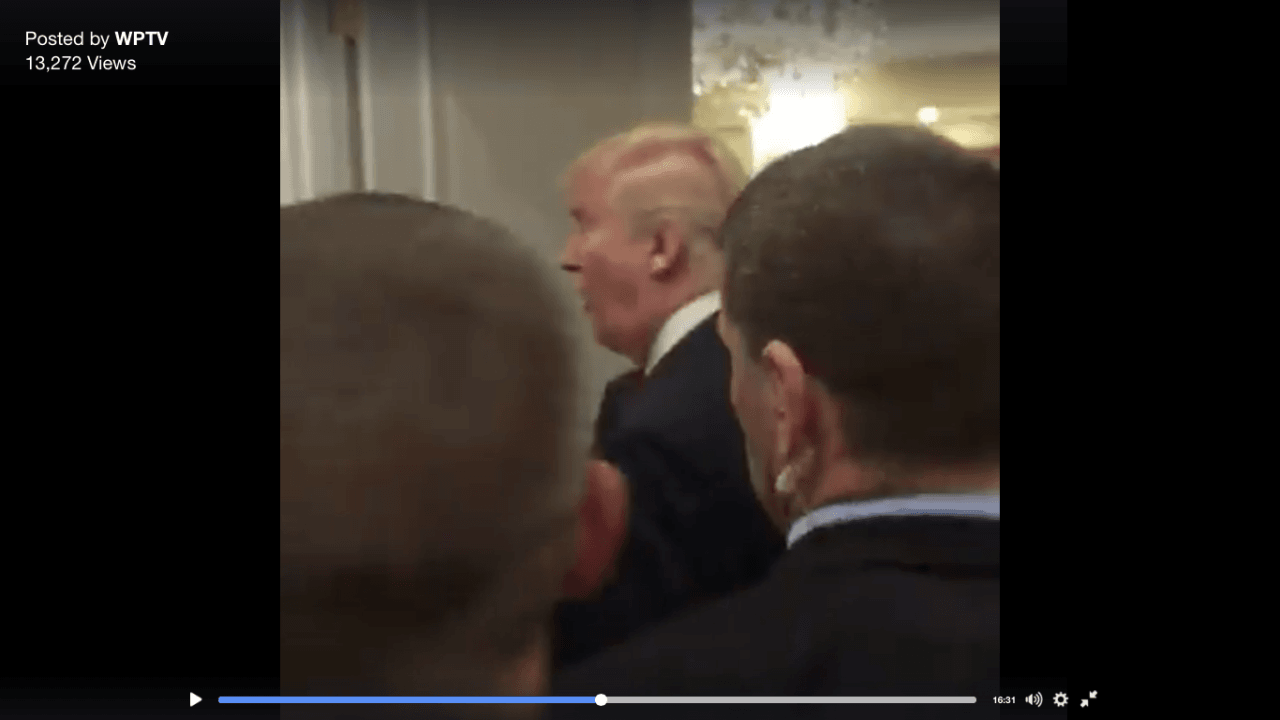 Fields was indeed hurt in the altercation, and published a photograph of her bruises. Yet the available evidence from WPTV and ABC suggests that it was unlikely that Lewandowski was the person who caused her injuries.
Given the similarity in appearance between Lewandowski and the security official, and given the fact that Lewandowski was walking on the other side of Trump from where Fields was at the time, the possibility of mistaken identity cannot be ruled out. Indeed, given Lewandowski's adamant denials (coupled with statements inappropriately impugning Fields's character), it is the likeliest explanation.
In addition, the injury may have been accidental, owing simply to the chaos of the press scrum. A video filmed by a local CBS reporter earlier in the evening shows Fields standing near Trump and the same security official, with no concern or alarm on the part of Trump campaign staff.
https://www.instagram.com/p/BCt-ZmmBIKS/?taken-by=kathleenfwalter
Fields relied in good faith on Terris's confirmation, and later assertions, that the person who touched her was Lewandowski. But he cited no other source to prove his claim, neither at the time nor in the Washington Post.