LAS VEGAS, Nevada – In response to a question about her "open border" immigration "dream," former Secretary of State Hillary Clinton pivoted to declare the most important question of the third and final presidential debate: when will Donald Trump condemn Russia about its alleged involvement in the recent Wikileaks email release?
Debate moderator Chris Wallace began his question, "Secretary Clinton, I want to clear up your position on this issue [of border security] because in a speech you gave to a Brazilian bank – for which you were paid $225,000 – we've learned from the Wikileaks that you said this and I want to quote, 'my dream is a hemispheric common market with open trade and open borders."
"So that's the question: is that your dream, open borders?" he asked.
While Clinton first responded that the quote was taken out of context — arguing she was talking about energy, not immigration — she further shifted the conversation, pivoting to Russia and Vladimir Putin.
"You are very clearly quoting from Wikileaks and what's really important about Wikileaks is that the Russian government has engaged in espionage against Americans."
"I actually think the most important question of this evening, Chris, is finally will Donald Trump admit and condemn that the Russians are doing this and make it clear that he will not have the help of Putin in this election, that he rejects Russian espionage against Americans which he actually encouraged in the past?"
"Those are the questions we need answered," Clinton added.
In contrast, the majority of U.S. citizens rank the economy, jobs, and dissatisfaction with the government among dozens of other topics as "the most important problem facing this country today. According to the latest Gallup Poll, U.S.-Russia relations does not even register on the list of concerns American citizens have.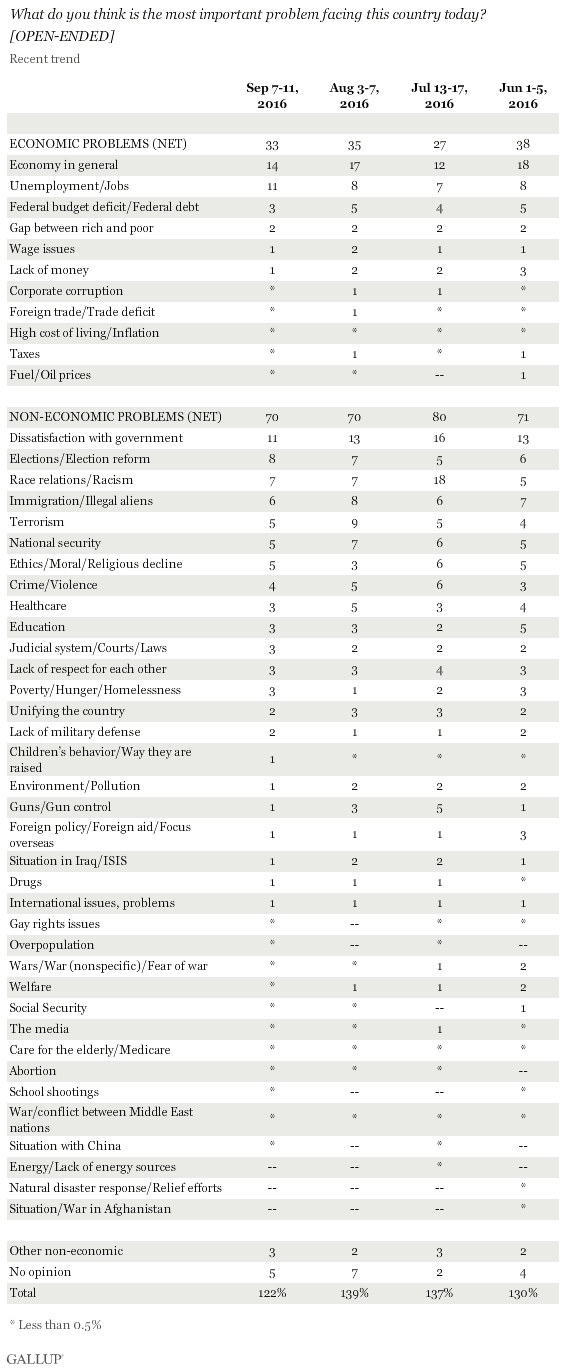 "That was a great pivot off the fact that she wants open borders, okay? How did we get off to Putin?" Trump responded.
For decades, Clinton has defended her various scandals with rhetoric about vast right-wing conspiracies. During the 2016 general election, she has repeatedly accused her Republican opponent of being in cahoots with Russia's Putin.
"I don't know Putin," Trump later explained. "He said nice things about me. If we got along well, that would be good."
Trump: If Russia and the United States got along well and went after ISIS, that would be good. He has no respect for her. He has no respect for our president. And I'll tell you what, we're in very serious trouble because we have a country with tremendous numbers of nuclear warheads, 1,800, by the way, where they expanded and we didn't — 1800 nuclear warheads, and she's playing chicken. Look —

[Crosstalk]

Clinton: Well, that's because he'd rather have a puppet as president.

Trump: No puppet, no puppet.

Clinton: And it's pretty clear —

Trump: You're the puppet.

Clinton: It's pretty clear you won't admit.

Trump: No, you're the puppet.