"It is clearly open season on prominent Trump supporters," talk radio star Michael Savage told Breitbart News one day after he was reportedly allegedly assaulted at a restaurant in Tiburon, California.
Savage, who has been credited with aiding President Donald Trump's election, said that he was not able to comment on the specific alleged incident. His attorney told the news media that Savage was verbally taunted and then assaulted by a restaurant patron.
Speaking generally, Savage told Breitbart News on Thursday:
It is clearly open season on prominent Trump supporters. The fascist left has been empowered by their own false narrative that those who support borders, language and culture – my motto – are evil fascists!  This is how Hitler came to power.  He used his brown shirts to beat any opponents. The media and police are almost wholly driven by this lie.
The Daily Mail reported on the alleged incident, citing Savage's attorney, Daniel Horowitz:
Michael Savage, the 74-year-old host of the nationally syndicated talk radio show Savage Nation, was dining solo at Servino Ristorante in Tiburon, with his toy poodle, Teddy, keeping him company, when another patron allegedly began taunting him by saying, 'weener, weener.'
The heckler was apparently referring to Savage's legal name, Michael Alan Weiner.
As Savage was heading out the door, the verbal abuse allegedly turned physical when the jeerer knocked the septuagenarian to the ground, according to the talk show host's attorney, Daniel Horowitz.
Mercury News further reported:
A Tiburon police spokeswoman said officers arrived on the scene on Tiburon's Main Street at about 8:25 p.m. Both men involved in the fight claimed the other started it, according to an incident log. Spokeswoman Laurie Nilsen said the two men placed each other under citizen's arrest and were released at the scene. A follow-up police report will be sent to the District Attorney's Office for review to see if any charges will be filed.
Horowitz suggested it's unlikely his client was the aggressor, given that he's 5 feet 6 inches tall and 75 years old.
According to Horowitz, the incident started after Savage had finished dinner and was leaving the restaurant.  The lawyer said the alleged assailant, who stood at about six feet five inches, approached the talk radio host "yelling insults."
Mercury News continued:
After Savage told the man to "go away," he started to turn. Horowitz said it appears that the man knocked Savage to the ground while also pushing his dog out of the way.
At that point, another customer from the restaurant intervened, and Savage's alleged assailant punched him in the face, Horowitz said. Savage was somehow able to get back up and help the good Samaritan while also calling police.
"He called me from the scene," Horowitz told Mercury Nes. "Truthfully, I think he was more furious than anything. He was saying he had just wanted to go out and have a nice dinner. He said, 'This guy can't get away with that.'"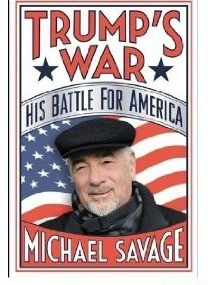 On Tuesday, Savage's latest nonfiction book, titled Trump's War: His Battle for America, was released.
Salon.com recently labeled Savage the "talk-radio godfather of Trumpamania."
Savage, a top-rated radio host and bestselling author of numerous books, is known for helping to define the nationalist themes of borders, language and culture. His daily three-hour syndicated radio program, "The Michael Savage Show," is reportedly heard by 10 million listeners per week.
Trump was a fixture on Savage's program throughout the 2016 presidential campaign and even called into the show the day of the election.
Aaron Klein is Breitbart's Jerusalem bureau chief and senior investigative reporter. He is a New York Times bestselling author and hosts the popular weekend talk radio program, "Aaron Klein Investigative Radio." Follow him on Twitter @AaronKleinShow. Follow him on Facebook.