WASHINGTON, D.C. — Office of Management and Budget Director Mick Mulvaney highlighted and defined the "next iteration" of Reaganomics which he introduced as "MAGAnomics" during Thursday afternoon's White House press briefing.
He spoke of times of stagflation in America that were met with what became known as Reaganomics, "a monetary policy to fix inflation, tax cuts, spending restraints, and a little bit of regulatory relief."
Mulvaney then jumped to speak of the "next iteration" of that plan. He stated it was time for this new plan after more than ten years have elapsed since there was a healthy American economy, defined at a growth rate of three percent or more.
Mulvaney deemed this new plan, "MAGAnomics." He defined it as, "a unifying theme of just about everything we do." He emphasized the importance of seeing three percent growth again in America.
He recalled the mid-1990s when jobs were in abundance and he felt free enough to quit his job and start a business.
"What is MAGAnomics?" He posited before defining it as tax reform, the regulatory accountability project (previously called the unified agenda), energy dominance, welfare reform, infrastructure, trade policies, trade, and spending restraint. Mulvaney went on, "All of those things are designed towards one common end and that is three percent sustained economic growth in this country again."
He honed in on the administration's deregulatory agenda.
Director Mulvaney stated that the President gave him very specific instructions at the Office of Information and Regulatory Affairs (OIRA), which is part of the OMB. The President told Mulvaney they must have a 2-for-1 policy on regulations that requires two regulations to be cut for every one they want to install. The second instruction Mulvaney received was that any new regulations could not increase financial burden.
"When it comes to major actions, we're at 16-to-1," said Mulvaney. He said the new regulation is the dental amalgam rule.
"It's not just those big ones," he said before numbering the total number of regulations removed or withdrawn at 860. He said none are particularly "sexy" or "glamorous." He noted the "slow accretion, that slow cancer that can come from regulatory burdens that we put on our people."
He gave one example as changes Secretary of the Interior Ryan Zinke has made in streamlining paperwork for outdoorsmen. It's a small change that he said, when added up with others, can make a big difference.
Mulvaney then revealed that the Obama Administration had a "secret list of regs," a list of things they wanted to regulate, that was not disclosed to the public. "We are disclosing it," he said. "We will not have a secret list, we will not have a hidden list of regulations that we're thinking about doing, but we're not gonna tell you about." He said that has ended.
Mulvaney then held up books of regulations put out by the Obama Administration during Obama's last week in office. He comparatively held up a fractionally smaller stack of books that represent the regulations from Trump's first week in office.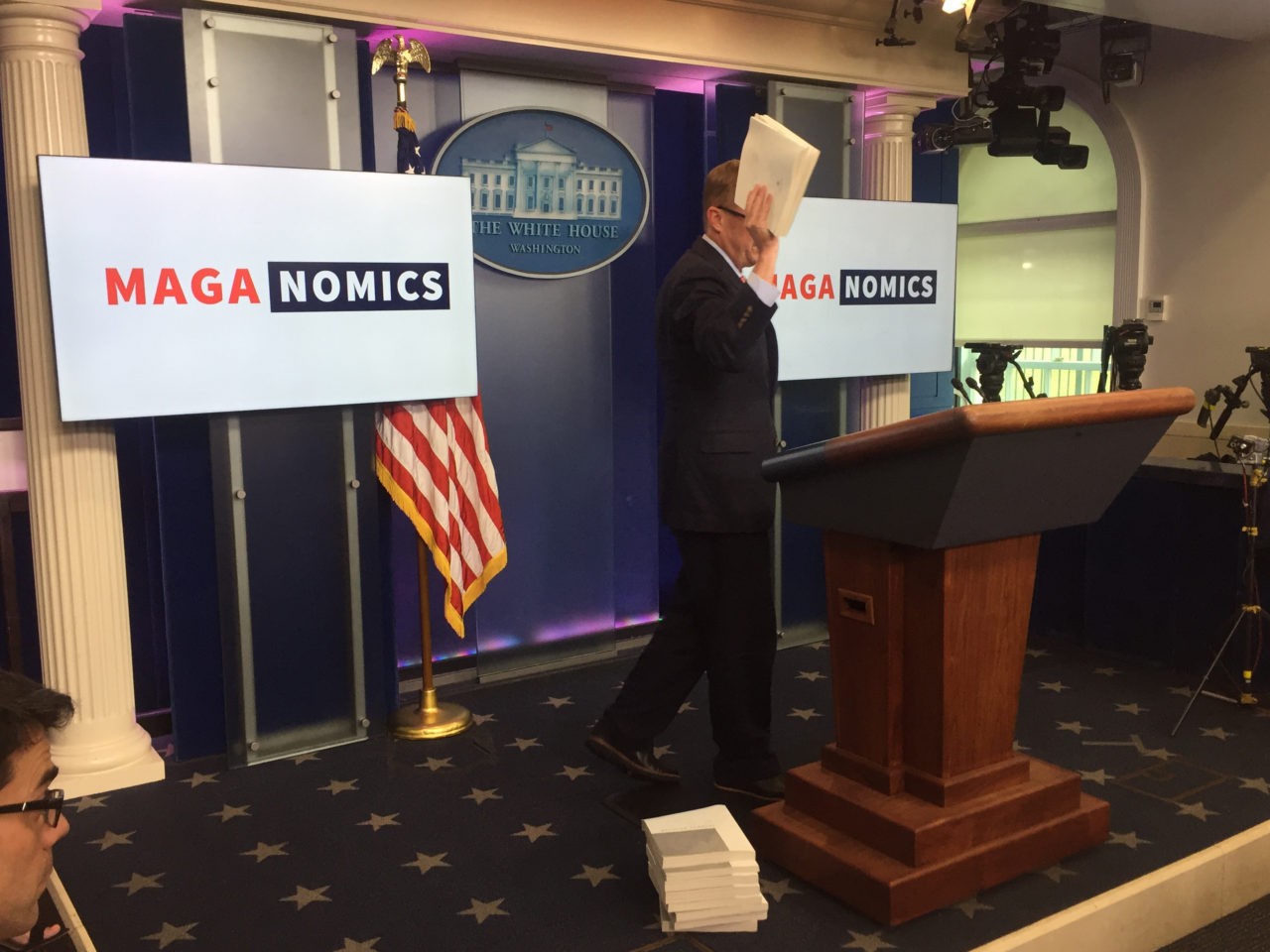 In the "last six months here, the Obama Administration put on over six billion dollars in new regulatory burden," said Mulvaney. "We had zero."
Mulvaney compared the first five months of the Obama Administration to the first five months of the Trump Administration, "They had over three billion dollars of new regs. We cleared the decks of 22 million dollars of regs. So we actually went the other way."
He said Americans will see more decrease in regulatory burden in the coming years of the Trump Administration.
Reporters asked Mulvaney to give more details on the Obama Administration "secret list" of regulations. It was identified as things the Obama Administration that they wanted to advance that were not included in their Spring 2012 agenda. It was said that the Administration held back the list because of the 2012 presidential election.
Follow Michelle Moons on Twitter @MichelleDiana