A new paper demonstrates that taxpayer-funded Planned Parenthood obtains 35 percent of the U.S. abortion market, a figure that well overtakes the market shares of leaders in other industries.
"In 2015, Planned Parenthood performed more than one third (35.4%) of all the induced abortions in the U.S.," write Charlotte Lozier Institute (CLI) President Chuck Donovan and Dr. James Studnicki, CLI's vice president and director of Data Analytics.
The authors compare Planned Parenthood's share of the U.S. abortion market to the market shares of leaders of other industries:
General Motors, automobile sales – 17.3 percent
Southwest Airlines, domestic air travel – 19.1 percent
Samsung, LCD televisions – 21.6 percent
United Health Group health insurance – 12.3 percent
Planned Parenthood, abortions – 35.4 percent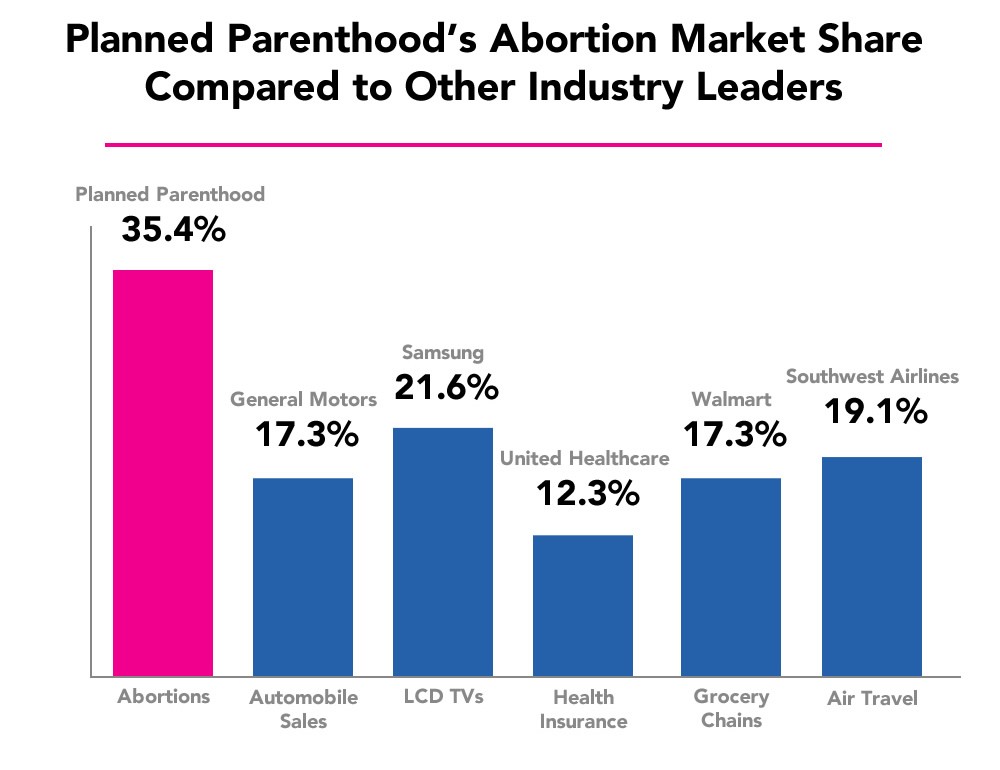 "The level of market dominance for abortions demonstrated by Planned Parenthood could be taught in business schools as the ultimate example of strategic planning and execution," Donovan and Studnicki assert. "It is a defining activity."
Additionally, the authors find that Planned Parenthood depends primarily on its abortion-centered business model – and is not a significant provider of medical care in the United States, despite its self-promotion as an "irreplaceable" and "life-saving" healthcare provider:
Why I won't stop talking about my abortion: https://t.co/hdPWZocm9U via @cosmopolitan

— Planned Parenthood (@PPFA) July 30, 2017
The report observes that Planned Parenthood provides less than 1.4 percent of the nation's HIV tests and less than 1 percent of pap tests, and that in the last five years service-to-client ratios for breast exams and pap tests have declined by 37 percent.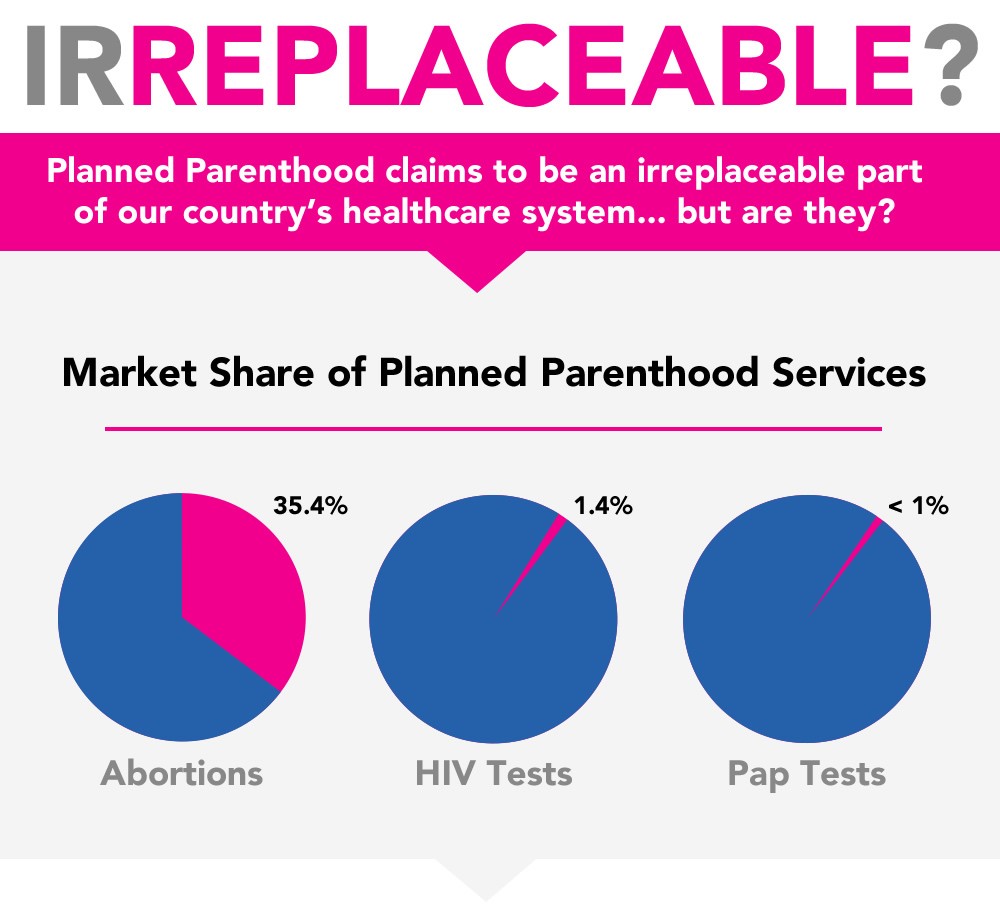 "There is little or no demonstrable capability for definitive diagnosis or a range of treatments for any disease or condition at Planned Parenthood centers," write Donovan and Studnicki. "With the exception of abortion, Planned Parenthood does not provide any service that is not easily available from alternative providers."
Planned Parenthood's own 2015-2016 annual report indicates the organization performed 328,348 abortions – an increase of 4,349 abortions over the 323,999 abortions the group states it performed in 2014-2015.
The group also reported 2,945,059 contraception services in 2014-2015, and 2,808,815 of the same services in its latest report, a drop of 136,244 within a year.
Similarly, Planned Parenthood reports 9,419 prenatal services in its latest report, a significant drop since a year ago, when the group claimed 17,419 of the same services.
In 2014-2015, the group reported having performed 682,208 cancer screening and prevention services. However, in 2015-2016, Planned Parenthood reports 665,234 of the same services, a drop of 16,974.
Regarding its revenue, the latest annual report shows Planned Parenthood's total revenue to be $1,354.3 million, an increase over the $1,296.1 million reported in 2014-2015. The organization shows an increase in government reimbursement and grants this year, reporting $554.6 million in taxpayer funding, while in 2014-2015, it reported $553.7 million.
Planned Parenthood reported an "Excess in Revenue Over Expenses" – or a profit – of $58.8 million in 2014-2015. That amount rose to $77.5 million this past year:
.@CecileRichards talks about her life, her work, and her inspirations: https://t.co/hq42hkIWaN via @people

— Planned Parenthood (@PPFA) July 12, 2017
"Planned Parenthood promotes itself as an indispensable health care provider and community asset, while downplaying its role as the nation's largest abortion vendor," Studnicki said. "This fiction is essential to justifying the half billion dollars in annual taxpayer funding they receive, but their own data paint an entirely different picture."
Donovan adds that Planned Parenthood's commitment to abortion for any reason "is clearly more than ideological."
"Their market domination would make such giants in their respective industries as General Motors and Samsung envious – but cornering the abortion market is nothing to celebrate," he states.
The Charlotte Lozier Institute is the education and research arm of the pro-life Susan B. Anthony List (SBA-List).