The Twitter police have suspended a popular Christian blogger for criticizing a Teen Vogue editor who published an article encouraging teens to have anal sex.
Grace Elizabeth Johnston, who goes by the online name of "The Activist Mommy," received notice last week that she had been banned from Twitter because of an Aug. 16 tweet she wrote in response to Philip Bicardi, the digital editor of Teen Vogue.
In July, Teen Vogue published a "tutorial" for its young readers on how to have anal sex. The article by "sex educator" Gigi Engle was titled "Anal Sex: What You Need to Know," and featured instructions on the dos and don'ts of consensual sodomy—never mentioning the fact that many of the magazine's readers are under the legal age of consent.
"This is anal 101, for teens, beginners, and all inquisitive folk," Engle wrote, describing anal sex as "a perfectly natural way to engage in sexual activity."
Among other helpful advice, Engle offered counsel regarding which lube to use and instructed her young readers how to insert sex toys into their butts to "warm up" for "larger objects."
She also advised them to get over their natural abhorrence with coming in contact with someone else's "poop."
"You are entering a butthole," she wrote. "It is where poop comes out. Expecting to do anal play and see zero poop isn't particularly realistic. It's NOT a big deal. Everyone poops. Everyone has a butt."
On her Twitter account, Grace Johnston mocked the editor of Teen Vogue for allowing the irresponsible piece to be published, sarcastically congratulating him for having received an award from The Advocate, which describes itself as "the world's leading LGBT news source."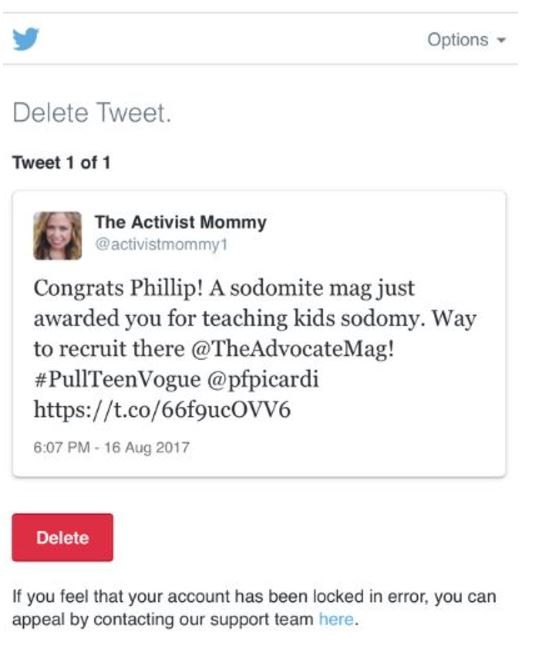 In response, Twitter punished Johnston by suspending her account for 12 hours, provided she remove the offending Tweet, warning her that the tweet violated its user "rules" which forbid harassment and abuse.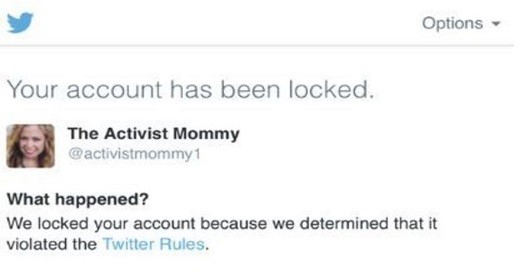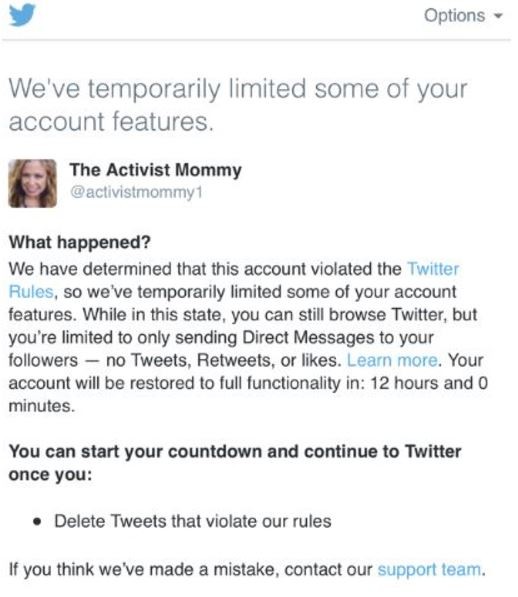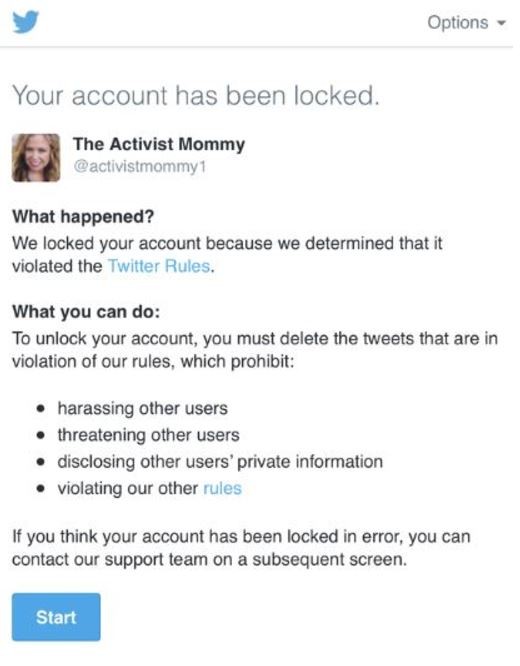 On her website, Johnston called out Twitter for its hypocrisy, noting how plenty of "hateful" material is regularly posted without censorship, whereas a Christian mother's honest concern over an article that is physically and spiritually damaging to children is singled out as being worthy of a suspension.
"Of course, actual videos of children being abused can be found on Twitter. But calling out an editor for promoting teen sodomy is worth a suspension?" Johnston posted on her website.
"Conservatives and Christians who love our country and our fellow man must get louder and bolder than ever, pushing back against Silicon Valley's draconian censorship of truth," she said in a statement to the Christian Post.
This is not Johnston's first battle with the powerful overlords of social media.
In February, Facebook froze her account for several days because of comments she had made about the immorality of homosexuality. In her post, Johnston only cited verses from the Bible and did not directly attack any individual.
"It would be one thing if Facebook said, 'We're liberals. This is our page and we can do whatever we want. It's our property.' I would appreciate that at least they were being honest and transparent," Johnston said.
After suspending her page three times, Facebook finally apologized to Johnston and reinstated her account after coming under heavy fire from the media.
Follow Thomas D. Williams on Twitter Follow @tdwilliamsrome