Texas Rep. Mike McCaul is reportedly a candidate to take over the Department of Homeland Security, despite his pro-business record and his long-standing support of delegating anti-terror tasks to Islamic political groups.
The report comes from Politico:
Texas Rep. Mike McCaul has emerged as a leading candidate in the White House's search for a homeland security secretary, according to three people familiar with the conversations.
The report provides no information about whether McCaul is a serious candidate, of if the "three people" are merely McCaul's aides. This is McCaul's second run for the job, which he lost to retired Marine Corp General John Kelly in December 2016. But Politico reported that McCaul really wants the job:
McCaul worked with the White House on its response to Hurricane Harvey, which affected parts of his district, and greeted the president on the tarmac when he touched down in Texas last weekend.

McCaul, who was considered for the same post during the transition, is eager to serve in the administration, according to people familiar with his thinking.
McCaul is the chairman of the House Committee on Homeland Security, and his record of support for business interests, and his opposition to border defenses has prompted pro-American immigration reformers to dub him "No-wall McCaul."
McCaul emerges as a leading candidate for DHS secretary https://t.co/u7doOyABAG #NeverMcCaul

— Mark Krikorian (@MarkSKrikorian) September 7, 2017
Why not Rubio? Or go whole hog with Luis Gutiérrez! https://t.co/882oPhgwJC

— Ann Coulter (@AnnCoulter) September 8, 2017
McCaul has been supported by the GOP-affiliated business sector which benefits from the mass-inflow of foreign workers and consumers who force down Americans' wages. That inflow was scorched by President Donald Trump during his campaign.  In a September 2016 economics speech, Trump declared that "every policy decision we make must pass a simple test: does it create more jobs and better wages for Americans?"
Once Trump was elected, McCaul edited his speeches to include a few references to Trump's "Buy American, Hire" American policies.
In February 2014, McCaul even endorsed a doomed proposal by then-House Speaker John Boehner which would have amnestied 11 million illegals. The proposal tried to hide the very unpopular amnesty under a barrage of poll-tested nouns and adjectives, saying:
These persons could live legally and without fear in the U.S., but only if they were willing to admit their culpability, pass rigorous background checks, pay significant fines and back taxes, develop proficiency in English and American civics, and be able to support themselves and their families (without access to public benefits).
McCaul also has shown very little interest in Trump's top border priority — fulfilling his promise to build a wall along the southern border. In fact, McCaul pushed a 2015 border security bill, grandly titled "Secure Our Border First Act of 2015" which approved the construction of 27 extra miles of double-fencing along the 2,000-mile border. The bill also called for the removal and upgrade of 66 miles of older fencing instead of just adding 66 miles of new fencing further along the border.
That bill was so weak that it was publicly denounced by Sen. Chuck Grassley, the chairman of the Senate judiciary committee.
Thanks to house of Rep not moving ahead w BorderSecurity bill. It wld not secure border. Now House has time to marry that w Judiciary bill

— ChuckGrassley (@ChuckGrassley) January 27, 2015
A 2013 border bill drafted by McCaul was so lax that it was embraced by Democrats.  The do-nothing bill, according to a credulous article in the Washington Post:
doesn't set an exact price or timeline or mandate a certain number of hires. Instead, it instructs the Department of Homeland Security to write a plan that could ensure the apprehension of 90 percent of illegal border-crossers in high-traffic areas within 33 months and across the entire southern border within five years. The measure directs the department to find ways to deploy existing U.S. military radar, cameras and unmanned aerial drones used recently in Afghanistan and Iraq. Congress would need to review and approve the plan before appropriating any money.

Detailed decisions about equipment, manpower and suggested costs would be left to career Homeland Security officials, who would consult with border-state governors and government experts who track security and immigration flows. The independent, nonpartisan Government Accountability Office would be required to assess the proposed strategy and report back to Congress on its implementation.
McCaul's lack of attention to the interests of American employees was made clear in McCaul's 2015 State of Homeland Security Address. His speech was overwhelmingly focused on the threat of "terror" — which was mentioned 54 times in the 2015 speech — but his text did not include any mention of the words that won the election for Trump — "wall," "fence," "worker," "employee," "job," "wage," or "salary." The speech did not even use the words "immigration," "illegal," or "alien."
In November 2012, McCaul called for a law to help companies import more foreign workers instead of hiring American workers. "I think we can have immigration reform," McCaul told the Texas Tribune. "Some policies we've advocated with, for instance, is doing away with the lottery and increasing the cap on high-skilled worker visas." Currently, the U.S. government offers temporary work-permits to more than 2 million foreigners each year, sharply reducing pressure on Americans companies to recruit, train and pay the four million younger Americans who enter the job market each year.
In 2014, McCaul said white-collar outsourcing is needed because "the fact is that there's not an interest" among Americans in high-tech training.
McCaul defended record at a press event in November. "To say somehow I am not strong on immigration is laughable because, whether it is sanctuary cities to every vote on the floor of the House, I have strongly voted against illegal immigration," he said, according to the Washington Times. "I have co-sponsored virtually every bill. I introduced the SAFE Act, which would stop the flow of Syrian refugees into this country. I also strongly support the Secure Fence Act," he said.
McCaul's record on Islamic infiltration also clashes with Trump's plans to protect the nation from immigrants whose "hostile attitudes" should prevent them from integrating into Americans' society.
McCaul's policy has been so focused on external threats that McCaul found himself in 2013 shaking hands with a U.S.-based Islamic political advocate who had declared Muslims were above the law of the land. The activist's name is Mustafaa Carroll, and he was a member of a national Islamic group.  The Texas Tribune reported:
"Following the law of the land is part of Sharia," Carroll said, according to the video. "And we follow the law of the land. In fact, Muslims, if we're practicing Muslims, we are above the law of the land. The law doesn't affect us at all."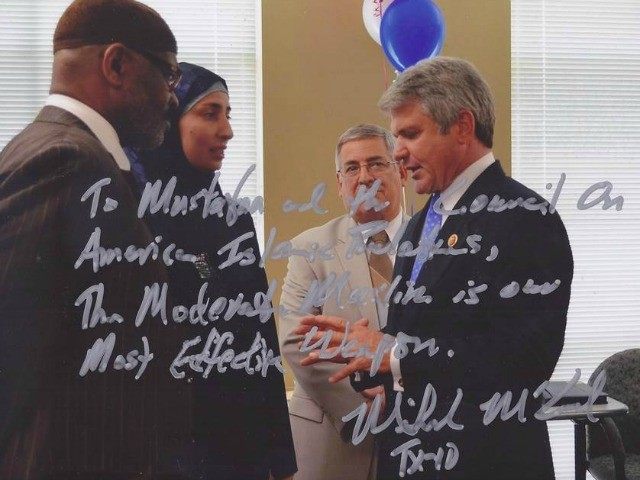 McCaul signed the photograph with a statement saying "the moderate Muslim is our most effective weapon."
Despite that experience, McCaul still supported the "Countering Violent Extremism" policy set by the former President Barack Obama. That policy failed because it did what it sought to do — delegate some counter-intelligence roles to explicitly Islamic political groups instead of to government officials, police officers, and Americans.
In March 2016, McCaul overtly endorsed Obama's tacit alliance with U.S-based Islamic religious groups, many of which share overlapping umbrella networks that are exempt from normal FBI anti-terror monitoring. "The effective thing is … effective outreach to the Muslim community, so you can pull the religious leaders really on to our team, if you will, to protect us from radicalization from within those communities," he said March 27. "I think we can get good intelligence from the Muslim communities in our outreach efforts, in our working with the religious leaders in the communities in the United States," he said.
In contrast, candidate Trump has called for more oversight over the Islamic networks. "We have to maybe check, respectfully, the mosques and we have to check other places because this is a problem that, if we don't solve it, it's going to eat our country alive," he said during his June 15 campaign rally in Atlanta, Georgia.
Trump's first pick to run the DHS, Gen. John Kelly, implemented Trump's skeptical policy. In July, Kelly excluded Islamic political groups from some DHS programs.
Obama's McCaul-backed CVE plan failed, in large part, because Islamic political activists did not want to do what they were asked, and instead kept raising their demands in negotiations with Obama's deputies. For example, some Islamic advocates demanded the FBI stay out of Muslim neighborhoods. Many activists also refused to admit the role of Islamic texts in motivating Islamic believers to launch Islamic jihad attacks, despite the repeated use of Islamic texts by U.S-based Islamic clerics to urge Islamic attacks.
In December, Rosemary Jenks, the director of government relations for NumbersUSA, an immigration reform group, said:
That's our whole problem. Mike McCaul is completely focused on terrorism, which is a tiny but important slice of the immigration problem, and a tiny slice of what Trump campaigned on. But the idea that you could just drop someone into the most important immigration slot in our government and expect them to push Trump's agenda is just fantasy.
In November 2016, as McCaul was trying to land the DHS job, he was publicly backed Johnson. "On his behalf, I don't know anybody who is stronger on border security in Congress that I have dealt with," Johnson told an audience at the business-funded Bipartisan Policy Center.
That praise "should be the kiss of death in the Trump administration," Jessica Vaughan, the policy director at the non-partisan Center for Immigration Studies, told Breitbart News. It "signals that in Johnson's estimation, McCaul is not likely to carry out the [pro-American] policies Trump won on."
Choose McCaul, there'll be no Wall. #notmccaul

— Mickey Kaus (@kausmickey) December 2, 2016