Louisiana GOP Sen. John Kennedy is stepping forward with a bill that would end the lottery-visa program, which has allowed luck and foreigners to pick 5 million unscreened people for legal immigration into the United States since 1990.
"It would be hard to design an immigration process that is more irrational even if you tried," Kennedy told Breitbart News, just one week after a visa-lottery winner from Uzbekistan shouted "Allah Is Greater!" as he used a rented truck to murder eight people in New York. Kennedy continued: 
We need to go to some sort of merit-based immigration, similar to Canada or Australia. The questions we ought to be asking — which the lottery program does not ask — are "Why do you want to come to America? Do you want to assimilate to America? Do you have any skills that will enhance our economy?" [Those are] the questions that any normal rational policymaker would be asking…

We've got to get past this idea that it is somehow immoral to ask "Why do you want to come into our country? What can you ad to our country?" A country has borders — that is the definition of a country — and every country that I'm aware of asks "Will you assimilate? Who would you bring with you? Do you have skills that will enhance our economy?" It is immoral in my opinion to not ask rational questions.
The fact that the visa lottery allows the foreign winners to pick the next wave of foreign migrants creates many problems, including corruption, Kennedy said. "We've had cases of people who win the [visa] lottery, then go out to sell the right to marry them [so the buyer also] gets automatic permanent residency," he said, adding "it is just nonsense."
On November 6, the federal government announced it is charging four Somalis with fraud involving the visa lottery and chain migration and will deport them if they are found guilty. "We cannot tolerate fraud, deception, and abuse of our legal immigration system," said a November 6 statement from Elaine Duke, the acting head of the Department of Homeland Security. "Fraudulently obtained citizenship is an affront to our American values, the rule of law, and all those who honestly attained their immigration status."
Asked about other Senators' support for his visa lottery bill, Kennedy replied:
I don't know yet, I just introduced the bill. I'm trying to get both Republican and Democratic support and he advantage of doing it this way is that it is clean and simple 
Kennedy's bill is likely very popular. For example, an August poll revealed that only one-in-six Americans strongly favors the program, despite much political and media pressure to welcome migrants. Politico and Morning Consult conducted the poll of 1,992 registered voters, which showed:

When asked by Breitbart News, Kennedy declined to endorse an ambitious pro-America immigration overhaul which would end chain migration from all immigration programs, saying that a more ambitious goal could bog down the visa-lottery fix:
You don't get off into 'OK, how else can we improve our immigration programs' … You do not want to get bogged down … …  That is certainly an option [but] it is difficult to pass anything around here.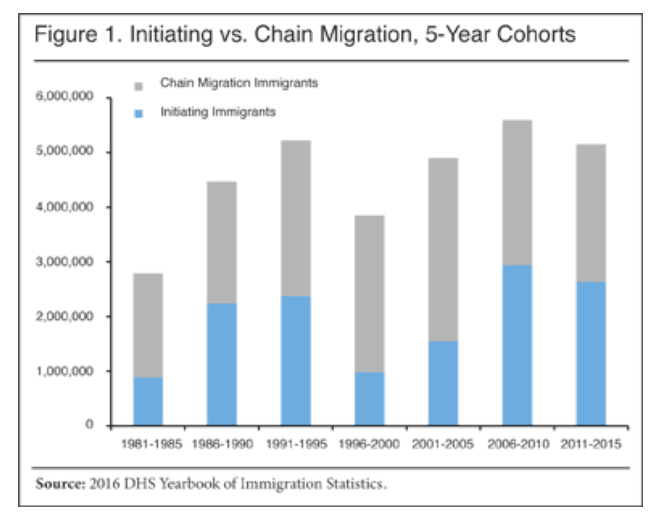 New research by the Center for Immigration Studies reveals the chain-migration from the visa lottery program has brought int 5 million people since 1990, including many people lacking education or skills. Each year, 50,000 lottery visas every year are given to foreign nationals from a multitude of countries, who then bring in another 170,000 people each year by chain migration.  The eligible countries include many with terrorist problems, such as Afghanistan, Algeria, Egypt, Iraq, Lebanon, Libya, Nigeria, Saudi Arabia, Somalia, Syria, Trinidad and Tobago, Venezuela, Yemen, and Uzbekistan.
Business-funded groups are already rising to defend the visa lottery program and the resulting inflow of cheap workers and welfare-aided consumers.
Democrats and progressives tout the program because it imposes diversity — including more than 25,000 Muslim Uzbeks — on Americans' cohesive communities. This divide-and-rule strategy has already helped Democrats gain political dominance in several states, including Illinois, New York, and California.
Fraud in immigration can be very large. Late in President George W. Bush's administration, officials began using genetic tests to verify family-relationship claims by Somalis seeking to bring supposed relatives into the United States via chain-migration rules. For example, a State Department document noted in 2008 that:
We were, however, only able to confirm all claimed biological relationships in fewer than 20% of cases (family units). In the remaining cases, at least one negative result (fraudulent relationship) was identified, or the individuals refused to be tested … We initially tested a sample of some 500 refugees (primarily Somali and Ethiopian) in Nairobi, Kenya under consideration for U.S. resettlement through the [family reunification] P-3 program. After that sample suggested high rates of fraud, we expanded testing to Ethiopia, Uganda, Ghana, Guinea, Gambia and Cote d'Ivoire. Most of the approximately 3,000 refugees tested are from Somalia, Ethiopia, and Liberia, as these nationalities make up the vast majority of P-3 cases.
The fraud levels in a Somali-used family unification program was so high that officials suspended the program, according to a 2010 report by the Center for Immigration Studies.  It reported:
Most of the "family reunification" provisions in the U.S. refugee program have been suspended for the past 2 years. The Priority 3 (P-3) resettlement category was closed for refugees since summer 2008 when U.S. officials found that most refugees from Africa using the P-3 program were not related at all. The fraud rate among Somali refugees was reported to be as high as 90 percent.

New regulations to combat fraud in the U.S. State Department program were published in the Federal Register for public comment earlier this month with a 60-day public comment period…

There are at least two shortcomings with the proposal. The initial refugee family unit is not verified for relationship. The initial family in many cases will come over as a husband with one wife, as required by the U.S., but with children from several wives. Much if not most of the current refugee influx is from polygamous societies.

The children from this original family unit could legally bring in their mothers. Presumably this is not a problem for the planners, who may even have designed the program for this outcome. But, since there is no verification of the original family unit, completely unrelated children will come in who then have the right to put their biological parents into the enhanced priority program. These individuals will then be able to legally bring in their other children and their parents who, in turn, can bring in relatives and so on.
Four million Americans turn 18 each year and begin looking for good jobs in the free market.
But the federal government inflates the supply of new labor by annually accepting 1 million new legal immigrants, by providing almost 2 million work-permits to foreigners, by providing work-visas to roughly 500,000 temporary workers and doing little to block the employment of roughly 8 million illegal immigrants.
The Washington-imposed economic policy of mass-immigration floods the market with foreign labor, spikes profits and Wall Street values by cutting salaries for manual and skilled labor offered by blue-collar and white-collar employees. It also drives up real estate prices, widens wealth-gaps, reduces high-tech investment, increases state and local tax burdens, hurts kids' schools and college education, pushes Americans away from high-tech careers, and sidelines at least 5 million marginalized Americans and their families, including many who are now struggling with opioid addictions.
The cheap-labor policy has also reduced investment and job creation in many interior states because the coastal cities have a surplus of imported labor. For example, almost 27 percent of zip codes in Missouri had fewer jobs or businesses in 2015 than in 2000, according to a new report by the Economic Innovation Group. In Kansas, almost 29 percent of zip codes had fewer jobs and businesses in 2015 compared to 2000, which was a two-decade period of massive cheap-labor immigration.
Americans tell pollsters that they strongly oppose amnesties and cheap-labor immigration, even as most Americans also want to favor legal immigrants, and many sympathize with illegals. Because of the successful cheap-labor strategy, wages for men have remained flat since 1973, and a growing percentage of the nation's annual income is shifting to investors and away from employees.