The Problem: Show Us the Money
Almost everybody agrees that President Trump's $1.5 trillion infrastructure plan, released on February 12, is a good idea—except for two little things: Nobody seems to agree on how much the federal government should actually spend, nor do folks agree on how much the deficit-ridden feds can actually pay for any new infrastructure.
The immediate headline in The New York Daily News was typical of the Main Stream Media instant reaction: "Trump's $1.5 trillion infrastructure plan kicks most of cost burdens to states, cities."  As the article notes, "The plan includes just $200 billion in federal dollars . . . The reduced federal spending is a departure from the lead fiscal role Uncle Sam typically plays in infrastructure."  For their part, governors and mayors are mostly comfortable with Trump's idea of federal/state/local/private-sector partnerships, but they want more than more than a 1:7.5 match—that is, more than $200 billion—from the feds.
In the meantime, the loyal opposition in Congress seemed ill-inclined to go along with any aspect of the Trump proposal; in fact, earlier, on February 8, House Democrats released their own infrastructure plan, which called for substantially more federal spending (and also rejects Trump's ideas for streamlining the regulatory permit process).  In the meantime, MSM pundits have been pounding away; The New York Times' Paul Krugman, for example, labeled the Trump plan "fraudulent…a scam…nothing…made up." And that was just in the first two paragraphs; later, he referred to it as a "dog's breakfast of a proposal that everyone knows won't go anywhere."
We might note that unlike last year's tax bill, the Trump infrastructure plan will need 60 votes in the Senate to get past a filibuster; since the GOP has just 51 votes, that means nine Democrats will be needed. And yet as The New York Times observed, "The odds of such a bipartisan effort coming together in the current political environment are long. White House officials said the new spending would be offset by unspecified cuts elsewhere in the budget, which are all but certain to be roundly criticized by Democrats."
Meanwhile, the President's fiscal year 2019 budget is also taking plenty of incoming fire. Here's the Associated Press headline on February 11, the night before the budget's release: "Trump budget seen as dead before arrival."  And on February 12, Axios declared that the budget was, yes, "dead on arrival." (As an aside, this author recalls that various versions of "dead on arrival" have been a familiar, even ritualistic, part of budget journalism since he arrived in Washington, DC—and that was way back in 1980. In virtually all instances over the last four decades, the "DOA" assertion has proven to be true, even as the White House and Congress still managed to muddle through, each year, on some sort of budget resolution.)
In any case, the reception accorded the administration's latest budget proposal was mostly frosty. Yes, Republicans were friendly enough, if not necessarily enthused. And yet it will take more than just Republicans to get anything done.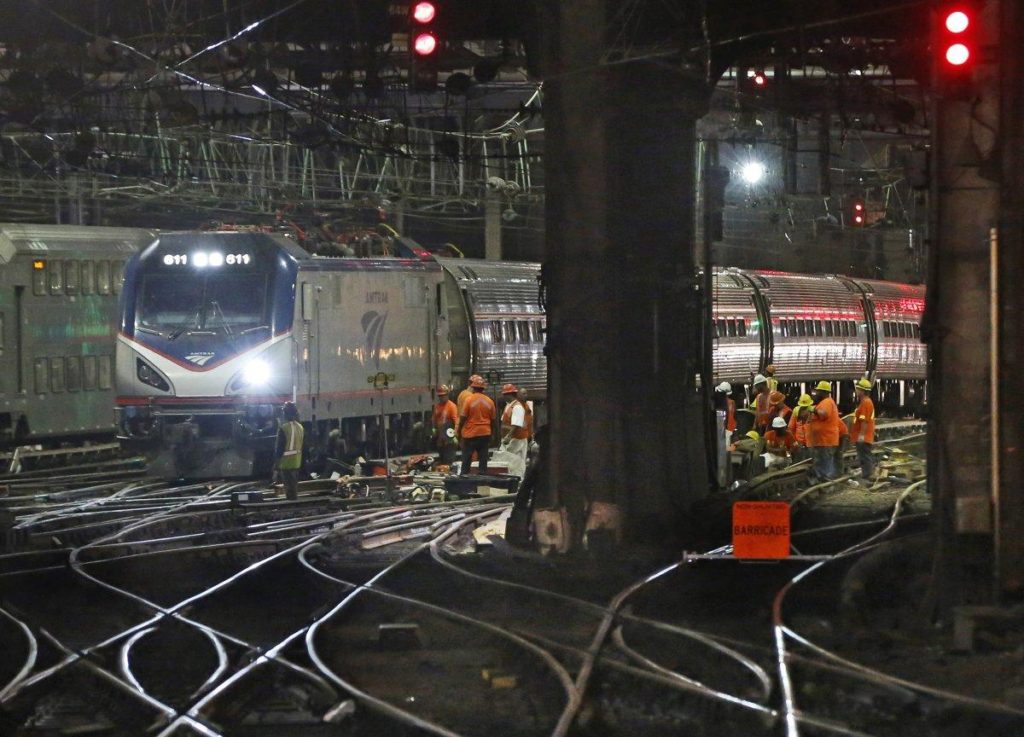 In the meantime, the hits keeping hitting: The headline in Politico: "The only certainty in Trump's budget: Oceans of red ink: Even if the president were to get the spending cuts and economic growth he wants, deficits would explode to $7.1 trillion over the next decade." And this harsh header from the establishmentarian deficit-cutters at the Committee for a Responsible Federal Budget: "President's Budget Doesn't Meet the Fiscal Realities." And there was this loaded banner from The Washington Post: "Trump's budget hits poor Americans the hardest." (This author can also attest that such Post headlines are another D.C. ritual—one would never know from the article that the federal government alone spends $745 billion on means-tested benefit programs.)
In addition,  Bloomberg News reports that tucked inside the Trump budget are $237 billion in Medicare cuts. Such proposed cuts would, of course, go against the President's oft-repeated commitment to protect earned entitlements; as he said on May 26, "We will balance the budget without making cuts in Social Security and Medicare." Of course, if, as we have seen, presidential budgets are DOA, then there's not much reason to get exercised, pro or con, about these proposed entitlement cuts, for the simple reason that they won't happen (and neither, at this rate, will a balanced budget).
Yet in the meantime, budget wonks on the left started picking through the details of both the infrastructure and budget plans—and they're finding more to criticize. For instance, Michael S. Linden, a fellow at the Roosevelt Institute, tweeted that any headline saying that Trump was advocating any additional spending for infrastructure was wrong:
Trump's budget will include $200 billion in infrastructure spending, offset by 20% reductions in base funding for Depts. of Transportation and Energy.  All told, he's basically proposing a $0 infrastructure plan.
In the face of such criticism, the immediate health of both Trump's infrastructure plan and his budget seemed to be, well, not well. Partisan political opposition aside, there simply doesn't seem to be the money to pay for new infrastructure and, at the same time, to shrink the deficit, let alone to eliminate the deficit.
Of course, much of the news-narrative changed on February 14, with the tragic mass-shooting at a school in Parkland, Florida. Yet still, inside the Beltway, at least, much of the conversation remained riveted on fiscal issues.
In fact, the political calculus on infrastructure changed when it was reported on the afternoon of the 14th that Trump had said he might support a 25-cent-a-gallon increase in the gas tax. Such an infusion of cash would, indeed, be a game-changer for infrastructure, but of course, his words could have just been a trial balloon. That is, there's no assurance that the administration will get behind any such tax-increase proposal; as one report put it, Republican "jaws dropped" at hearing the words from Trump. And if the administration does get behind such a hike, there's sure to be plenty of opposition; in the opening-gun words of anti-tax activist Grover Norquist, "There is no need to raise the federal gas tax," and more strong words followed.
In the meantime, on the left, it's a cinch that the Democrats won't go along with a "regressive" tax increase on gasoline–one estimate, from Dan Clifton of Strategas Research, found that a quarter-a-gallon gas tax would take back 60 percent of the just-passed tax cut for individual taxpayers, not a popular prospect–without some corresponding "progressive" tax hike on upper incomes, with an eye toward keeping taxes for the working- and middle-class level, while hiking them on the rich and on corporations. And if all that were to happen, well then, Washington, DC, would be in for a full-blown tax brouhaha akin to what we saw in 2017, only this time, with the partisan alliances likely more tangled—and it's hard to know what the outcome would be.
Yet with or without a tax increase, the fiscal momentum, beyond whatever happens to infrastructure, is to increase spending, not decrease spending. The two-year budget deal reached on February 7, for example, adds $300 billion in additional spending over the next two years, and yet it was endorsed by the Trump administration and passed both the House and the Senate, by wide margins.
Moreover, a Pew Center headline from January 2018 tells us plenty about overall public opinion on the subject of spending: "Majorities Say Government Does Too Little for Older People, the Poor and the Middle Class." Indeed, The Wall Street Journal reported last week that some Republicans are looking at a way of increasing subsidies for working people to buy health insurance; to critics, that's a plan that starts to look a lot like… Obamacare. And yet it seems safe to say that GOPers wouldn't be considering such steps if they didn't see it as a vote-getter; the political environment has changed since the heyday of the Tea Party.
*So we can see: The American people want to spend more money on most of the American population. It's their country, of course, but it's evident that this will be an expensive future—not at all encouraging for believers in fiscal restraint. In the glum words of the right-leaning Manhattan Institute's Brian Riedl, "Surveys show virtually no support—within either party—for reining in Social Security and health programs driving spending upward."
In fact, House Republicans, led by Budget Committee Chairman Steve Womack of Arkansas, seem determined to at least fight the good fight; as Womack warned, "If you look at the fiscal glide path of this country, it is not a sustainable formula." It's hard to argue with Womack's warning, and yet as The Hill observed in the same news story, "Any such effort, however, would almost certainly be dead on arrival in the Senate." So there's that phrase again, "dead on arrival"—and few would argue with that cold assessment.
In the meantime, of course, the Democrats are hostile to any cuts, and they'll be campaigning hard against them this year. So if they win this November, prospects for budget cuts are even more dead on arrival, if that's possible.
It was in this dicey environment that a veteran Republican, former Sen. Dan Coats, now President Trump's Director of National Intelligence, told Congress on February 13 that the deficit "represents a dire threat to our economic and national security." If Coats is correct, then it would seem to heighten the urgency of doing something drastic to alter the current fiscal trajectory. And yet as we have seen, the political system seems paralyzed.
So perhaps we should look elsewhere, beyond politics, for a solution.
Next in Part Two: Going Where the Money Is