The billionaire GOP mega-donor Koch brothers are continuing to oppose President Trump's economic nationalist agenda, now calling his recent pro-American worker tariffs "crony capitalism."
Charles and David Koch are two of the Republican Party's biggest billionaire donors, supporting an agenda of endless, multinational free trade agreements and open borders to keep U.S. wages stagnant.
While recent efforts by the Kochs have focused on pushing Republican lawmakers to pass an amnesty for millions of illegal aliens in the country, the ideologically-globalist donors now have their eyes focused on opposing Trump's 25 percent tariff on imported steel and 10 percent tariff on imported aluminum, both designed to increase American manufacturing.
Pro-mass immigration Charles Koch writes a WaPo op-ed opposing Trump's steel and aluminum tariffs, does not mention once that the reason for the tariffs is national security/jobs. https://t.co/pP3SBJ4sV8

— John Binder 👽 (@JxhnBinder) March 8, 2018
In an interview with Bloomberg, James Davis—the Koch brothers' spokesperson—called Trump's popular, pro-American worker tariffs "crony capitalism."
"The tariffs are, in many ways, crony capitalism," Davis said. "It's supporting a few jobs, potentially, at the expense of many."
Davis also said that much like the Koch brothers' recent pro-open borders ad campaign, where the billionaires call illegal aliens "patriots," the network of organizations run by the duo have not taken "off the table" the possibility of running ads opposing Trump's tariffs and economic nationalist agenda.
Like immigration, though, the Koch brothers remain out-of-touch with Republican voters and the majority of Americans on the issue of trade.
For example, the most recent Morning Consult poll revealed that nearly 60 percent of Americans say tariffs on imported Chinese steel and aluminum were necessary for the U.S.-China economic relationship.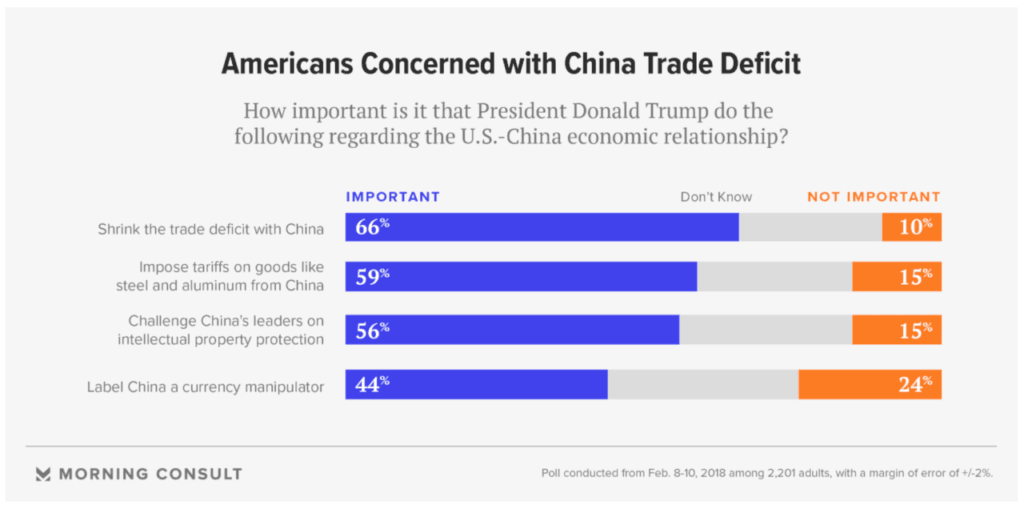 A poll from Rasmussen Reports found last month that Americans are increasingly supportive of tariffs to protect against rootless globalization that outsources and eliminates U.S. workers' jobs, with about 50 percent of likely voters saying the federal government should place tariffs on countries who pay their workers' very low wages.

Unlike Trump and his base of supporters, the Koch brothers prefer the Washington, DC-imposed cheap labor, free trade economic model where American workers' wages remain stagnant and foreign products continue to flow into the country.
That economic model relies on more than 1.5 million illegal and legal immigrants being admitted to the U.S. every year to drive down Americans' wages and corporations moving their manufacturing and production overseas only to export their cheap products back into the country.
Unlike the billionaire Koch brothers, though, the majority of Americans, nearly 70 percent, say it is more important to keep manufacturing in the U.S. than to have tons of cheap, imported products, as Breitbart News reported.
Majority of Americans: More Important to Keep Manufacturing Jobs in U.S. than to Have Cheap Productshttps://t.co/86e21LpmO5

— John Binder 👽 (@JxhnBinder) March 16, 2018
Working and middle-class Americans are the most supportive of any economic group of a strong U.S. manufacturing base, with between 70 percent to 76 percent supporting keeping manufacturing jobs in the country rather than enjoying cheap products.
The least likely to support keeping manufacturing jobs in the U.S. are wealthy Americans—like the Koch brothers—with a yearly income of at least $200,000. With the wealthy, only 52 percent said keeping U.S. manufacturing jobs was more important than low product prices, while 30 percent said cheap products were more important.
Mass immigration and multinational free trade agreements have left American workers with hardly any wage growth over the last four decades and their blue-collar jobs moving overseas.
Mass immigration and multinational free trade agreements have come at the expense of American workers. With free trade, foreign markets have been readily opened to multinational corporations, allowing them to offshore American jobs while easily exporting their products back into the U.S.
The Rust Belt, which Trump swept in the 2016 presidential election, has been one of the hardest regions hit because of U.S. free trade with Mexico. In total, about 700,000 U.S. have been displaced, including:
14,500 American workers displaced in Wisconsin
43,600 American workers displaced in Michigan
2,600 American workers displaced in West Virginia
26,300 American workers displaced in Pennsylvania
34,900 American workers displaced in Ohio
34,300 American workers displaced in New York
6,500 American workers displaced in Iowa
24,400 American workers displaced in Indiana
34,700 American workers displaced in Illinois
Meanwhile, since the North American Free Trade Agreement (NAFTA) took effect in the 1990s, at least one million net U.S. jobs have been lost because of the free trade deal. Between 2000 and 2014, there have been about five million manufacturing jobs lost across the country as trade deficits continue soaring.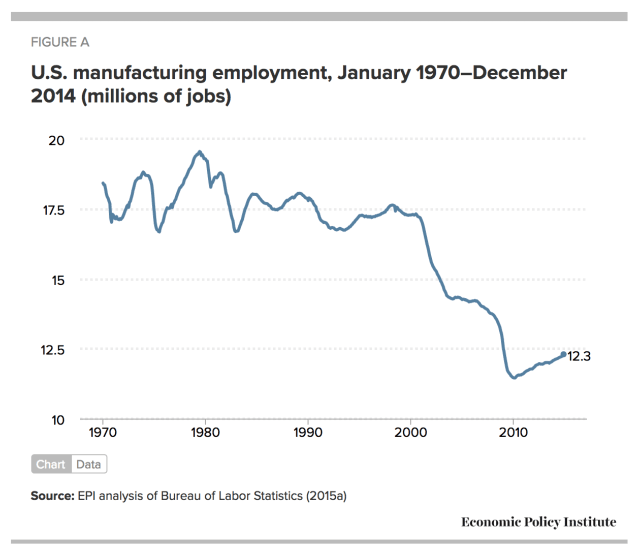 One former steel town in West Virginia lost 94 percent of its steel jobs because of NAFTA, with nearly 10,000 workers in the town being displaced from the steel industry. Since China entered the World Trade Organization (WTO) in 2001, there have been 3.2 million American jobs lost with 2.4 million of those jobs coming from the U.S. manufacturing sector.
John Binder is a reporter for Breitbart News. Follow him on Twitter at @JxhnBinder.