The newly released National Assessment of Educational Progress (NAEP) scores indicate that U.S. students, in general, have failed to show progress in reading and mathematics during the last two years, another sign that a stronger federal role in education has not produced success.
The 2017 scores of U.S. students remained relatively flat since 2015 on the assessments known as the "Nation's Report Card":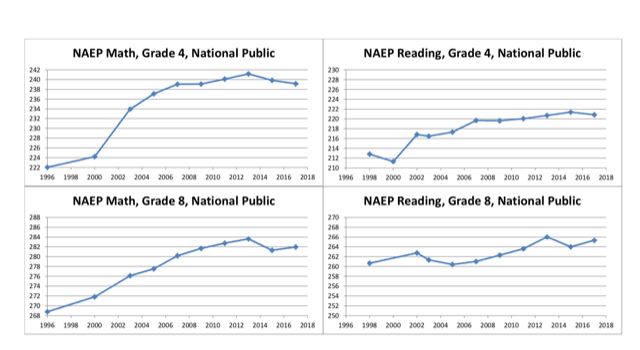 In general, the reading and mathematics scores of higher-performing eighth-graders increased, but those gains were offset by lower-performing students in the same grade who slid further.
Higher performing fourth graders showed no significant change in reading or mathematics, but weaker students declined further.
The outcomes show a trend of a continued wide achievement gap between white and minority students.
"A disturbing pattern is that academically weak students became weaker in most grades and subjects, while academically stronger students became even stronger," Ze'ev Wurman, a former George W. Bush administration education department adviser, said in comments to Breitbart News.
"In math, students have not recovered from the first-ever significant drop in 2015," Wurman continued. "I guess we should count our blessing that the scores didn't drop even further in 2017. Even grade-four reading, which was the saving grace in 2015 and the only one that did not drop then, changed direction in 2017 and exhibited a slight drop. This time, the saving grace was the grade-eight reading, which recovered some of its sharp 2015 drop."
Some education watchers also observe the 2017 NAEP scores provide an overall dismal picture of the Obama Common Core era.
"Several years after the full-scale implementation of Common Core in nearly all states in the fall of 2014, the national results are in," Ted Rebarber, CEO of AccountabilityWorks, told Breitbart News. "No overall improvement in student achievement since then at any of the grades or subjects measured, and statistically significant declines in fourth-grade math, eighth-grade math, and in both subjects for students in the bottom quarter and for African Americans, Hispanics, Students with Disabilities, and English Learners."
Paul Peterson, Harvard professor and senior editor at EducationNext, also wrote candidly about the Obama administration's failure to shrink the achievement gap between white and minority students.
"President Obama scolded the nation for perpetuating racial and ethnic gaps, but his Department of Education did nothing to reduce achievement differences, the one disparity that counts," he asserted. "No substantively significant nationwide gains were registered for any of the three racial and ethnic groupings in math or reading at either fourth or eighth grade. Let me repeat: NO GAINS WERE REGISTERED FOR BLACK, HISPANIC, OR WHITE STUDENTS. NONE. The best that can be said is that Hispanics gained six points in eighth grade reading over the 8 years."
Wurman observed how the implementation of the Common Core math standards has affected some states, specifically in relation to Common Core's move to teach algebra in high school instead of eighth grade.
"There have been some astounding drops in number of students taking algebra in grade 8, which Common Core pushed to high school," he said. "One of them is California, which has dropped from the first in the nation with 54% taking Algebra 1 in grade 8 in 2013 to 28% in 2015, and only 19% in 2017 – a 65% drop. Similarly, Utah dropped from 44% of its eighth-graders taking Algebra 1 in 2013 to only 4% in 2017, an over 90% drop."
Rebarber observed the dismal picture of the failure of U.S. students to progress during the last 30 years is a consequence of increased federal involvement in education.
"Common Core is the culmination of nearly three decades of federally mandated, central planning of curriculum through so-called 'curriculum standards,'" he told Breitbart News. "The poor results, especially for lower-achieving and minority students, were entirely predictable based on existing education research due to the instructional ideology that pervades Common Core. It is time to rethink congressional mandates that prevent states from offering broad curriculum freedom and flexibility to local school districts and schools of choice."