Crikey! Australian eyebrows shot skywards after French President Emmanuel Macron called Prime Minister Malcolm Turnbull's wife "delicious" in Sydney on Wednesday.
The surprise compliment to Lucy Turnbull came at the conclusion of a joint news conference between the two leaders as Mr. Macron thanked Mr. Turnbull for his hospitality during his visit.
"I want to thank you for your welcome, thank you and your delicious wife for your warm welcome," he said.  Mr. Turnbull kept a straight, diplomatic face and replied, "Thank you" before the conference continued.
Some observers felt he may have been making a joke or simply overdoing the Gallic charm, after the Australian leader had just mentioned Mr. Macron's approaching lunch with members of Sydney's French community.
The Sydney Daily Telegraph had this to say on its page one splash: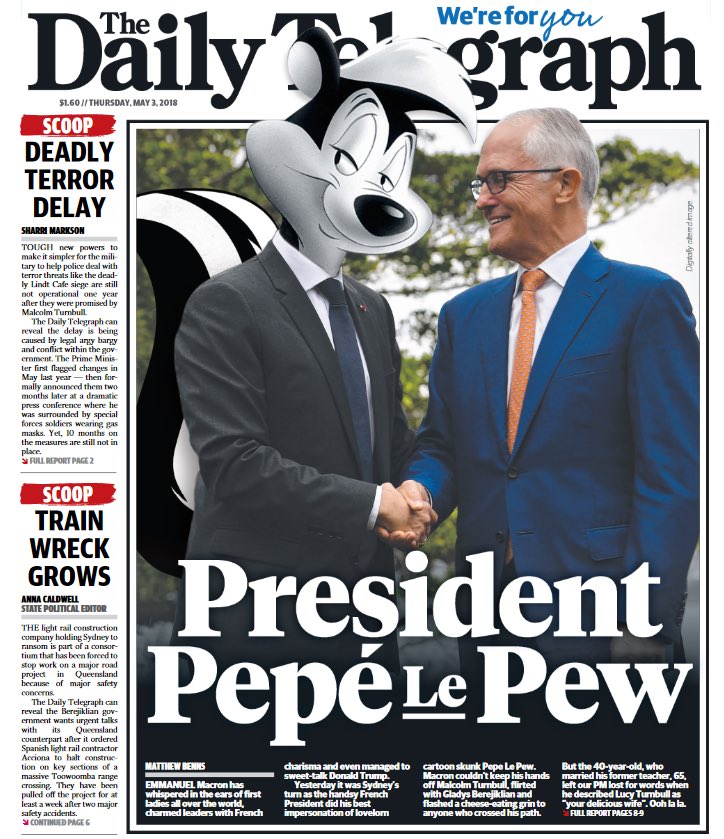 Others on Twitter were no less forthright:
Macron just said he wanted to thank Malcolm Turnbull and his "delicious wife".

You can take the man out of France but…

"thank you and your delicious wife" – Macron pic.twitter.com/4v3lCHOsH1

— Jason Cutler (@JaseCutler) May 2, 2018

Macron's English is really great, but I think he just called Turnbull's wife "delicious" or maybe he was talking about wine. I can't be sure. "Thank your delicious wife" does sound funny though. #funnypolitics #politics #Politics #Trade #economics #French #English #Australian

— Al (@Mlinarevic) May 2, 2018

— Alice Workman (@workmanalice) May 2, 2018
Yo! I keep saying being multilingual is hard! I really feel for Pres Macron here for this literal English translation of French word « délicieuse » which can also mean delightful/lovely but ended up calling Australia's PM's wife "delicious" pic.twitter.com/zEZXrmHRrD

— Victoria Uwonkunda (@Msuwonkunda) May 2, 2018
"delicious wife" did Macron just say that?

— The Monash Forum (@_SocialDemocrat) May 2, 2018
"I seen he called her delicious! " – an Australian who can barely speak one language (aka me). #Macron #auspol

— Mikey Nicholson (@Mikey_Nicholson) May 2, 2018
For all the speculation over the perceived manner of the unusual observation, others were happy to shed some light on what they called a linguistic mistake.
This might help explain the awkward mistranslation of the French President describing Malcolm Turnbull's wife as "delicious". pic.twitter.com/CTDE7ANunY

— Jamie McKinnell (@jamie86) May 2, 2018
Mr. Macron is in Sydney for a two-day trip, where he and Mr. Turnbull discussed trade, defense, and shared goals. He is the second sitting French president to make an official visit Down Under.
Follow Simon Kent on Twitter:

Follow @SunSimonKent

or e-mail to: skent@breitbart.com