Democrat Ammar Campa-Najjar has deleted an Instagram post in which he referred to his grandfather, Palestinian terrorist Muhammad Yousef al-Najjar, as a "legend."
(Update Oct. 22: The links appear to be live again.)
Muhammad Yousef al-Najjar was "was "a senior member of the Palestinian terrorist group Black September that murdered 11 Israeli athletes at the 1972 Munich Olympics," according to the Times of Israel, and a deputy for Palestine Liberation Organization (PLO) leader Yasser Arafat.
Earlier this year, when Campa-Najjar's roots were first reported, he condemned his grandfather's actions and supported peace.
But in a 2015 Instagram post praising his father, who is a former Palestinian Authority (PA) official and Palestinian ambassador, Campa-Najjar referred to his grandfather as a "legend." He offered no criticism or condemnation of his grandfather's terrorist acts.
Breitbart News reported the existence of that Instagram post on Monday, as well as another in which he noted that his family was close to Yasser Arafat's. The Campa-Najjar campaign declined to comment, and by Tuesday both posts had been taken down, and the account made "private." Both posts, however, survive as screen shots.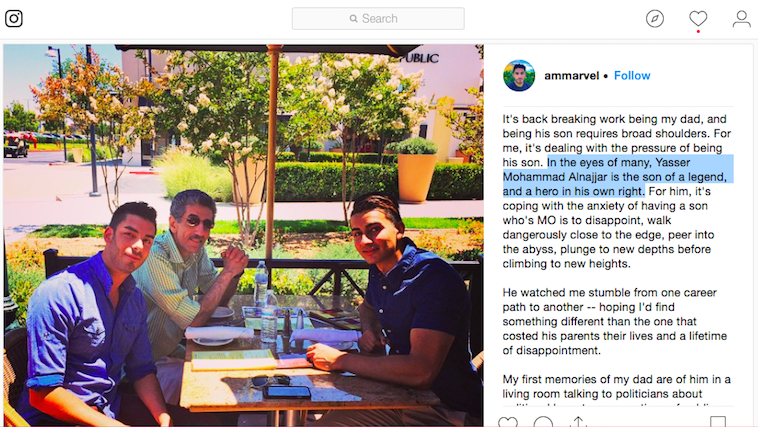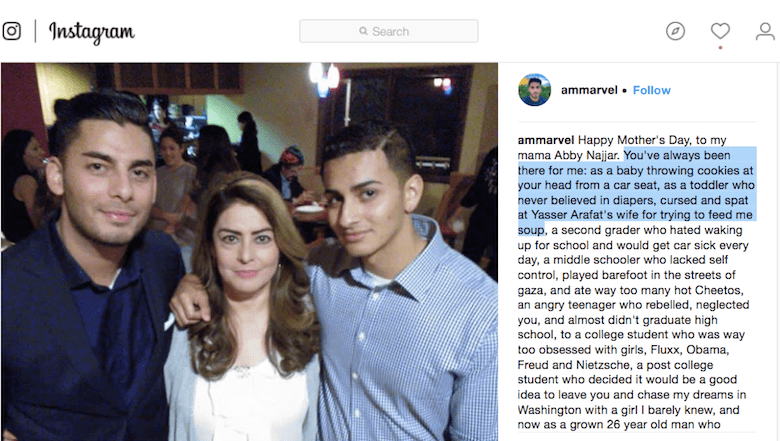 Campa-Najjar is pushing back against an effort by his opponent in California's 50th congressional district, incumbent Rep. Duncan Hunter (R-CA), to portray him as a "security risk."
Campa-Najjar changed his name after the June primary (from Ammar Yasser Najjar to Ammar Joseph Campa-Najjar); received a campaign donation from a Palestinian ambassador; and donated campaign funds to a radical group, CAIR, while taking donations from CAIR officials.*
Campa-Najjar has argued that he passed an FBI background check when he worked for the Obama administration, and has noted that Hunter was recently indicted on federal charges of misusing campaign funds.
Joel B. Pollak is Senior Editor-at-Large at Breitbart News. He is a winner of the 2018 Robert Novak Journalism Alumni Fellowship. He is also the co-author of How Trump Won: The Inside Story of a Revolution, which is available from Regnery. Follow him on Twitter at @joelpollak.
This post has been updated to reflect the fact that the Instagram posts appear live again.
*As Breitbart News has noted:
In 2007-8, CAIR was named an unindicted co-conspirator in the terror financing trial of the Holy Land Foundation for Relief and Development. That case, in turn, led the FBI to discontinue its work with the organization. In 2009, a federal judge ruled that the government "produced ample evidence to establish" the ties of CAIR with Hamas, the Palestinian terror organization . The United Arab Emirates labeled CAIR a terrorist organization in 2014 (a decision that the Obama administration opposed).