Fewer Republican and Democrat voters — as well as Americans overall — believe same-sex relations are "morally acceptable," a Gallup News survey found.
"Last year, a record-high 71 percent of U.S. adults said gay or lesbian relations are morally acceptable. The figure has fallen back this year to 64 percent, returning to a level last seen in 2019," the survey report states. "Still, Americans are far more likely to consider same-sex relations as morally acceptable than in the past, including 38 percent in 2002 and 54 percent in 2012. The figure has been 60 percent or higher since 2015."
Gallup found that Republicans are the main driver of the decrease in acceptance of same-sex relations, with 41 percent of Republicans finding it "morally acceptable" down from 56 percent last year. This year's figure is the lowest Gallup has measured for GOP voters since 2014 (39 percent).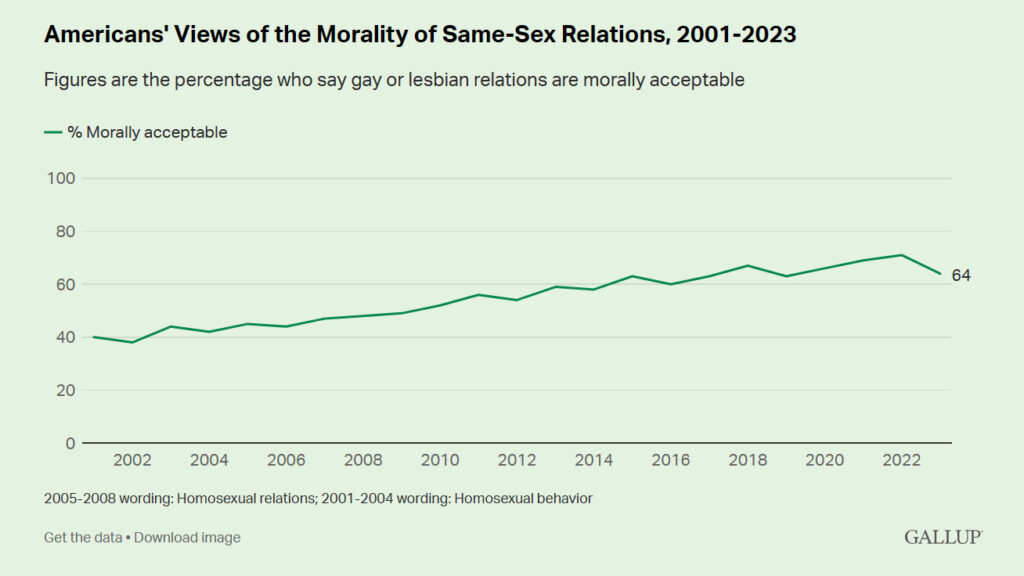 While Democrats (79 percent) are much more likely than Republicans to approve of same-sex relations, Democrat support is down six points from last year, when 85 percent said same-sex relations are "morally acceptable." The 2023 percentage is closer to the percentage in 2020, when 78 percent of Democrats reported approving of same-sex relations.
Independent voters have remained steady in their view of same-sex relations over the past few years. This year, 73 percent of independents say same-sex relations are "morally acceptable," the survey found.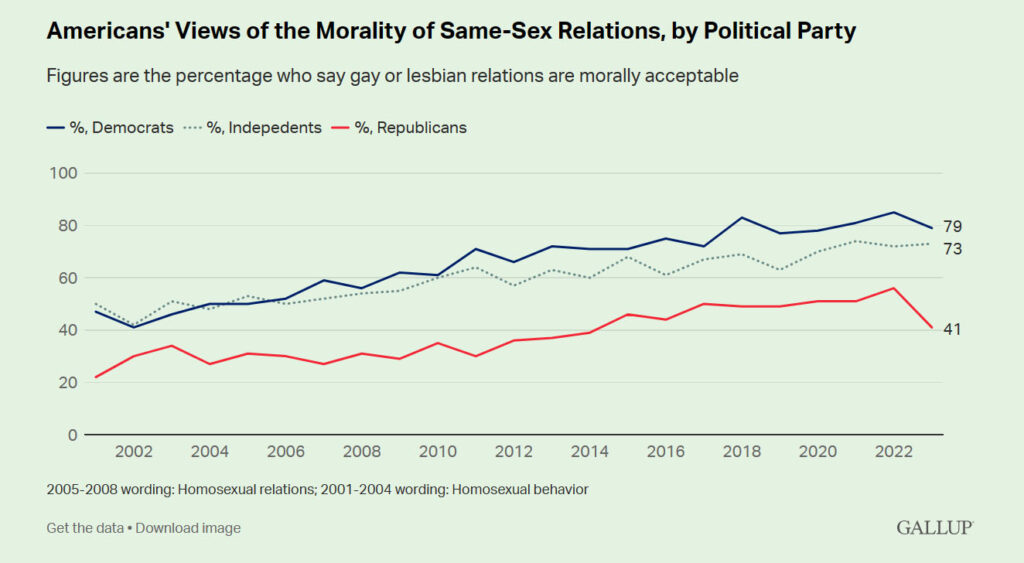 Crosstab data revealed a little more about attitudes between various subgroups about same-sex relations. The data shows that non-white respondents (58 percent) are ten points less likely to say same-sex relations are "morally acceptable" than white respondents (68 percent). By age group, young people ages 18 to 34 are most accepting of same-sex relations (78 percent), followed by 35-54-year-olds (67 percent), and people 55 and older (54 percent).
Support for homosexual relations saw the largest decrease of any moral issue posed by Gallup pollsters in its annual Values and Beliefs poll.
RELATED VIDEO — Sen. Cotton RIPS Kroger CEO for Allegedly Firing Workers Who Refused to Wear Gay Pride Symbol:
Senator Tom Cotton / YouTube
"Americans' opinions on the morality of various issues have mostly become more liberal over the past two decades, but the two biggest changes this past year, on same-sex relations and the death penalty, have been in a more conservative direction," the poll report states. 
Gallup News conducted the survey between May 1-24, with 1,011 U.S. adults. The margin of sampling error is ±4 percentage points at the 95 percent confidence level.