Tampa Bay pitcher David Price apologized via twitter just before 3 p.m. EDT Sunday for previous tweets that caught the attention of a Boston radio station and others. Price was not happy about David Ortiz watching to see if his home run stayed fair in Game 2, but the next time he visits his alma mater Vanderbilt he might want to ask fellow Vandy player Mike Yastrzemski about a similar incident his grandfather Carl Yastrzemski witnessed in the same stadium 38 years ago.
The older Yastrzemski was in the 12-inning Game 6 in Fenway that ended with his teammate Carlton Fisk watching and waiving a drive to left field fair until it hit the foul pole and sent the Red Sox to a Game 7 of the 1975 World Series against the Reds. The Reds eventually won. Saturday David Ortiz hit a towering drive down the left field line and watched until it sailed over the right field foul pole.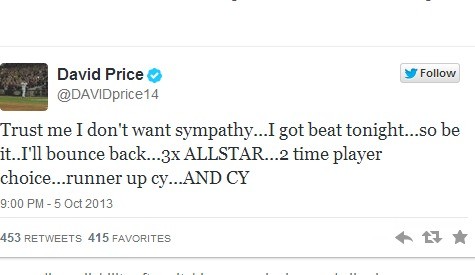 Other incidents of players watching home runs simply to admire their blasts have led to conflicts on the field, but watching while the home run is in doubt is another matter.
After losing to the Red Sox to leave the Rays behind 2-0 in their playoff series, Price complained about Ortiz in the postgame news conference and recounted his accomplishments in what CLNS Radio termed a "rant."
After dominating the tie-breaking game against Texas, Price was tagged by the Red Sox for seven runs in seven innings.