"Four minutes into the first round he will be unconscious," Conor McGregor promises of his UFC 189 opponent. Chad Mendes vows to end McGregor's night a minute earlier.
The odd couple discussed their July 11 fight, which features Mendes as an eleventh-hour substitute for featherweight champion Jose Aldo, on a conference call Wednesday afternoon.
"It would have been nice if Jose didn't p—y out," McGregor conceded. "We'll take the B-level guy."
Mendes argued that the Brazilian's disappearance from the card doesn't detract from it.
"They ain't tuning in for you, Chad," McGregor interrupted. "Let's call a spade a spade." As the Dubliner repeatedly maintained, UFC 189 was, is, and will be "the McGregor show."
"Keep taking, buddy," the Californian countered.
And talk he did.
• "I can hear a quiver in his voice there," McGregor said of Bad Chad. "I feel when it comes down to it and the shots are exchanged—I see him more of an athlete than a fighter."
• The Irishman, inexperienced against high-level wrestlers, held: "I am very confident that if we exchange in any grappling sequence I have the ability to dominate him."
• "I feel he is in the wrong weight division," McGregor volunteered. "I feel he gasses too quickly."
• McGregor noted that the UFC sold 2,500 tickets in Ireland for the fight in Las Vegas. "It's definitely an advantage," he said of fighting with the support of the fans. "It's essentially like entering a bear pit. I don't think people understand that until they're in the middle of it."
Mendes, for his part, took the thespian-pugilist's theatrics mostly in stride. "The short s—," the stocky wrestler said in response to McGregor's digs at his height, "I don't really give a s— about that stuff. I've been short my whole life." But the Californian declared that his opponent crossed a line last year by verbally painting an ugly portrait of him. "He's talking about putting balls on my head," Mendes noted. "You don't do that. He made it very unprofessional."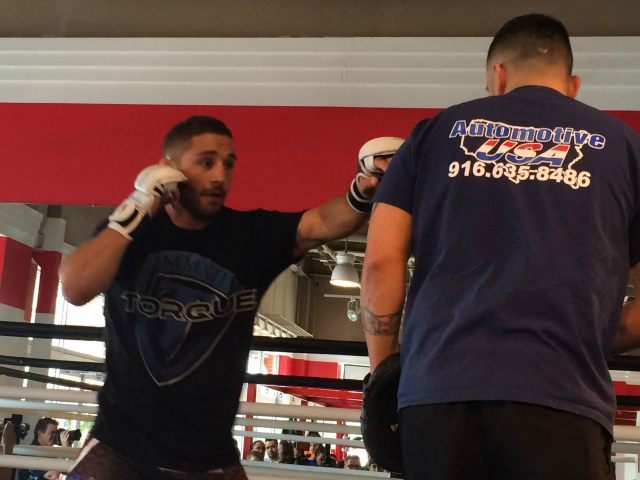 That bad blood, and another shot at the title—albeit the interim one—made the decision an easy one.
"I got the call three weeks out," Mendes divulged. The truncated training camp should not present insurmountable problems. "I don't stop training," he says. "Training year round—this is our job." Mendes maintains he never strays more than 15 to 20 pounds over the featherweight limit. So, it's not "no sweat" to make 145 but rather several sweaty trips to the sauna and a short, intense training camp at Team Alpha Male.
Mendes tipped his strategy when he responded to McGregor's graphic boasts of standup annihilation: "I don't know how you are going to be pressuring anything on your back." Jibing the Notorious One for recent poses on social media, Mendes asked, "What are you going to do? Are you going to do the splits on me?"
That's not McGregor's plan. "I'm gonna f—ing butcher you."