Chicago White Sox outfielder Adam Eaton repeatedly apologized for tweeting a remark questioning why the Oscars telecast on Sunday night had to become all about racism.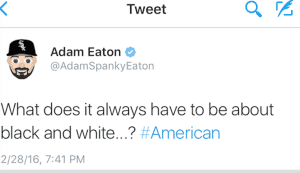 "I feel terrible. I truly do," Eaton said. "However it came across, I feel terrible. It was a tweet to basically talk about equality…. I apologize to anybody that was offended. I'm not by any stretch of the imagination trying to downplay racism in this country."
Eaton's long mea culpa seems a bit odd given that the show is an entertainment vehicle to celebrate achievements in motion pictures. Asking the question why has it become so politicized over the years hardly seems like a statement in which you have to apologize.
The absence of Oscar nominations for black people this year cast extraordinary negative attention on the Sunday presentations. Host Chris Rock took the opportunity to ridicule the liberal entertainment establishment for allowing racism to permeate the industry.
The politicization of the Oscars telecast can be traced at least as far back as 1973, when Sacheen Littlefeather refused to accept the Best Actor Oscar on behalf of Marlon Brando for his performance in "The Godfather." Brando and Littlefeather maintained that the film industry, television, and movie reruns mistreated "American Indians." 
According to the Chicago Tribune, the 26-year-old Eaton has more than 34,000 Twitter followers and some were offended with his tweet maintaining that it undermined the legitimacy of the Oscars protest movement. Eaton insists that was not his intention.
The Ohio native, who was picked up by the Diamondbacks in the 19th round of the 2010 MLB draft, commented "[I thought] the response I would receive would be, 'Yeah, Adam, it's good. We need equality, we need to be created equal, we all need to be pushing in the right direction.'" 
Hope everyone sees me as a person that loves anyone and everyone. I'm sorry if I upset anyone. Didn't mean anything by it. My apologizes…

— Adam Eaton (@AdamSpankyEaton) February 29, 2016
I guess I respect everyone…and color of skin doesn't matter to me… https://t.co/XJ0SqLed1q

— Adam Eaton (@AdamSpankyEaton) February 29, 2016
I'm not sure why I was misinterpreted..I want everyone to be created equal. I want us to all be one. Sorry if people took that as a neg com

— Adam Eaton (@AdamSpankyEaton) February 29, 2016
Eaton apologized for leaving the tweet open-ended and admits he probably should not have "stepped into that realm." He added, "With that being said, I've now experienced what it can be to be seen on the opposite end. Some quote that I intended to be a positive thing has turned into a negative thing, and for that, I'm sorry.… I don't want anybody to think I'm that type of person because I'm not."
The outfielder batted .287, scored 98 runs, and stole 18 bases last season for the White Sox.