Orioles-Red Sox is the new Yankees-Red Sox—just uglier.
Leave aside Manny Machado spiking Dustin Pedroia on a slide or Dylan Bundy nailing Mookie Betts with his fastest pitch of the night. The nastiness between the AL East rivals extended from the field to the stands Monday at Fenway Park.
"A disrespectful fan threw a bag of peanuts at me,'' Orioles center fielder Adam Jones told USA Today after Baltimore's victory that saw Machado slow-trot a homer and the Red Sox melt down in the field. "I was called the N-word a handful of times tonight. Thanks. Pretty awesome.''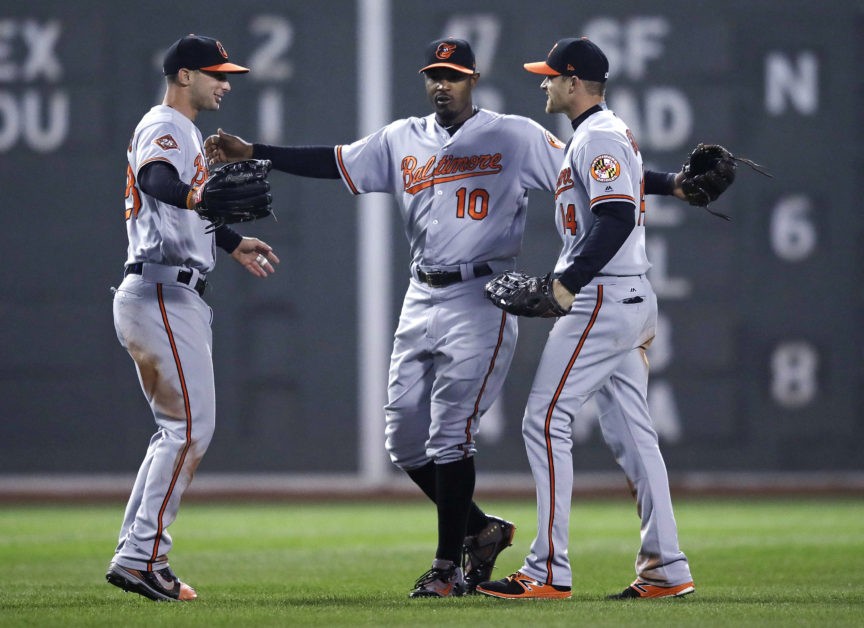 Catering to a more Proper Bostonian crowd than Gillette Stadium, Fenway Park seems like an unlikely venue to hear n-bombs exploding. Does any fan, drunk or sober, really feel comfortable in that cramped "lyric little bandbox" singing off a racist sheet of music? It seems hard to believe but the Red Sox acknowledged the abuse with an apology. Marty Walsh, mayor of America's second whitest major city, apologized as well.
And it's not as though nobody before Adam Jones complained about bigots in Boston. Earlier this year, for instance, Saturday Night Live performer Michael Che sparked a controversy by labeling the Bay State's capital city "the most racist city I've ever been to." Professional athletes, from former Celtics guard Dee Brown taken at gunpoint by local cops mistaking him for a bank robber to Bruins fans barraging PK Subban with racist tweets, sometimes second that.
About a decade ago, Gary Matthews Jr. called Fenway Park "one of the few places you'll hear racial comments." Five years ago, Red Sox outfielder Carl Crawford, while on a rehab assignment for a minor-league affiliate, complained of an off-duty Massachusetts cop taunting him with the word "Monday," which he took as a veiled racial insult. The Red Sox not only came in last in the race to racially integrate the major leagues, they honored the owner who blocked black players by naming a block outside of the park after him.
The city's self-congratulatory progressivism hides a parochial underbelly. At sporting events mistaken by the primitives as tribal meetings this ugly insular quality screeches as gratingly as, well, a racial insult at a ballgame.
When citizens believe they live in the Athens of America, it's not long before they behave like the Asses of America.