Twitter's star-shaped 'favourite' button is no more. It has been replaced with a heart-shaped 'like' button, which the company says will "make Twitter easier and more rewarding to use."
In a blog post, the company's product manager, Akarshan Kumar said:
we know that at times the star could be confusing, especially to newcomers. You might like a lot of things, but not everything can be your favorite.

The heart, in contrast, is a universal symbol that resonates across languages, cultures, and time zones. The heart is more expressive, enabling you to convey a range of emotions and easily connect with people. And in our tests, we found that people loved it.
You can say a lot with a heart. Introducing a new way to show how you feel on Twitter: https://t.co/WKBEmORXNW pic.twitter.com/G4ZGe0rDTP

— Twitter (@Twitter) November 3, 2015
Ordinary users were divided on the change. Some seemed to like it.
Lol.. twitter has fallen in love.. all the stars are now hearts.. soon the retweets will be "heart-to-heart".
*Some glitter to sprinkle plz*

— Syeda Masooma (@SRM_Sherazi) November 3, 2015
I might just favorite everything now on Twitter. I like the way the heart pops lol

— Anthony!! (@AntSkywalker) November 3, 2015
new twitter ft. the heart makes me happy bc every favorite is a lil ily

— mac (@MacKKohlbeck) November 3, 2015
Others made some helpful observations and suggestions.
There should be experiments done with reskinning all of Twitter in hearts and teddy bears & unicorns to see if it reduces acrimony.

— David Auerbach (@AuerbachKeller) November 3, 2015
https://twitter.com/Nero/status/661574035470458880
Mostly, however, responses were negative.
Wtf is this heart shit @twitter

— k.❄️ (@kaewop) November 3, 2015
Dammit @twitter. Sometimes I favorite stuff because of how dumb and absurd it is. Now I'm being forced to heart stuff? It's not the same. 😩

— Serpentico🐍👑 (@KingSerpentico) November 3, 2015
https://twitter.com/princesssniaa/status/661575942154813440
favorites are not hearts, twitter you forcible cupid

— Joshua Benton (@jbenton) November 3, 2015
MY FAVORITE BUTTON STAR TURNED INTO A HEART. NO TWITTER. WHY DID U HAVE TO DO THIS TO ME

— dianna 👑 (@possiblydianna) November 3, 2015
Some bizarrely so.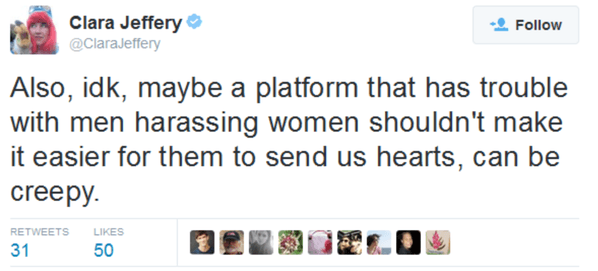 This is the latest in a chain of subtle tweaks that the microblogging platform has recently rolled out to its user interface. They recently added a 'poll' feature, which allows any user to post a public online poll. Facebook-style birthdays have also been added, with animated balloons floating across users' profiles on their birthdays.
The company's fortunes have continued to decline in recent months, with stock falling by more than 40 per cent since last May. Although revenues at the company have improved, this is still a drastic decline in market value, and there remains a great deal of pressure on CEO Jack Dorsey to attract new users. It remains to be seen whether aesthetic tweaks to its user interface will do the social media platform any good.
Follow Allum Bokhari @LibertarianBlue, and download Milo Alert! for Android to be kept up to date on his latest articles.
Breitbart Tech is a new vertical from Breitbart News covering tech, gaming and internet culture. Bookmark breitbart.com/tech and follow @BreitbartTech on Twitter and Facebook.