The internet's most popular digital storage service, Dropbox, has hired a "diversity manager" in order to increase the number of minorities and women at the company.
In an official announcement made on the Dropbox blog, founder and CEO Drew Houston stated:
Arash and I have always wanted Dropbox to be a place where opportunity and success is limited only by a willingness to learn and work hard. Our products are used around the world by people from all cultures and backgrounds, but we can't serve our users well unless our team reflects the world we're building for.

Anyone who's tried moving the needle on diversity knows that quick fixes don't go far. It's not just a pipeline issue, or a hiring issue, or a cultural issue—it's all of these and more. Even the smallest inequities and biases compound over time into enormous disparities[…]

Today I'm excited to announce that Judith Williams has joined Dropbox as our global head of diversity.
The post also includes a statement from the new diversity manager Judith Williams, as well as a graph portraying the degree of men, women, and different races in managerial and leadership roles at the company.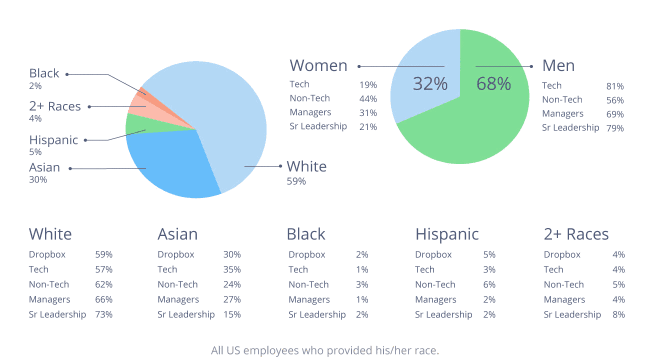 "At Dropbox, we think diversity serves another purpose. Diversity makes work more enjoyable, and makes it easier for people to be themselves," writes Williams in her introductory statement.
Today we're releasing diversity numbers for 2015. We've made progress in some areas such as attracting more women to our engineering teams, and promoting more women to leadership positions. Twenty-five percent of our VPs are now women. However, despite concerted efforts, the overall percentage of women in the company declined. And although we've seen improvement in the number of Blacks and Hispanics in the company, and in technical roles, their representation is starting from a very low base. We know we have to do a lot better. Our goal is to continue to increase the number of women and underrepresented minority applicants in our pipeline and make sure we remove any biases in the hiring process.
The move is another in a growing trend of the world's leading tech companies pumping millions into workplace diversity initiatives, including Twitter, who announced the departure of three white male board members in November in order to diversify the board. Since Twitter's move to diversify the company and implementation of other controversial policies and actions, the social network's stock value has plummeted from over $27.00 per share to just $16.61 as of writing.
Leading computer chip and processor manufacturer Intel also joined the trend in 2015, spending $300 million on "training and recruiting female and other groups of under-represented computer scientists." Just months later, it was discovered that Intel was to lay off masses of employees and slashed budgets to the overall amount of $300 million, the same cost as the diversity program.
Charlie Nash is a libertarian writer, memeologist, and child prodigy. When he is not writing, he can usually be found chilling at the Korova Milk Bar, mingling with the infamous. You can follow him on Twitter at @MrNashington.